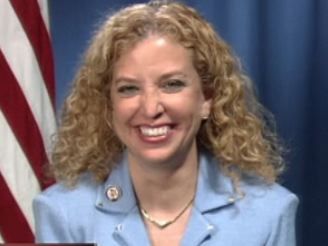 President Obama names Wasserman Schultz to head DNC – again according to William Gibson, of the Floriday Sentinel Sun. While the DNC is not my favorite Democratic organization, I've always thought Chairwoman Debbie Wasserman Schultz has done a fine job of representing us on TV, and in the House, and seems to be a hard worker for our Party.

Republicans, who had quickly attacked Wasserman Schultz as an over-zealous and gaffe-prone liberal when she first got the post last year, had hopes of winning the White House and gaining a majority in the Senate. But Obama rolled up a big electoral victory, and Democrats gained two seats in the Senate plus seven in the House.
Obama acknowledged her promise to outwork the other side.

"One thousand events later -- in 31 states and 170 cities across the country -- Debbie has followed through on that promise and then some," Obama said.

"She has managed to juggle three incredibly important jobs at the same time: leading our party to victory and helping deliver her critical home state of Florida; fighting for America's women, service members and middle-class families in the halls of Congress; and being an amazing mother to her three young children.

"As you know, Debbie is no stranger to triumph -- she's the youngest woman ever to have been elected to the Florida state legislature, she became the first Jewish woman to represent Florida in Congress, and just a few years ago, she stared down breast cancer and came out on top."

The Sentinal Sun notes that Chairwomen Wasserman Schultz "juggles" leading the DNC, reprenting a south-Florida district, and being the mother of three children.
DNC members are expected to ratify Obama's nomination at the Party meeting on January 22, 2013.
Below the fold Slinkerwink, and Chris Cilliza fills us in on some of the back controversy surrounding the reappointment I was not aware of.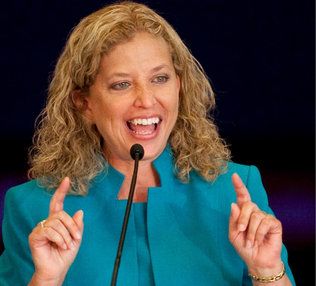 In an effort to research what other opinions there may be about Wasserman Schultz, I googled a bit, here, and found Slinkerwink's great post about future control of President Obama's donor and volunteer list, in < Team Obama Refuses To Give Up Voter Data, where as far as I can tell, I agree with her.

Democratic National Committee Chairwoman Debbie Wasserman Schultz (D-Fla.) has also prodded the Obama campaign to make the database available to House and Senate candidates to avoid a midterm bloodbath like the party saw in 2010. ...

"It's just on everyone's radar screen," said a Democratic strategist involved in House races. "We want the volunteers, we want the donors."

Chris Cillizza offers three reasons for Why the White House kept Debbie Wasserman Schultz as DNC Chair,despite speculation by Obama advisers that she might have been on her way out.


First, Wasserman Schultz was the definition of a good soldier. In the press release announcing the plan to re-nominate her, it was noted that she has participated in 885 events in 31 states. Those close to the process repeatedly noted that Wasserman Schultz went wherever she was asked to go in the campaign — a critical (and overlooked) trait in a surrogate. That Obama carried Florida — against the predictions of almost everyone outside of the president's campaign team — also accrued to Wasserman Schultz's benefit as a credible surrogate.

Second, Wasserman Schultz has real connections among two key constituencies — women and Jewish voters — within the Democratic party. Not only do those ties mean that those groups feel as though they have a voice within the upper ranks of the party but they also ensure some backlash if Wasserman Schultz was viewed as being pushed out against her will. And, because she had made quite clear that she wanted the job again, any decision not to re-offer it to her would have almost certainly been cast as just that.

Third, Wasserman Schultz had no other obvious next step. With House Minority Leader Nancy Pelosi staying on in her job — and renominating New York Rep. Steve Israel as the chairman of the Democratic Congressional Campaign Committee — there are few opportunities within Democratic leadership circles for Wasserman Schultz. Staying on as DNC Chair was, by far, the most high-profile position that the Florida Democrat could hope to have post-election.
Cilliza also, somewhat cynically, suggests we didn't really have any suitable replacements.
This seems like a somewhat lack luster endorsement when, it seems to me, that we ought to be more pleased and proud that we have such a talented, and effective woman in the leadership of the Democratic Party, at a time when the GOP appears like a relic from an age long ago, when women kept house. (Jon Stewart made hay out of noting Boehner's last minute promotion of a woman to take care of the administrative function of the House.)
Would it be too ... "something or other" to more happily note she's going to beat the heck of of RNC Chairmen Rence Priebus, on every dimension I can imagine on talk shows?
I had not been aware of this back friciton, but at the risk of appearing simple minded, she seems like a good choice to me because she has presented herself as a higly articulate, passioinate, and personable spokesperson for our President, the Democratic Party, and even a few progressive causes. But, I will apoligize in advance for not knowing about any possible other non-progressive, or behind-the-scences positions she has taken on behalf of the often problematic DNC that I am not aware of.
From what I can tell this is more good news in a fairly good week for Democrats.