Americans have paid off some $1.7 trillion in mortgage, home equity, car loan and credit card debt since the height of the recession, according to the latest Quarterly Report on Household Debt and Credit from the Federal Reserve Bank of New York.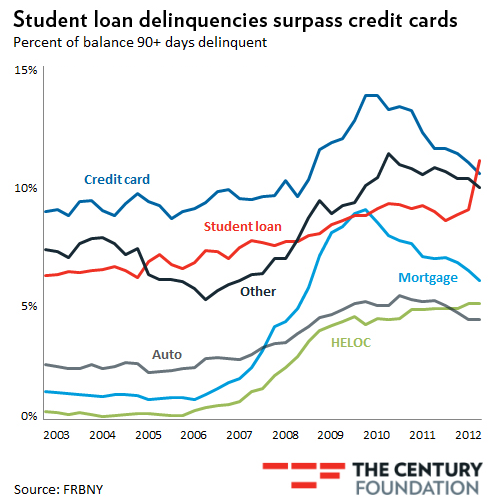 The overall delinquency rate has fallen, too, as consumers have gotten better at paying their loans back on time. But one sector of the credit market continues to grow unabated. Outstanding student loan debt has increased $350 billion since the third quarter of 2008, when every other form of credit was collapsing. Student loans surpassed credit card debt for the first time in 2010, and now total more than one trillion dollars.
Making matters worse, the percentage of that trillion dollar debt that is 90 days delinquent or more spiked unexpectedly last quarter, from 8.9 percent to 11 percent—an increase representing more than half a million delinquent borrowers in three months, for a total approaching 6 million. But almost half of all student loans are in deferment or in grace periods, and "therefore temporarily not in the repayment cycle," according to the NY Fed. That means the real number of loans that should be considered delinquent is "roughly twice as high"—closer to 22 percent. The spike last quarter in the reported figure in the direction of that upward bound likely has a lot to do with the three-year maximum that students are allowed to defer their loans due to unemployment or economic hardship. For many borrowers, the three-year grace period that began at the height of the recession in 2009 is now over.
Read more on Graph of the Day.