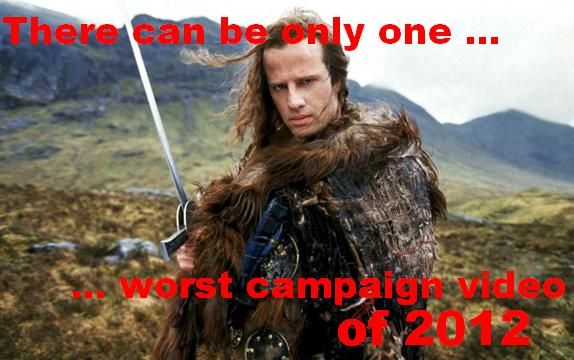 There can be only one worst campaign video of 2012 ... and we have it in Minnesota.
Minnesota. The land of 10,000 lakes. The loon is the state bird. And it's appropriate. We're also the land of 9,999 loony conservatives.
We've managed to export one of them. You may know of her. Her name is Michele Bachmann. She lives on Fox News and on right wing radio shows. She ran for President. She's too busy to do much of anything for her district.
Many, many right wing nut jobs have emulated Minnesota's highest profile politician Michele Bachmann. They run for office and lie a lot, pass far right conspiracy theories off as common knowledge and share her utter disregard for the truth.
When the Ron Paul supporters took over the MNGOP, they foisted one-term legislator Kurt Bills upon Minnesota as their challenger to Sen. Amy Klobuchar.
Soon after winning endorsement Mister Bills, and what passed for his brain trust, began working on a campaign video to introduce their candidate to Minnesotans.
The main character commits suicide 30 seconds into the video. Then the character is alive again. Mister Bills established himself as the pro-zombie candidate with this.
The undead character is then talking to a younger version of himself until the video switches to Mister Bills attempting to impersonate Rod Serling from The Twilight Zone. Mister Bills is creepy but most definitely not any kind of cool.
Here's me talking about how extraordinarily bad it was:
Personally and just because I'm a homer, I think this video ranks up with CA Senate candidate Carli Fiorini's Demon Sheep and Mike Gravel's video in which he just stares into the camera for a minute before walking away as one of the worst political videos of all time.