I Got The News Today (IGTNT) is one of the oldest continuous series on Daily Kos. It is a way for our community to pay their respects to those who have died as a result of war.
The beautiful logo was created by Timroff
We gather once again to honor the life of one of the soldiers of the United States Army. Staff Sergeant Wesley R. Williams was from Ohio, and will be mourned by our fellow citizens of that state, all the other united states, and throughout the world.

Our sadness is great, knowing that another young father has died. However, it cannot match the sadness that those close to him must feel. His young widow, his young daughter, and the child yet to be born will mourn him all the days of their lives.
Staff Sergeant Wesley "Wes" R. Williams



Wes Williams grew up in Park Layne, Ohio. He attended Tecumseh High School in New Carlisle and was a member of the school's ROTC program. It was in the ROTC where he met his future wife, Krista. Williams graduated in 2005.

After entering the Army in July of 2005 and after he graduated, Williams reported to Fort Benning, Georgia for Army Basic Training and Advanced Individual Training in Military Occupational Specialty 11B (Infantryman). He completed Airborne School in 2005, and received the Special Qualification Identifier of Parachutist. He was assigned to the 3rd Squadron, 2nd Stryker Cavalry Regiment (SCR), Vilseck, Germany, in March of 2006.

He deployed with the 2nd SCR to Iraq as a Radio Telephone Operator from August 2007 until October 2008. After he came back to the states, he married his high school sweetheart, Krista.

In February of 2009, Williams was assigned to 1st Battalion, 38th Infantry Regiment, 4th Stryker Brigade Combat Team, 2nd Infantry Division, at Joint Base Lewis-McChord. He deployed to Iraq as a Rifleman from September 2009 to August 2010.

He was still serving with Lewis-McChord's 4th Brigade, 2nd Infantry Division, when it deployed last month to replace another Stryker unit in southern Afghanistan. Williams was sent to Afghanistan as an Infantry Squad Leader.

Staff Sergeant Wesley Williams died December 10th in Kandahar, Afghanistan, of wounds suffered when enemy forces attacked his unit with an improvised explosive device (IED). He was 25 years old.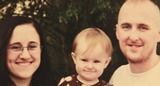 The following is from an interview with Krista Williams, which appeared in The Dayton Daily News on December 12th:
The picture of Krista, Faith, and Wes Williams is also from the Dayton Daily News.

Today marks the couple's fourth wedding anniversary, and Krista noted they'll be together this anniversary.

"I think we only spent one anniversary together," she said. "It goes with the territory."

She recently sent Wes his first care package of this deployment, containing his beloved PayDay candy bars and energy drinks, and pictures of a visibly frightened Faith with Santa.
Awards and decorations earned by Staff Sergeant Wesley Williams include the Army Commendation Medal with two Bronze Oak Leaf Clusters, Army Achievement Medal with four Bronze Oak Leaf Clusters, Army Good Conduct Medal (2nd award), National Defense Service Medal, Afghanistan Campaign Medal with campaign star, Iraq Campaign Medal with two Campaign Stars, Global War on Terrorism Service Medal, Army Service Ribbon, Overseas Ribbon (Numeral "3"), NATO Medal, Combat Infantryman's Badge, Expert Infantryman's Badge, and Parachutist Badge.
Staff Sergeant Wesley Williams leaves behind his wife, Krista; his daughter, Faith; and another child on the way. A funeral plans are still being made, but service will probably be held in New Carlisle, Ohio with a burial in Arlington National Cemetery.
**********************
Helping our troops:
If you wish to assist our military and their families, consider contributing to Fisher House. Donating to Netroots for the Troops provides care packages that make a real difference in a military person's life. To assist the animal companions of our deployed military, information is available here. Also, you could visit:

When our veterans come back home, they need jobs. Look at the programs of Hire Heroes USA and Welcome Back Veterans to see if you can help out.
About the IGTNT series:
"I Got the News Today" is a diary series intended to honor, respect, and remember the fallen, and to remind us that each casualty has family and friends who received the terrible news that their loved one has died. US service members whose names have been released by the US Department of Defense will usually be diarized two days after the official announcement on the DoD website. This allows the IGTNT team to cover each person more fully, but still in a timely manner.Click the IGTNT tags below to see previous diaries in the series, which was begun by i dunno, and is maintained by Sandy on Signal, Monkeybiz, Noweasels, Blue Jersey Mom, Chacounne, Twilight Falling, Joyful, Roses, SisTwo, a girl in MI, Spam Nunn, JeNoCo, True Blue Majority, CalNM, Wide Awake in Kentucky, Maggiejean, JaxDem, TheFatLadySings & Ekaterin. These diaries are heartbreaking to write, but show our community's respect for those who have died.
Please bear in mind that these diaries are read by friends and family of the service members mentioned here. May all of our remembrances be full of compassion rather than politics.