Update: Most recent diary is Not a Pipe Dream: TEX KOS Statewide Meet-Up This Saturday

Lone Star Spring Meet-Up
Let's make some plans for the Lone Star Spring Meet-Up, Texas' first statewide Kossack meet-up! teknohed and I have been chatting in comments and emails, and we decided to hold it in Austin.
teknohed has begun scouting venues, and papa monzano will work with him. But first we need to choose a date and time. We're leaning toward 2:00pm on a Saturday in March, preferably either the 2nd or the 9th. And we also need an idea of how many to expect.
So please post a comment or send me a kosmail to let us know whether you will plan to attend on either or both of those dates.
RSVPs (either 3/2 or 3/9):
1. nomandates
2. teknohed
3. papa monzano
4. Chrislove + BF
6. glorificus
7. politik
8. anotherdemocrat
9. Odysseus
10. suesue
11. blue armadillo
12. texasmom (prefers 3/2)
13. texasdad (prefers 3/2)
14. htowngenie
15. navajo (honorary TX Kossack!)
16. afisher
17. manoffire
18. Wino
19. Mrs. Wino
20. VinaMist (3/2)
21. doraphasia (prefers 3/2)
22. Urban Owl
23. Texdude50 (prefers 3/2)
24. icelus (prefers 3/2)

Maybes:
1. Mosquito Pilot (prefers 3/2)
2. Over the Edge
3. entrelac
4. Mr. entrelac
~☆~☆~☆~☆~☆~☆~☆~☆~☆~☆~☆~☆~☆~
NN13 Texas Kossacks Table

As navajo pointed out yesterday,
today is the final day to take advantage of
Netroots Nation's
special holiday rollback registration rate to attend the 2013 convention in San Jose, June 20-23. The rollback ends today (Thursday) at midnight Pacific time.
This will be the lowest price available. Click here to reserve your spot for Netroots Nation 2013 and get your special holiday rate of $245 before it goes back to $295.
I'll quote navajo here regarding the tables:
Now, here's an incentive for the groups we've recently jump-started here. I always reserve some tables in the main ballroom where the plenary sessions are held. My SFKossacks and Native American Netroots attendees then have a point place to gather. Netroots Nation is going to extend that privilege to all the groups here at New Day. I'll make a reserved sign for each regional group and you can have a place to represent at the big speeches. So, organizers, please register to attend and encourage your members to register. The SFKossacks can attest to how convenient it is to have a chair reserved and waiting for you.
NN12 was fabulous--I went to lots of sessions, including the Texas caucus, and picked up ideas for organizing and GOTV (I'm a new precinct chair and secretary for my Senate district). It was so much fun being able to head over to the SF Kossacks' tables to hang out with folks from DKos and listen to amazing speakers like Elizabeth Warren and Van Jones.
So yesterday I reserved a table for Texas Kossacks in hopes that y'all would want to go and hang out together. Please let me know!
Texas Kossacks Table
RSVPs:
1. nomandates
2. texasmom
3. texasdad

Maybes:
1. politik
2. doraphasia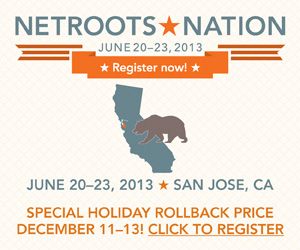 The TexKos-Messing with Texas with Nothing but Love for Texans group formed in Feb. 2011 and has 34 members. Because our state is huge, though, it helps if folks see a more local group to join and/or to follow:
Houston Area Kossacks
This group is for Kossacks living in the Houston metro area. It will be used to post and repost Houston-related diaries, organize meet-ups, and just keep in touch in general.


Organizer: Chrislove
Founded on Aug. 7th
23 members
23 followers
~☆~☆~☆~☆~☆~☆~☆~☆~☆~☆~

CenTex Kossacks
A kossack group for Travis County and surrounding areas dedicated to keeping Austin weird, blue and orange.


Organizer: papa monzano
Founded on Sept. 9th
9 members
17 followers
~☆~☆~☆~☆~☆~☆~☆~☆~☆~☆~
Dallas Kossacks


A group for Kossacks living in the DFW region to get together and support each other!


Organizer: chancew
Founded on Nov. 21st
21 members
19 followers
Not that this is about bragging rights or anything, but our combined group membership is already greater than that of TexKos, which does still beat us with their 127 followers.
And our state isn't done organizing! shesaid is forming a group for the CapRock / Amarillo / Lubbock / Panhandle area (group name still being considered). Please consider stepping up to organize if there isn't a group in your area.
If you want to join a group, kosmail the organizer. And be sure to follow your group by clicking on the ♥ beside the group name so that you'll get group diaries in your stream. (Unfortunately, being a group member won't make that happen.)
Update: Yo Bubba has contacted navajo and will be starting a West Texas Kossacks group (El Paso and Big Bend)! navajo will help folks find this group in New Day. Yay!