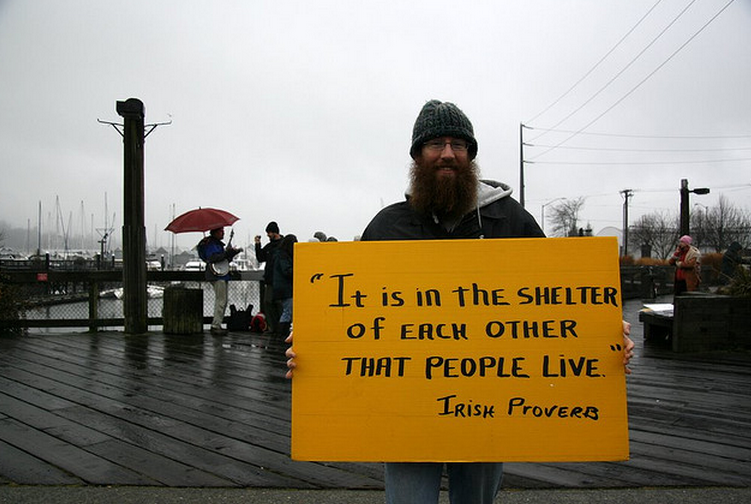 A little while back I changed my sig line to this Irish proverb because it reminded me of our community at DK: "It is in the shelter of each other that people live."
We all stumble at some time and need the comfort of others and many find that at DK. When natural disasters or climate change storms hit, we collectively weep, reflect, hope, discuss, and take action by donating or writing to help others here and in communities around the world. It is in the shelter of each other that people live.
We do fundraisers for community members and communities in the U.S. and around the world. We do diaries and blogathons to educate, raise money, or take action to help others individually or to make DK and our world a better place.
As President John F. Kennedy said:

So, let us not be blind to our differences, but let us also direct attention to our common interests and the means by which those differences can be resolved. And, if we cannot end now our differences, at least we can help make the world safe for diversity. For, in the final analysis, our most basic common link is that we all inhabit this small planet. We all breathe the same air. We all cherish our children's future. And we are all mortal.
So many emotions flow from the killer's murder of his mother, 20 children and 6 teachers/principal. Such horrific violence is also a trigger for those who suffered various traumas in our lives, pushing those always-present, awful memories to the surface.
We are all struggling with wrapping our hearts and minds around this tragedy. Markos recalled this the other day:
I was in the middle of extreme violence as a 7-8-year-old boy in El Salvador in the late 70s as that nation boiled into civil war. I'm good at repressing and forgetting, but this tragedy has brought a lot of that back and I'm having a hard time processing this all.

I've been alternating between unbearable grief and unbearable rage -- not just for the precious children who lost their lives yesterday, kids so similar to my own. But also for all the other children in that school who'll have to carry that trauma for the rest of their lives. Like me, right now, despite being 41 fucking years old.
He is far from alone. We need each other.
Can we give shelter to each other by exercising a little more restraint in our gun control/safety diaries and comments? Can we try to be a little more civil? If a comment irks you, can you stop one second, re-read and listen to what was said, not just the words written down, but also consider the feelings that might be attached to those words?
No one life is more important than another. No one voice is more valid than another. Each life is a treasure. Each voice deserves to be heard. Can we not just listen to one another because the very act of being heard provides shelter.
It is in the shelter of each other that people live.