I'm getting that "Here Comes the Sun" feeling again. Here's a "Solarview" of encouraging news from the solar energy industry to cheer us up this holiday season and maybe influence where you shop.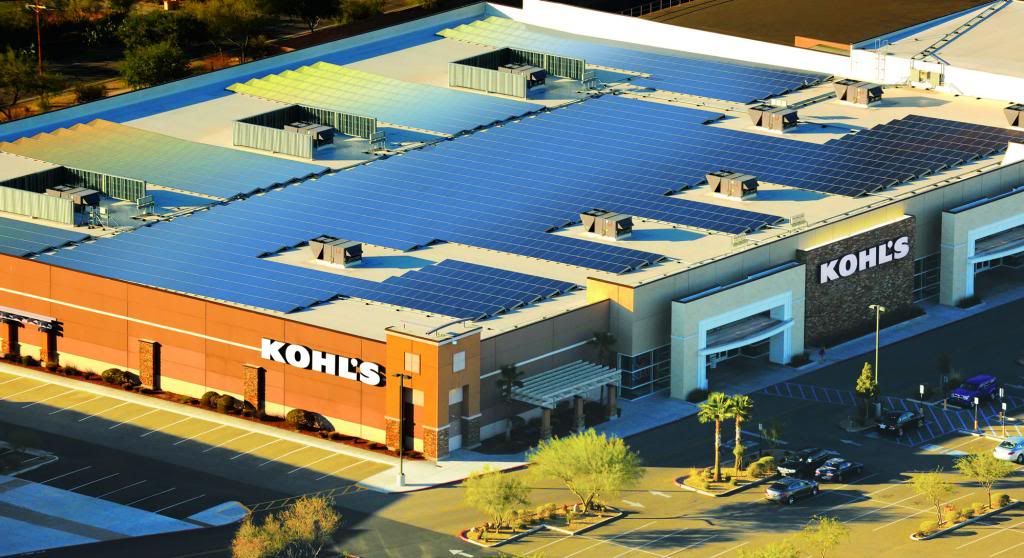 More than 8,000 panels help power Kohl's e-commerce center, by Thomas Content of the Journal Sentinal.

The 1-million-square-foot facility northeast of Baltimore is Kohl's first logistics facility to earn green building certification from the U.S. Green Building Council.

The Edgewood building has 8,360 solar panels that can supply more than 40% of its energy needs. Total power output from the panels is 2.4 megawatts, which more than doubles the next-largest solar site for Kohl's, a California distribution center.

The 2.4-megawatt solar project is a tad larger than the largest solar project built to date in Wisconsin – a 2.2-megawatt solar project built by Epic Systems Inc., the Verona-based developer of electronic medical records software.

Since starting an aggressive solar expansion plan Kohls has become one of the largest hosts of solar electricity generation in North America, now generating 42 megawatts of power. When I was looking on google to find some photos of the Kohl's Department Stores solar installation I ran across this article from June, that I missed reporting Kohl's ambitious solar energy program for its retail outlets which will expand 25% this year, in 30 new locations, including California, Connecticut, Maryland, Massachusetts, New York and Ohio.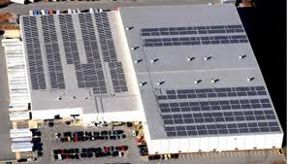 From Kohl's to add rooftop solar panel systems to 30 additional stores:

On average, the solar panels will supply 20-50 percent of each store's energy. Construction of the solar panel arrays on the first phase of stores began this spring. Once the installations are complete by the end of 2012, Kohl's expects to have more than 150 solar locations across 13 states.

With the completion of Kohl's 30 new locations, the company's portfolio of solar sites will produce more than 74.2 million kWh of energy annually – equivalent to preventing greenhouse gas emissions from 10,032 passenger vehicles or the carbon dioxide emissions from the electricity use of 6,380 homes for a year.

Through the on-site energy generation at Kohl's solar locations, two wind locations and the purchase of renewable energy credits, Kohl's offsets more than 100 percent of its conventional companywide energy use.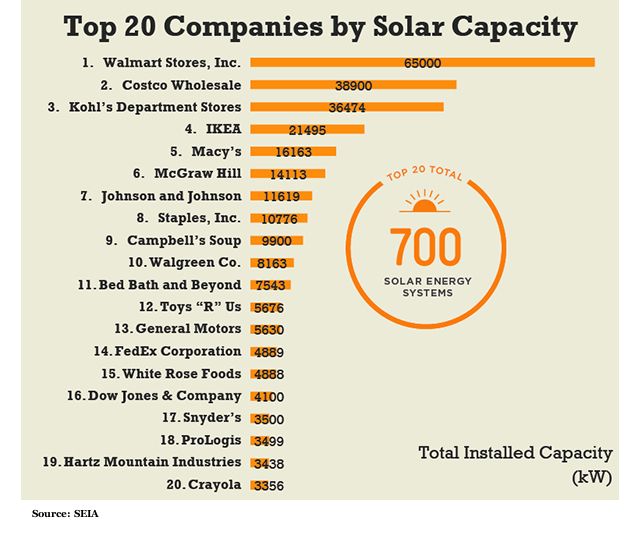 Get Solar reporsts 8minutenergy Renewables and Gestamp Solar to Develop 20 MW of Solar Energy for SDG&E Power Purchase Agreement

8minutenergy Renewables, LLC and Gestamp Solar today announced the signing of a 20-year contract to sell approximately 20 megawatts-ac of clean, renewable solar energy from their Calipatria Solar Farm project in Imperial Valley, Calif., to San Diego Gas & Electric (SDG&E). ...

The Calipatria Solar Farm project is a utility-scale solar generation facility sited on 160 acres of low-productivity farmland. Construction is projected to begin in late 2014, with the delivery of renewable energy to SDG&E expected by early 2015. This clean solar generation plant will displace the equivalent of approximately 54,000 metric tons of carbon dioxide (CO2) per year, which is equal to the amount that roughly 2.2 million trees would displace annually. ...

"The solar farm's annual production of approximately 48 million kilowatt hours (kWhs) of electricity will produce enough renewable solar energy to serve 9,000 households in SDG&E's service territory," said Martin Hermann, chief executive officer of 8minutenergy Renewables. ... "The Calipatria project will create approximately 50 direct jobs and more than 100 indirect jobs in the area during the construction period," said Tom Buttgenbach, president of 8minutenergy Renewables.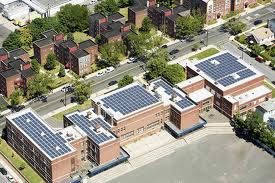 And, as you might expect, More Higher Education Institutions Turn to Solar Energy, as reported by GetSolar.

"In California especially, schools are having budgets cut for the third, fourth, fifth year in a row and are looking for ways to make up shortfalls in their general fund budgets by using capital dollars," the article stated. ... For example, at Laney College in Oakland, California, school officials expect a recently installed solar project to save the college about $20,000 every month on electricity costs, according to Forbes.

"[T]he primary target in installing these systems is to have more money available to provide education, which, at the end of the day, is our mission," said Charles Neal, the environmental sustainability manager for Peralta Community College District in the Bay Area, which Laney College is a part of. ...

The Colorado College in Colorado Springs has installed multiple solar arrays on top of its buildings. The systems range from 14 kilowatts to 19 kW. Two of the systems, like the 19 kW solar array on the college's Children's Center, will help the school meets its goal to be carbon neutral by 2020, the Colorado Springs Business Journal reported. The 17.2kW PV system on the roof of the Colorado College radio station is expected to produce 10 percent of the building's energy needs, lowering electricity bills, according to a news story on the college's website.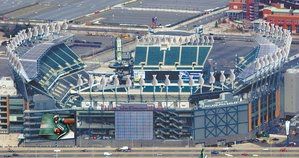 In addition to retail outlets, universities and schools, and increasing number of sports facilities are converting to solar as well, as we learn in Sport Facilities Use Solar, Save on Electricity

Homeowners and businesses have increasingly turned to solar to reduce their electricity costs. Large and small installations have been proven to benefit organizations of all sizes, including even major sporting corporations and complexes. Some car racing facilities, from the recreational Grand Prix to the professional-level racing association NASCAR as well as other major sports leagues in the United States, have recently installing rooftop solar arrays that slash these large arenas' annual utility bills. ...

The Grand Prix New York - a 120,000 square foot indoor racing, social entertainment and corporate event venue - has installed 216 solar panels on its roof in an effort to reduce energy costs. The photovoltaic system will generate 58,360 kilowatt hours of electricity each year, and is expected to save the company about $10,000 over the next 12 months alone. ...

NASCAR Goes Green, Saves Green

In the last few years, NASCAR has increased the amount of solar energy the organization uses at its facilities. In 2010, NASCAR's Pocono Raceway in Philadelphia had a 25-acre solar farm in a former parking lot go online to provide the facility with between 3 million to 4 million kilowatt hours of electricity each year, CNN reported. The solar installation features 39,690 solar panels and was installed to save the raceway millions annually.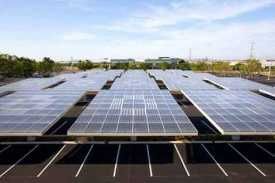 And, revving our motors for a comic crescendo, and ironic turn, it turns out even the coal mining museum is converting to solar power to save money Coal Mining Museum Welcomes Solar Panels as reported by NPR>

The Big Pit National Coal Mining Museum, a former mine in Wales, celebrates the fossil fuel that sparked the industrial revolution. Now it's embracing solar energy. Renewable Energy World reports 200 newly installed solar panels could save the property as much as $650,000 over 25 years on power.

DAVID GREENE, HOST:

Good morning. I'm David Greene. It's the dawn of a new era at the Big Pit National Coal Mining Museum. The former mine in Wales celebrates the fossil fuel that sparked the Industrial Revolution. Now it's embracing solar energy. Renewable Energy World reports that 200 newly installed solar panels could save the property as much as $650,000 over 25 years on power. Put another way, the museum celebrating coal won't have to dig so deep to pay the electric bill.

Due to a global price war, the price of solar panels has come down 80% in the last five years. While this has been a disaster for some suppliers, for consumers it makes the conversion to solar power even more attractive when added to the very quick installation times compared to other forms of energy production. So expect to see these trends accelerate.
Here comes the sun. Solar energy production is an idea whose time has come.