In his press conference today Wayne La Pierre proposed his brilliant solution of putting an armed guard (police officer) in every school.

There was a point. After some meandering around about video game violence, LaPierre proposed a national initiative -- funded by your tax dollars -- to put armed guards in schools. "With all the foreign aid, with all the money in the federal budget, we can't afford to put a police officer in every school?" he asked. "I call on Congress today to act immediately, to appropriate whatever is necessary to put armed police officers in every school — and to do it now, to make sure that blanket of safety is in place when our children return to school in January."
Sure - cut 'foreign aid', and the Security budget for diplomats in Benghazi and elsewhere in world hotspots. We saw what happened there, and the Republicans were terribly
upset
about that.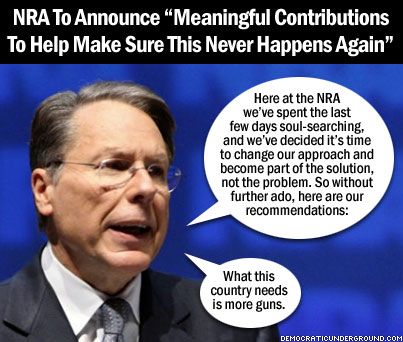 How much would this cost?

According to the National Center for Education Statistics there are 98,817 K-12 schools in the United States. The Bureau of Labor Statistics says cops make $55,000 a year. So we could put $5.4 billion as the low level estimate of the cost. Cops obviously have health care benefits and pension and disability benefits for police offers tend to be fairly costly so the real price would be higher than that.
In typical NRA fashion, La Pierre overlooks any other politics of the moment, other Amendemnts to the Constitution, budgetary issues, to advocate for his position.
The Second Amendement is the only one that matters according to La Pierre. The Second Amendment ensures his right to have a gun. But other amendments that assure privacy don't matter - as long as disregarding them enables free access to guns. Mentally ill individuals must give up their rights to privacy, so he can have his right to his gun.
All this money in the fedearl budget? In the midst of the biggest push by the Repubicans to slash the federal budget because of the supposedly horrific deficit they supposedly can't stand? Of course, everything should be cut. Except, of course, the money he would need to put an armed policeman in every school. That money, of course, could be found.
And never mind that Republicans villified policemen during the campaign season as greedy, overpayed public servants whose jobs needed to be cut.

Romney said of Obama, "he wants another stimulus, he wants to hire more government workers. He says we need more fireman, more policeman, more teachers. Did he not get the message of Wisconsin? The American people did. It's time for us to cut back on government and help the American people."
. Suddenly policemen are in favor.
Never mind all that. Screw the budget, screw the deficit, screw everyone else's rights. We need MOAR GUNZ.
And never mind logic or rationality, since Columbine High School had an armed guard who ate lunch with the students.
And never mind that 78 people have already been shot and killed since last Friday!
None of that matters in this man's twisted mind to achieve his aims.