Types of Gun Owners -- cracked.com


larger image


The Normal

The vast majority of gun owners buy a gun, learn and actually follow the rules of gun safety. They spend their time at the range, put it out of the child's reach, and teach their kids that a gun is always loaded. Because it otherwise it is just an awkwardly shaped club.


The Criminal [...]

The Fearful [...]

The Hunter [...]

The "Over-compensator"

Likes owning a gun for the feeling of power over life and death it gives him. He goes for the biggest calibre he can find, and will most likely miss and dislocate a shoulder if he ever has to use it.


The Collector [...]

The Scary Dude

This guy is just like the collector. Except he knows how to shoot them all, and has enough ammo for his collection to turn Syria green with envy. Convinced the government is watching him at all times from their black helicopters. We wish.
[...]
I'd like to take another spin of the wheel, Vanna ...
Do you have a slot for "hand-shake and a hug"?




As funny and/or tragic as that uniquely American "wheel of fortune" is, I think they forgot one other Gun-owner type, that is making cash registers sing, for gun dealers all around the country: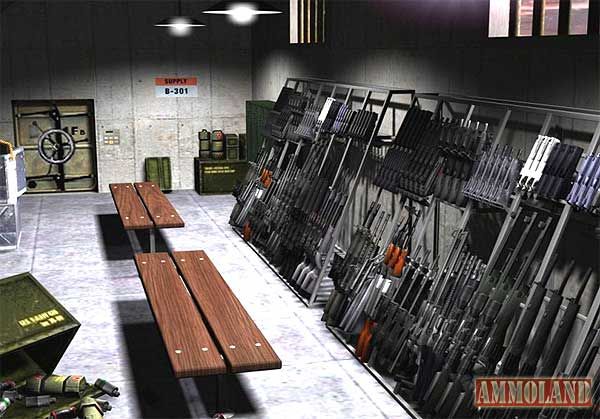 larger image -- [ Image from ammoland.com ]

And that other type would be the Prepper. The Dooms-day folks who see automatic Assault Weapons as their means of becoming "king of the hill" once the entire "economic system collapses." In that world, those with the BIGGEST guns ARE the Law.
I sure wish these guys, hadn't dropped their "civics" course, way back in high school.

Survivalist: I Rejected Doomsday Preppers Because They Wanted Me to Eat an Iguana [ewwh!]
by Stefan Kamph, browardpalmbeach.com -- Aug. 28 2012
[...]
The show follows survivalists as they prepare for the apocalypse, packaging preparedness into an audience-friendly mashup of guns, crazy people, and doomsday scenarios. It's pretty much hijacked the "prepper" identity over the past year. [...]

Most of the Doomsday Preppers folks are living off in rural areas somewhere, with plenty of land and plenty of guns. The show caters somewhat to the perception of survivalists as wacky gun nuts, which many of the quieter preppers in urban areas think gives the movement a bad name. And the rest of the preppers they find have a certain, let's say, fondness for the camera. Check out this mess:



link
[ "They're 'bugging out!' ...]
Near as I can tell, the most
"feasible"
of the Prepper fears, out their long list of low-probability fears -- is that of
a sudden loss of the Power Grid
, on a mass scale. Whether due to earthquakes, extreme weather events, or a catastrophic solar flare -- it could happen.
SOOOO wouldn't a better plan of action be:
-- Build a smart grid, with fail-over redundancy;
-- Put power lines underground;
-- Have LOTS of backup parts, in reserve. Kind of like our National Emergency Oil Reserve?

THAT seems a much better solution, than stock-piling a mountain of automatic weapons. Individually. Each man for 'emself.
Who wants to be the 'last one standing' in that type of world anyways. Talk about "compensation" issues!
And what happens when you run out of ammo ... uh oh!
You might have to talk to your fellow humans, then. Hmmm?

Escapism, really doesn't address "the root problems" -- ya know? ... Even if that escape is a well-fortified underground bunker. Sooner or later, you're gonna have to interact with others.
Maybe even "Play nicely with others" -- ya know?