At this time of year, it often happens that we think back on past events, and give thanks for family, friends and comradeship.
I am, indeed, a transplant. Fortunately, I don't think that the 'body politic' of these United States is about to reject me - at least, not yet! I live in two worlds in that my family, such as is left of it, is mainly in Europe, and my school friends scattered across the globe.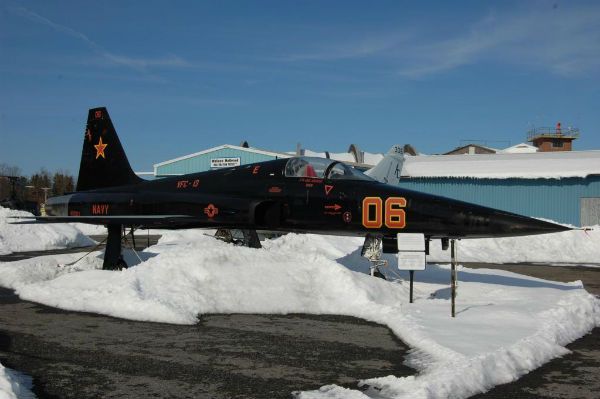 I am fortunate to know David Lee; David is one of those friends who are quite irreplaceable. He and I go way back, more than 30 years. He is a noted aviation author, a past President of the Transport Trust, and Deputy Director of the Imperial War Museum, Duxford. In other words, when he's speaking, I usually jot down some notes so I can regurgitate them to you kind people, later! Seriously though, in our combined spare time we formed a fairly well-received commentary team at various UK aviation events. I remember one airshow, the first day of which was 90% rained out, when I did about 10 minutes over the public address system on a ladybird which had settled on David's rectangular Tupperware lunchbox, and was busy crawling a perfect 'circuit' around the rim. As I explained to David (and the soggy, long-suffering enthusiasts), 'Well, its got wings, hasn't it ?'
After the death of his beloved Jeannie, David took off on a major, around-the-world, trip to see aviation museums. His last four days were spent with me on what has become known as 'The Infamous Ice Road Trip', through MA, RI and NY. We were very fortunate, in that I was able to make a few 'phone calls explaining that the former Deputy Director, IWM Duxford (he still works for them on a consultancy basis) was in the neighbourhood, and could we - meaning a rather battered former Senior Curator, National Museum of Science & Industry, as well - come and have a look around? We were welcomed with open arms, and saw reserve collections, conservation units, and had whole collections opened up, even when the museums were closed!
The Empire State Aerosciences Museum in Glenville, NY, treated us magnificently, with personal tours around the whole facility. I cannot say enough about these people. They thoroughly deserved to receive the displaced Supermarine Scimitar jet fighter from New York's Intrepid Sea-Air-Space Museum, and it shows a great deal of confidence in their abilities that the Fleet Air Arm Museum would be happy to loan such an item (only three left in the world).
Another loan item - from the National Museum of Naval Aviation, Pensacola, Florida, is this superb Northrop F-5E Tiger II, from VFC-13 out of NAS Fallon, NV. An outgrowth of the simple NATO-inspired F-5A, the F-5E Tiger II first flew in 1972, its two G.E. J-85s pushing it to Mach 1.6 (1,100mph). As well as the two inbuilt 20mm cannon, the armament fit could include two AIM-9 Sidewinders and other stores, for a total of up to 7,000lbs of ordnance (on short-range missions) on five weapons stations. VFC-13 had a particularly interesting role, in that they provided dissimilar air combat training for the United States Navy and other units.
The F-5E was very agile, and had a performance envelope not unlike several Soviet era fighters - it could simulate a MiG 21, for example - and VFC-13's pilots really made the candidates going through the Navy Fighter Weapons School, who were flying F-4, F-14, and F/A-18 aircraft, work hard.
This particular aircraft is also a movie star in that it was, apparently, one of those flown in the Tom Cruise movie 'Top Gun'. I am told, however, that not all of it flew in the film, as the replacement wings were obtained from surplus Swiss Air Force stocks!
This is the season to remember years past. The days of our childhood, when everything seemed possible, and the world was fresh and new. Now, we must cope with harsh new realities, and doubts and anxieties assail us on all sides. Whatever faith you hold to, or whether you espouse none, we should each use this season to think on ways to serve our fellows better, and gain joy and wisdom from these acts. Thus will our hearts be lightened and the true spirit of the season flood in.
May you and yours be blessed, and may you know peace..........