I post a weekly diary of the historical notes, arts & science items, foreign news (often receiving little notice in the US) and whimsical pieces from the outside world that I featured this past week in "Cheers & Jeers". Here is this week's tomfoolery material that I posted. It's rather small (due to holiday travel); will be back to normal posting next week.
THIS PAST THURSDAY NIGHT yours truly hosted the Top Comments diary, that took a look at the Rupert Murdoch scandal in 2012 ...... and noted three heroes who helped knock the House of Murdoch down-a-peg, including a politician and an investigative journalist (perhaps unsurprisingly) as well as ...... a noted film star (which is perhaps a bit surprising).
ATTENTION, READERS - this year's quiz from King William's College (a prep school located on the UK's Isle of Man) - with said quiz known as its General Knowledge Paper officially - is now available.
It consists of 18 groups of 10 questions - with one section on events from 1912 (100 years ago) and another on events of 2012. Each group has a common theme (though perhaps not immediately recognizable) that helps if you can answer at least one of that group's questions ... thus giving slight hints about other answers. It is among the most difficult general knowledge quizzes on earth (quite British literature-laden, as you might well imagine).
At this link is this year's quiz - and no talking during the quiz! The answers will be made available in late January. Last year I got a blistering 4 correct out of 180 (up from 3 in 2011, so it was a 1/3 improvement). It's so tough that I channel Captain Binghamton: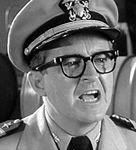 I could just scream!
TV NOTES - the New Year's time often features TV marathons ... and this year is no exception: here are a few for your consideration ....

On New Year's Eve, the Antenna TV network will ring in 2013 with "The New Year's Eve Curtain Call with Benny and Burns & Allen" - a Burns & Allen Show and a Jack Benny Program marathon (40 episodes/20 hours.) This begins at 11am Eastern Time on Monday, December 31st and running through 7am Eastern Time on Tuesday, January 1st, 2013.
On New Year's Day itself (Tuesday), the Antenna TV network will feature a Three Stooges marathon - this begins at 7am Eastern and runs through 3pm Eastern.
And, of course, the Sci-Fi channel features its annual Twilight Zone marathon: beginning at 8am Eastern Time on Monday December 31st and continues to 5am Eastern Time on January 2nd.
FRIDAY's CHILDREN are Pwditat the Cat and Terfel the Dog - a blind dog who relies upon a stray who became Terfel's "guide cat" in Wales.
......and finally, for a song of the week ............... no time for even a mini-profile this holiday week. So I'll just reprise my favorite New Year's song.
This is the very mellow, contemplative Goodbye, December from bluesman John Mayall on his 1970 Back to the Roots album. It features Eric Clapton as well as long-time Canned Heat bassist Larry Taylor (who is now in Tom Waits' band). And below you can listen to it.
Time for reflection
Winter is here
Goodbye, December
The passing away of the year

Watching the day of the wind
Blowing the dirt from the sky
Clearing the air for tomorrow
Bidding December goodbye

Make celebration
Another year is gone
Now part of history
Gotta be moving along

Look for the sunrise
Old days are dead
Goodbye, December
Got a big future ahead