One day, as you swim in your town's only public pool, you observe an ever-increasing crowd of people standing at the edge of the pool, peeing into the water. Despite your vigorous protests, they stay there and keep peeing, and are joined by still others. Each person says that you can't prove that their pee, specifically, is impacting you, so the lifeguards do nothing. As the concentration of pee in the pool rises, you realize in an incisive moment of clarity that what matters is not whose pee you are in contact with at any given moment.
What matters is: Don't Pee in the Pool!
So it goes with global pollutants. Like a collection of industrialist Alfred E. Neumans, each polluter simply points to someone else who is doing it too. The more global the pollutant, the worse becomes the vicious cycle of irresponsibility. The greenhouse gas carbon dioxide (CO2) is at the very top of the midden heap for blame shunting and evasion of any kind of responsibility.
We have a pivotal opportunity, right here in the Pacific Northwest, to say: Not Here. We can stop some of that peeing into the pool, by …. ok, let's not go there. Let's just say, that there are several billion tons of coal that, over a few decades, certain corporations want to send to China to be lit on fire and turned into pollution, especially climate-destroying carbon dioxide. And, we can stop them.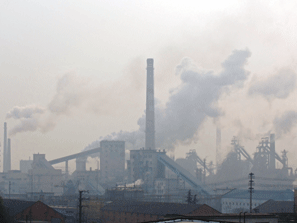 In China - a coal burner added each week
Each of five proposed coal export terminals is going through, or will go through, a permitting process. For some or all of the terminals this will involve an Environmental Impact Statement (EIS). Members of the public can comment on what should be considered in the EIS, a step called scoping. It's happening right now for the proposed Cherry Point terminal, the biggest and worst of the bunch. If you want an impact to be considered, then you need to comment right now at
The agency website
(the comment period ends on January 21st!). In over 9,000 comments so far, we have listed several hundred distinct concerns, and many of the comments are about the big cahuna: the burning of the coal in Asia.
But can an EIS consider the effects of combustion of the coal in Asia?
From a moral, practical, and logical standpoint, there's just no question. Of course it should. If we ship that coal to China, they will burn it and cause the pollution. If we don't, they won't.

The terminalators will attempt to induce torpor and stop you from acting, by raising a defeatist and misleading suggestion that people in China will just acquire coal from elsewhere, dug out of mines that do not currently exist, and burn that coal instead, if we do not export coal to them. That may or may not occur. If it does, that other coal will cost them more than importing coal from the USA, and thus they would probably use less. But in all cases it's never okay to be part of something harmful on the theory that someone else, somewhere else, is going to do it anyway.
Regardless of what should be, the very specific question remains as to whether, by law and practice, combustion of US coal overseas can be considered in an EIS.
The answer is: Yes it can, but it sure won't happen if we don't demand it.
To get there, we have to …. ok, get ready for it …. get wonkish.
Let's preface this entire discussion by saying that the most important thing in this kind of public commenting is to provide a well-founded expression of concern about an issue, and encourage others to do the same. Numbers matter. Your perspective matters. Your comments about the facts in the real world ("Actual Reality") will have value, whether or not you ground them in a policy or legal basis ("Official Reality").
So if you're inspired right now to comment on climate or other effects of the proposed coal export terminal (need ideas?), then feel free to forget the rest of this diary and go Right Here, Do Not Stop, Do Not Pass Go and submit your one or more comments.
Here is a good source of inspiration for ministering to our earth:

But if you want to dig into some legal and policy logic, there is also fertile ground to find a strong basis in law and policy to say that agencies should consider combustion outside of the US, and the resulting CO2 emissions.
We'll start with very basic facts, limited to the Cherry Point proposal, since that's the one that's open right now for public comment.
The plan is to export over 48 million metric tons of coal per year to China, where it will be burned, resulting in air pollution that will harm us back here (not to mention the far more severe effects on nearby populations in China). The pollution includes carbon dioxide, a greenhouse gas that also causes ocean acidification. Excellent summary here. [The combustion also releases harmful pollutants such as mercury, but this column is focused on CO2]
The coal port applicants want the permitting agencies to consider only the effects in and around the proposed port properties. Concerned people want the entire set of impacts to be considered, up to and including the effects of combustion in China.
The first question is whether the applicable law allows for consideration of an effect that may occur outside the US. The clear answer: Yes it can. It's right on the applicable SEPA law (h/t Terry Wechsler of Protect Whatcom):

[A] lead agency shall not limit its consideration of a proposal's impacts only to those aspects within its jurisdiction, including local or state boundaries. (Wash. Admin. Code sec. 197-11-060(4)(b))
Next: Can the impact of combustion emissions, including carbon dioxide emissions, be considered?
Again, Yes. The United States EPA has recognized the materials emitted from combustion, including Carbon Dioxide, as pollutants. EPA has begun to regulate CO2 emissions, starting with proposed New Source Performance Standards (NSPS) for coal fired power plants.
The tricky part, of course, is the combination: Considering combustion emissions, including carbon dioxide, that occur overseas.
One of the most powerful leverage points is the concept of the Public Interest. Under some circumstances, agencies can broadly consider the public interest, rather than needing a specific regulatory driver. This is especially true if a project needs to use government resources rather than just private assets. In the case of GPT, there are at least three major government-controlled resources that are absolutely required for the project to go forward:
- The coal is mined from federal government land in Montana and Wyoming
- The pier requires a shoreline lease from the WA State Department of Ecology
(because private landowners only own the land, not the shore).
- Large water withdrawals from the Nooksack River are needed for dust control
This request to use government resources is profoundly different from meeting regulatory requirements for an activity on private land. The applicants have no title to these resources, and access is generally granted if the proposed activity is in the public interest. So instead of a regulator determining whether an activity is prohibited, it is on the applicant to show that the activity is in the public interest.
For example, permits to mine coal from public lands have been granted on the basis that the coal will provide a stable domestic energy supply. Domestic, get it? That means – here in the USA. The current practice of shipping coal from federal lands to British Columbia for export to Asiais in conflict with the original justification for the coal leases, and a massive expansion of such export will make that conflict much more apparent.
The project will also require exercise of a key government power, which is: Eminent Domain. This means seizing land from other private owners, whether or not they want to sell, in order to allow the project to occur. This is another point whether the question of the Public Interest should reasonably be applicable.

1,800 people who don't think coal export is in the public interest
Then, there is the question of whether the project is consistent with certain federal or state laws or policies. Where the project is not consistent with these policies, you can point that out in a comment.
An excellent resource relating to some of these policies is a 2010 letter to the permitting agency from Earthjustice about the proposed Millennium coal export terminal in Oregon. This is a great read (assuming you're into this kind of stuff) and provide a lot more detail than the entries below.
- Copenhagen accord
The United States is a signatory to the Copenhagen climate accord, which agrees in concept to large reductions in GHG emissions worldwide. Although the actual enforcement mechanisms in the accord are pathetic, large new coal export schemes are clearly inconsistent with the intent of the document we, the United States, have signed.
- EPA has recognized CO2 as a pollutant
The US EPA has declared carbon dioxide to be a pollutant, and has started to regulate CO2 emissions. The New Source Performance Standards (NSPS) state that any new coal-fired power plant in the US must meet a very tight standard for low CO2 emissions. If we build a new facility (the export terminal) for the specific purpose of supplying coal to be burned in a manner that does not meet these new standards, then that undermines the entire purpose of the NSPS standards.
EPA has also commented on a different coal export proposal that resulting CO2 emissions should be considered.
- WA State GHG reduction standards
Washington State adopted greenhouse gas reduction standards via legislation adopted in 2008. See RCW 70.235.070(1)(a). The statute establishes that by 2020, emissions shall be reduced to 1990 levels. By 2035, GHG emissions are to be 25 percent below 1990 levels and by 2050, they are to be 50 percent below 1990 levels.
The coal terminal, if permitted, would offset a considerable portion of these reductions. Since CO2 is a global pollutant, it would be futile to reduce local emissions while facilitating an increase elsewhere.

- WA State Panel on Ocean Acidification
In November of 2012, the Governor of Washington State released an executive order initiating action on ocean acidification. The executive order states, in part:
I, Christine O. Gregoire, Governor of the state of Washington … do, effective immediately, hereby order and direct:
1. The Office of the Governor and the cabinet agencies that report to the Governor to advocate for reductions in emissions of carbon dioxide at a global, national, and regional level.
It doesn't get a lot clearer than that. The coal export terminal would be in conflict with this executive order, which is now official policy of the state of Washington.

- SEPA standards
The SEPA standard itself recognizes the world-wide scope of environmental issues. Check out this summary researched by Terry Wechsler of Protect Whatcom:

SEPA considers "each person's" right to a "healthful environment" to be "fundamental and inalienable," (Rev.Code Wash. Sec. 43.21C.020(3).) "[r]ecognize[s] the worldwide and long-range character of environmental problems," and directs agencies, "where consistent with state policy, [to] lend appropriate support to initiatives, resolutions, and programs designed to maximize international cooperation in anticipating and preventing a decline in the quality of the world environment…." (RCW 43.21C.030(1)(f).)
There's no magic bullet. We won't find a law or policy that says "an EIS must consider overseas CO2 emissions." What we can find is a pattern of policies that a reasonable person can read, and can conclude that if we don't consider overseas CO2 emissions, then we're pretty dumb.
It's possible that local impacts will be more likely to be considered in the EIS than overseas CO2 emissions. Definitely, please comment on any local impacts that concern you.
But, we can consider all of the ways that we can get value from a public comment period in an EIS, not just the obvious ways. If you only comment on issues that the agencies are already disposed to consider, you are stuck inside their little thought boxes. We can help the agencies to expand their thought boxes to better match reality, and to that end it's especially important to provide input on issues that they may not yet be planning to consider.
For a moment, let's say that despite many comments on the topic, the agencies decide not to consider overseas combustion in the scope of the EIS. That's not great, but it's not the end of the world. For starters, it can be grounds for litigation. And, the basis for that litigation will be vastly stronger if there was a very widespread expression of concern about the topic, measured both by the specific information provided and also by the number of comments.
In an even larger sense, it's an opportunity to help end climate silence and expand the conversation. If we don't ask, or demand, that climate should be considered in big decisions like these coal ports, then it never will be. And that would be bad. Because you know, it's the only pool we've got.
Any time you think that you don't have a choice, you actually do.
Any time you think you have to do something that's wrong, you don't.
Not Here
Not Today
Not Any More
We shall not participate in our own destruction.
References:
Comment Here about the scope of the EIS for the proposed coal export fiasco.

Our Future - Worth Saving
Video from the coal terminal public hearings was filmed by Ivey Cone, videographer and editor, and The Center for New Media, and was posted on YouTube by
Coal Train Facts
Photo from Bill McKibben Do The Math Tour, by Paul Anderson
Thanks to Terry Wechsler of Protect Whatcom, KC Golden and Ross MacFarlane of Climate Solutions, and Kristen Boyles from Earthjustice for information and discussion of regulatory questions.
Previous entries in this series, in chronological order first to most recent:
We shall not participate in our own destruction
Pretty much the dumbest idea ever
Can a community defy a cabal of multi-national corporations?
Great for the coal cabal! For us, not so much
And So it Begins
Right Brain for This Decision?
101 Reasons to be Concerned About Coal Export
On Refusing to be Rounded out of Existence
Who Are the Welfare Queens Now?
There Is No Daylight
Tis the Season to Decide Our Future
They've Got the Money. We've Got the Humans!
The House of Actual Reality