Today Puerto Rico celebrates the traditional christmas holiday Día de los Reyes Magos (3 Kings Day or epiphany). It is one of the most important holidays in Puerto Rico and the most beloved. So, Merry Three Kings Day to all puerto ricans around the world!
But earlier this week puerto ricans celebrated a different holiday: Inauguration Day. The swearing-in ceremony of the tenth popularly elected Head of Government, Alejandro García Padilla.
This is the full video of the Inauguration. total time: 1 hour +
During the evening inauguration festivities, beloved singers Danny Rivera and Chucho Avellanet sang together ''Yo quiero un pueblo''.They recorded this song together for a christmas special two months ago and it was the first time they sang it live. So nice of them!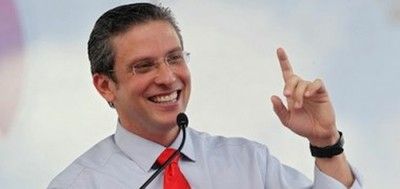 The 10th popularly elected Head of Government of the Estado Libre Asociado de Puerto Rico, Alejandro García Padilla was born in Coamo, a municipality in the mountain region of Puerto Rico.

Con el mar, la tierra y el cielo puertorriqueño como testigos; frente a ustedes que representan al pueblo de Puerto Rico extendido por el mundo; y ante la mirada benigna de Dios; asumo con tanta humildad en mi espíritu como reciedumbre en mi voluntad, la responsabilidad de la gobernación del país.
translation: With the sea, the land and the puertorican sky as witnesses, in front of all of you that represent the people of Puerto Rico, in front of God's eyes i assume with a lot of humility the reponsability of being the governor of this country. source-full speech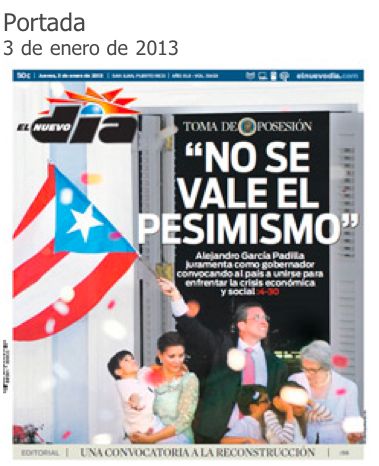 front page january 3 2012 - El Nuevo Día newspaper
Headline : 'No se vale el pesimismo, Alejandro García Padilla juramenta como gobernador convocando al país a unirse para enfrentar la crisis económica y social'' Translation: ''No space for pessimism'' Alejandro swears in as governor and calls for country to be united in order to face economic and social crisis''

"The solution is not on the shelves of a pharmacy, but within ourselves. The strength is in the heart of each Puerto Rican, The strength of our country is in our country," source
García Padilla belongs to the Partido Popular Democrático (
PPD
-
Popular Democratic Party
), political party that is divided between those who believe the present political status is not a territorial status (they reject territorial status label) but a special and unique status between two nations (Puerto Rico and the US) that have a compact of association since 1952, a status that needs enhancement, enhancement that will give Puerto Rico greater powers and the second group:those who believe Puerto Rico's special status is a colonial one that needs to move towards sovereignty. The new mayor of San Juan belongs in the second group. A
plebiscite
was also held along with the general elections and the division between these two factions within the PPD was visible. The first group left the status question in blank in a organized protest vote (25.7%) while the second group voted for the Sovereign Commonwealth or Sovereign Free Association option (24.5%). The independence or republic option got 4.1% while those seeking US annexation got 44.9%
His first executive order: deploy Puerto Rico's National Guard troops to help fight crime, also during his first day university students demanded the elimination of the $800 annual fee.