Commentary: African American Scientists and Inventors
by Black Kos Editor, Sephius1


In a career spanning over forty years, Howard S. Jones, Jr. has become one of our nation's most respected inventors and mentors in advanced antenna systems.
Born in 1921 in Richmond, Virginia, Jones did not discover his interest and talent for science until entering Virginia Union University at the encouragement of his mother. Upon earning a B.S. in mathematics and physics there (1943), Jones decided to go into engineering. With World War II underway, the country needed engineers; and Jones moved to Washington, D.C. to work for the National Bureau of Standards (now the National Institute of Standards and Technology).

(con't.)
Although Jones served as a Signal Corps specialist in Japan and was offered an officer's position by the Army, he chose to return to research after the war at an Army laboratory in Maryland. At the time it was directed by Harry Diamond, who had specialized in ordinance technology at the National Bureau of Standards.
It was at the Harry Diamond Laboratory (now part of the U.S. Army Research Lab) at Adelphi, Maryland that Jones rose to prominence, as a specialist in antenna systems for weapons fuses. After arriving, Jones was encouraged by his supervisors, "We want you to invent as prolifically as Jacob Rabinow"---who had also worked in ordinance technology and was already a living legend at NBS. Jones responded to this challenge by producing roughly a patent per year throughout the '50s, '60s and '70s, including the radar fuse antenna systems used in most of the missiles produced by the Army during that time.
Jones' first patent was for an "Antenna Testing Shield" (patent #3,029,430). Engineers still use this hood to test a weapon's fusing system in conditions that simulate flight through free space. But Jones' greatest contribution to the development of weapons technology, involving a number of his patents, was the "conformal" antenna array. Missiles, which for speed, accuracy and reliability must be aerodynamic, require antennas for long-range electronic detonation; Jones' breakthrough was to build antenna arrays of copper wire and electronic circuits into the casing of a missile. Jones managed to eliminate the need for spindly appendages that created drag during a missile's flight, without exceeding specifications of weight and size......Read More
~~~~~~~~~~~~~~~~~~~~~~~~~~~~~~~~~~~~~~~~~~~~~~~~~~~
News by dopper0189, Black Kos Managing Editor
~~~~~~~~~~~~~~~~~~~~~~~~~~~~~~~~~~~~~~~~~~~~~~~~~~~


~~~~~~~~~~~~~~~~~~~~~~~~~~~~~~~~~~~~~~~~~~~~~~~~~~~
The big money prison pipeline needs to be shut down. The Nation: On the Routine Criminalization of America's Black and Brown Youth
~~~~~~~~~~~~~~~~~~~~~~~~~~~~~~~~~~~~~~~~~~~~~~~~~~
On the face of it, the fates that befell 22-year-old Rodrigo Diaz and 7-year-old Wilson Reyes may seem unrelated. A Bronx elementary school student, Reyes was handcuffed and, according to his family, interrogated by police for up to ten hours, because of a playground scuffle over five dollars. Diaz, meanwhile, was shot and killed when he mistakenly pulled into the driveway of Phillip Sailors, a 69-year-old Vietnam veteran, in Lilburn, Georgia.
But they're connected. Let me explain how. David E. Diaz-Valencia, Diaz's brother, told NBC Latino, "We don't think it's about racism. Maybe the guy was angry, trying to protect his own property." Sailors's attorney, Michael Puglise, told the Atlanta Journal-Constitution this was "not a question of color, not a question of race, this is a question of a tragic event dictated by fear." But fear of whom? With due respect to Diaz-Valencia's optimism, I find it almost impossible for to think up a scenario in which a car full of white youth pulls into the wrong driveway, the owner of the home fires a warning shot before confronting them, as Sailors did, and then the driver of the vehicle is shot in the head as he's backing the car out and attempting to apologize, as was the case with Diaz. Because in our American imagination, the only time a group of young white people pose a threat that requires a violent response is when they're occupying Wall Street. The victims in these cases of "mistaken" identity always come up as people of color.
And maybe Sailors would have done the same if they were white. He may have just been that angry at any trespasser. There isn't really a way for us to be sure. What we do know that happened is a group of young Latinos pulled into the wrong driveway, and a man shot one of them because he was afraid they might be gang members trying to rob him. Now I ask, how does that man come to such a conclusion so quickly?
Well, it starts with putting a 7-year-old brown kid in handcuffs over five dollars he didn't steal. Perhaps it's still a foreign concept to most people, but the criminalization of black and brown youth is a daily routine. Reyes's situation isn't unlike that of 6-year-old Salecia Johnson, who in April of last year was arrested and handcuffed in school, after what was described as "temper tantrum." Before her, there was 5-year-old Michael Davis, whose hands and feet with restrained with zip ties when his school called the police in to scare away his behavioral problems. The kids get the message a very young age, and the rest the world does as well, that they are potential menaces to society and will be treated as such.
That's why, in the Washington, DC, area, black kids are two to five times more likely to suspended or expelled from school than their white classmates, and why in New York City, over the course of a four-month period in the summer and fall of 2011, all but four of the sixty-three students arrested in school were black or Latino. They aren't disproportionately more disruptive, but their behavior is interpreted as such.
This is how you end up with Trayvon Martins and Jordan Davises. We create these images of monsters and then wonder why people go out slaying them.



7 year old Wilson Reyes, published with permission from his mother Frances Mendez


~~~~~~~~~~~~~~~~~~~~~~~~~~~~~~~~~~~~~~~~~~~~~~~~~~~


~~~~~~~~~~~~~~~~~~~~~~~~~~~~~~~~~~~~~~~~~~~~~~~~~~~
Show Me the Numbers: Why the academic achievement gap is not rooted in black anti-intellectualism. The Root: The 'Acting White Theory' Doesn't Add Up.
~~~~~~~~~~~~~~~~~~~~~~~~~~~~~~~~~~~~~~~~~~~~~~~~~~
The Acting White Theory originated in the 1980s with Dr. John Ogbu's ethnographic research and is commonly used to explain present-day "achievement gaps" between black and white students. Today the Acting White Theory has its own Wikipedia entry and was mentioned by then-Sen. Barack Obama in 2004, when he said, "Children can't achieve unless we raise their expectations and turn off the television sets and eradicate the slander that says a black youth with a book is acting white."
The Acting White Theory seems to have particular cachet among flatulent black people who feel a certain disdain toward the less refined (pejoratively "ghetto") aspects of the black community. Many of them have been called "sellouts," which reinforces a key tenet of the Acting White Theory. Other scholars, such as Edward Rhymes and Michael Eric Dyson, push back against the theory. In his book Acting White? Rhymes states: "Somehow many African Americans (usually the affluent, disconnected ones) have swallowed this misconception about African-American youth being anti-intellectual and anti-education. This ideology concerning nerds and geeks did not originate in the African-American community, but in predominantly white, middle-class, suburban communities."
The Acting White Theory is difficult to assess through research. Many scholars who claim to find evidence of this theory loosely interpret their data and exploit the expert gap to sell their findings. One of the best examples of this is Roland G. Fryer's research paper (pdf) "Acting White: The Social Price Paid by the Best and Brightest Minority Students."
Here Fryer uses the Add Health data to demonstrate, in a nutshell, that the highest-achieving black students had fewer friends than high-achieving black students. In his study, black students with a 3.5 GPA had the most friends of all academic levels, those with a 4.0 had about as many friends as those with about a 3.0 and those with less than a 2.5 had the fewest friends of all.
Overall, contrary to the study title, Fryer's research clearly demonstrates that the "social price" paid by the lowest-achieving black students is far greater than the so-called price paid by the highest-achieving black students. Moreover, methodologically, the study has to make the ostensible leap that the number of friends a black student has is a direct measure and a consequence of acting white. Interestingly, Fryer used the same mammoth dataset that Satoshi Kanazawa used to pseudoscientifically "prove" that black women (actually teenage girls) are less attractive (actually rated less attractive by adult raters of an unknown racial background) -- but I digress.



The graduating class of Livingston High School prepares for commencement June 3, 2008, in New Orleans. (Mario Tama/Getty


~~~~~~~~~~~~~~~~~~~~~~~~~~~~~~~~~~~~~~~~~~~~~~~~~~~


~~~~~~~~~~~~~~~~~~~~~~~~~~~~~~~~~~~~~~~~~~~~~~~~~~~
Massachusetts Governor Deval Patrick has picked William "Mo" Cowan, his former chief of staff, to serve as the state's interim US senator until the successor to John F. Kerry is chosen by the voters in a June 25 special election. Boston Globe: William 'Mo' Cowan is Governor Deval Patrick's pick to serve as interim US senator.
~~~~~~~~~~~~~~~~~~~~~~~~~~~~~~~~~~~~~~~~~~~~~~~~~~~
Cowan said he was "honored and humbled" to get the temporary post, which will make him the first African-American to represent Massachusetts in the Senate since Edward Brooke held the seat as a Republican from 1966 to 1978.
He said he would "go to work every day with the needs and aspirations" of Massachusetts residents on his mind and would push for jobs, education, and affordable, high-quality health care.
Addressing the governor, he said, "You and the Commonwealth should be assured that I now go to the nation's capital ever mindful of what matters to the people of Massachusetts."
He said he was not running for office and was not a "candidate today or any time in the future." The governor asked him to take the job Tuesday, he said.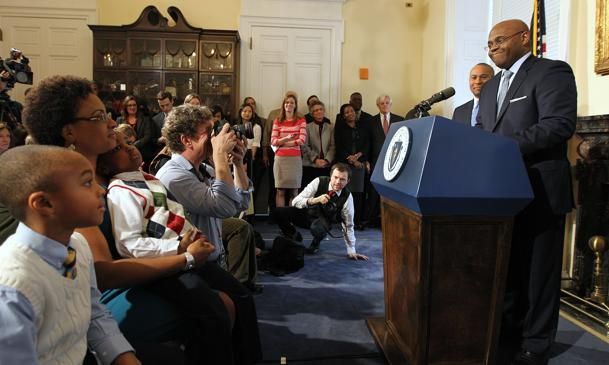 Pat Greenhouse/Globe Staff


~~~~~~~~~~~~~~~~~~~~~~~~~~~~~~~~~~~~~~~~~~~~~~~~~
Singer, actor and civil rights activist Harry Belafonte on Tuesday urged leaders in the black community to get more involved in the national debate on guns. Washington Post: Singer, activist Harry Belafonte urges black leaders to get involved in gun debate.
~~~~~~~~~~~~~~~~~~~~~~~~~~~~~~~~~~~~~~~~~~~~~~~~
Belafonte told The Associated Press that the current discussion arising out of the Connecticut school massacre in December often ignores decades of urban gun violence. He said it's important that African-American leaders participate in the debate over gun control.
"What really concerns me is the ingredients of the discourse," he said. "The African-American community ... where is that community? Where is that voice? I think the black community, the black leadership need to stir it up."
The 85-year-old Belafonte made his comments during a visit to the Rhode Island School of Design, where he delivered an address on his life as an artist and activist. He urged the 550 people in attendance to embrace "radical thoughts" for solving poverty, inequality, violence and greed.
"What I find missing mostly in the American discourse is the rejection of radical thought," he said. "They (national leaders) speak within the same dull space they inherited from past oppressors."
Belafonte was called "The King of Calypso" for bringing Caribbean music to a global audience. He was also a key figure in the civil rights movement, giving financial support to Martin Luther King Jr. and funding organizations like the Student Non-Violent Coordinating Committee. He was an organizer of the 1963 March on Washington.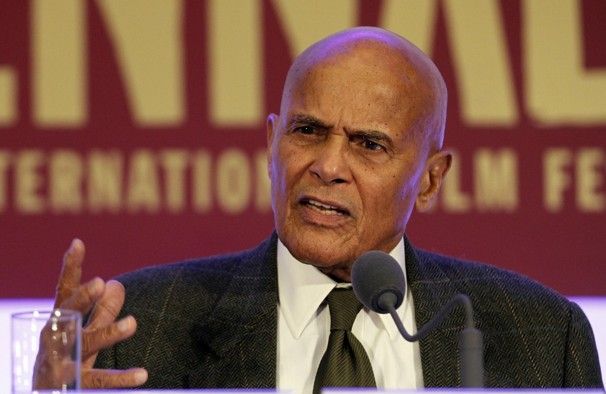 Ronald Zak, File/Associated Press


~~~~~~~~~~~~~~~~~~~~~~~~~~~~~~~~~~~~~~~~~~~~~~~~
O'Reilly steps in it -- again. The Root: Powell to O'Reilly: 'You Only See Me as African American'.
~~~~~~~~~~~~~~~~~~~~~~~~~~~~~~~~~~~~~~~~~~~~~~~~
"Why do you only see me as an African American, Bill? That troubles me. I'm an American."
Ouch. Tell it like it is, Colin Powell! The quote above was his response to a line of questioning from Fox News' Bill O'Reilly, who was "perplexed" about how the former secretary of state could possibly vote for President Obama when "his economic plan hasn't worked among African Americans."
Watch the entire exchange here and let us know whether you think there's hope of O'Reilly ever becoming less "perplexed" when it comes to matters of race.




~~~~~~~~~~~~~~~~~~~~~~~~~~~~~~~~~~~~~~~~~~~~~~~~~~~

~~~~~~~~~~~~~~~~~~~~~~~~~~~~~~~~~~~~~~~~~~~~~~~~~~~
Olympic gymnast Gabrielle Douglas is donating personal items to the Smithsonian's National Museum of African American History and Culture. Huffington Post: Gabby Douglas Donates Olympic Items To Smithsonian National Museum of African American History and Culture.
~~~~~~~~~~~~~~~~~~~~~~~~~~~~~~~~~~~~~~~~~~~~~~~~~~~
Douglas won Olympic gold at the age of 16 in the 2012 London games. She was the first African American woman to win gold in the individual all-around competition. The U.S. women's team also won gold.
The Virginia Beach, Va., native is giving the museum the leotard she wore during her first competitive season in 2003. She's also giving the wrist tape and uneven bar grips she used in the 2012 Olympics, as well as her mother's ticket to the games, personal photos and her Olympic credentials.
The items go on display Friday at the National Museum of American History. The black history museum is slated to open in 2015.



Gabby Douglas (Joe Scarnici/Getty Images Sport)


~~~~~~~~~~~~~~~~~~~~~~~~~~~~~~~~~~~~~~~~~~~~~~~~~~
The 15-year-old, killed in a Chicago shooting, appeared in a video created to discourage youth violence back in 2008. Ebony: Slain Teen Hadiya Pendleton in Anti-Violence PSA.
~~~~~~~~~~~~~~~~~~~~~~~~~~~~~~~~~~~~~~~~~~~~~~~~~~
"Hi, my name is Hadiya. This commercial is information for you and your future children ... So many children out there are in gangs, and it is your job as students to say no to gangs and yes to a great future." That's the voice of 15-year-old Hadiya Pendleton, who was shot and killed on Chicago's South Side the week after she performed as a majorette at events surrounding President Obama's second Inauguration.
It turns out the ambitious and active teen played a role in a public service announcement targeting the very type of violence that's being blamed for her death.




~~~~~~~~~~~~~~~~~~~~~~~~~~~~~~~~~~~~~~~~~~~~~~~~~
~~~~~~~~~~~~~~~~~~~~~~~~~~~~~~~~~~~~~~~~~~~~~~~~~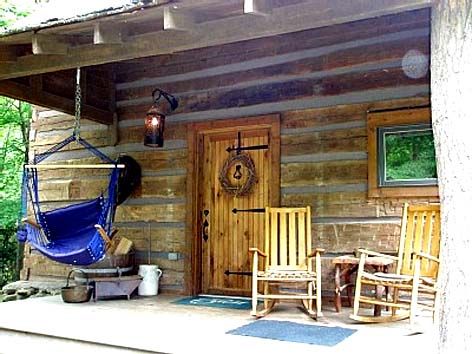 Welcome to the porch, where it's always warm, and the conversations are just fine.