Good morning. The Shop is open and I've got some coffee going. 7am here on the high desert east of Santa Fe and it's first light outside.
I'll be your host this morning, taking this opportunity to update you on a few things.
This is of course the Home Repair place and our usual now-not-so-ad-hoc cadre (they're organized! they have a schedule!) of construction professionals and gifted amateurs will be here to guide , advise and commiserate about all things home repair and improvement.
In all seriousness, my hat is off the the Homies who have stepped up to the plate in my absence and are making the Home Repair Shop a continuing asset to the Kosmunity. I'm not going to embarrass myself by trying to name everyone, because I'll forget too many of you. You know who you are, and so does everyone else, so thanks to you all. You are doing a great job. And that includes some of you I don't even know, who have come around since I left last year and joined this congenial little nook at the Great Orange Forum.
So I've got chickens laying eggs again, after having to start out from baby chicks in the mail last July after the whole flock got killed one night in April by by canine parties unknown, wild or domestic, after I left the damn door open one night. The new chucks were hatched in early July and came into maturity in December and by now are in production, despite it being the dead of winter and some significant cold (-4 F) this past month.
They are ensconced in the legendary passive solar adobe chicken coop, which still isn't plastered, but does the job anyway.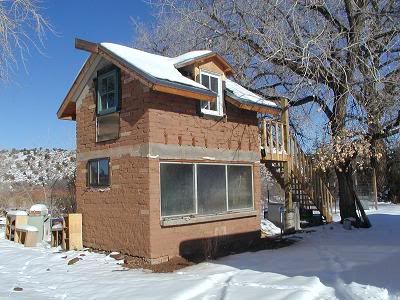 On the coldest nights, the flock of 6 Chinese White geese stuffs itself, goose by goose through the bitty chicken door to get warm, but most night they just stay out, warm enough in their little down vesties. They get herded into the chicken pen at night as we have lost two of them, or rather, found two piles of feathers out back. During daylight they roam the acre or so around the house being obnoxious and rude. They realize I was just bluffing about the Christmas goose if they didn't quiet down. They came as hatchlings along with the chickens and grow astoundingly fast. A goose is possibly the most efficient converter of grass and weeds to flesh around, growing to around 12 pounds in about 14 weeks on free range.
The bevy of peafowl has grow to six, mother Alice and her five chicks born over two years. If the birds are related, they are called a "bevy"; if not, they are a "party". Yoou may remember I told of Alice showing up on her own, just appearing one day mooching chicken food. She continued to stay around and yelled a lot, and in about a month, just about when we had started trying to find her a boyfriend, he showed up as well. Valantin. They stayed, gobbling up grapes, whole wheat bread, cat kibbles and chicken food whenever they came asking, and the next spring produced chicks on their own, out of some nest she had in the brush somewhere along the ditchbank.
2 chicks survived of the 3 we originally saw, they all thrived, and last year produced three more, all of whom survived, but Papa Valantin himself disappeared, leaving Alice and their 5 chicks. We await this year's developments, as the oldest of the peacocks, in his second year, is displaying and Alice is starting to hang around with him more. We don't know if he'll also try to get together with his sister, who is also now old enough. We will have to find another cock from a different lineage to enrichen the gene pool.
We figure the birds started out in somebody's cage down the valley somewhere and they escaped and followed the ditchbank forest until they found us. This is our 4th year with them choosing to be here, uncaged. Pretty amazing.
Probably the most amazing thing going on for me personally lately is that I haven't smoked tobacco in more than 4 months, after most of a lifetime of addiction. Now all I have to do is wean myself from the little Nicorette mint lozenges that supply my nicotine fix in tiny doses. My lungs are enjoying the breakm but my digestive system is grumbling about having become the delivery vector.
Then there is the charming story of Randy Mascorella, who had been wanting a Rumford fireplace for years and when she was ready, she somehow found me by googling up "Rumford fireplace" and found this diary and then figured out my name and found my phone number.
So I'm trying to nap one early afternoon back in the summer and the phone rings. Caller ID sez "NM SPCL OLYM" and I think "telemarketer" and I don't answer. Answering robot kicks on and this voice says "I was trying to talk to someone about a Rumford fireplace…" and I jumped up and answered the phone.
Randy is the Director or Head Honcho for NM Special Olympics, and she had dreamed of having her own Rumford fireplace ever since she had experienced one at a friend of her's house in Albuquerque 8 years ago. She suspects it might be one I built years ago, but I haven't seen it, so I don't know. She explained how her whole office had chipped in together to give her the money for the fireplace at a 20-yr appreciation party they threw in honor of her service.
It was almost winter before I found the time to go do her job, but she waited patiently and finally her dream was fulfilled.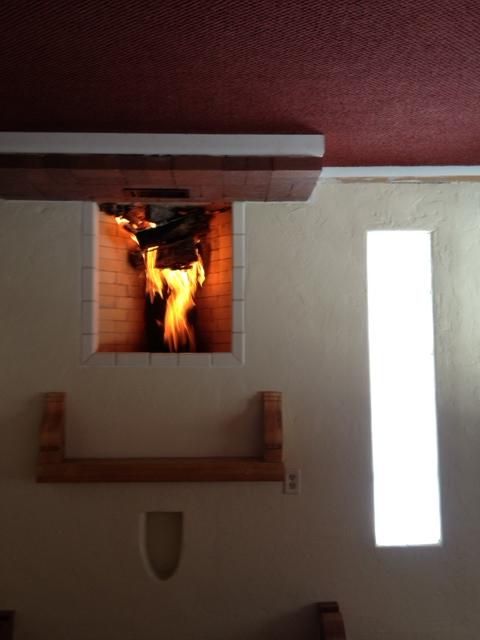 The first night I made her a fire we drank some wine and she took a photo and emailed it around to all the friends who had helped her, before we had even finished all the interior work. The photo above shows the inside pretty much there. The outside stucco work had to wait for a warm spell a couple of weeks ago to finish off.
The entire body and chimney is built outside of the existing frame building on its own footing. The firebox itself intrudes through the wall to flush up with the interior plane. The framing is headered off just like a door or window opening. The new chimney doesn't even penetrate the existing roof membrane, being outside of the parapet wall. This is the best way to retrofit a fireplace to an existing frame structure, and the fireplace takes up no more interior space than the hearth extension itself. The firebox is literally a hole in the wall. The whole structure is solid-grouted cinder blocks, artfully contrived.
Randy is a dream client, someone with utter confidence that I am the right person for the job and she told me to just do it the way I thought it ought to be. The fireplace replaced an existing window in that wall (the room itself was the former garage and fairly shallow) and I put in the glass blocks so she would still get the afternoon light. The hearth bricks match the existing brick step down into the room, and the wood mantle matches the existing ceiling beams. Very plain and simple, almost austere in its understatement. Actually a perfect match for the austere simplicity of Randy's life and work.
I don't know if I ever met anyone with such positive energy and good spirit. She blames it all on Jesus, and she explained about her relationship with Him.
You all know I am a High Skeptic when it comes to religion in general and Jeebus in particular, but this woman is the closest thing i have ever seen that exemplifies the true meaning of a decent Christian lady who lives the talk without ever making one feel inflicted by overt religiosity. We sat and talked about all that at great length while I stayed there for a week doing the work. I am impressed by the strength of her faith and practise and am glad I had the opportunity to see it up close.
Let's see, what else. Oh yeah. The well went dry. The one we put in about 6-7 years ago for irrigation failed to deliver water last week, as I went to to check on getting things ready for spring (we had some warm days this month, as well as very cold; crazy weather). So we called in the guys who had put in the new pump last year and they yanked it all up from 245 feet down and found there was no water.
We have been talking in the abstract that coming climate change was sure to have an eventual impact on us. After three dry winters in a row, the abstract has become quite material and we are forced to conclude that the future has come.
We are exploring various options, like drilling a new well deeper, but hydrological information about our particular locale is very scarce. Very few people have private wells, and only one of those is nearby within less than a mile. There are the two wells that serve the village water system, and one of those is 150 feet deeper than ours; the other is only 30 feet deeper and is only about 7-800 feet away from ours. The village wells have not been affected as far as I can see yet. I am the President of the Board that runs the drinking water coop, so I take an interest in these sorts of things.
The village acequia is shut down for early spring cleaning so we can get it back up and running asap to catch whatever runoff from the meager snowpack (less than 40% of normal) comes down the river. My neighbors re-elected me as Majordomo of the Acequia, so I guess they aren't blaming me for how little water they got last year. This year may be worse. I don't think there has been 4 inches of water fall out of the sky in the past year around here. The unasked question is, does this end, this dry spell, or is this the new normal for us? How long will even a deeper well last? What happens if the village well runs dry?
I may even live long enough to see…
What else? Put some stone plinths in to support the posts for the next section of outside portal roof (that's "porch" to you Gringos). Did I mention installing a swamp cooler last Spring, just in time for a week of 105+ F temps? Or dropping $4k on rebuilding the cylinder head (burned up a couple of exhaust valves) and a couple of other essential items on the Volvo? At least the car drives like it just had that level of attention paid to it; smooth and true with 220k miles on the speedo.
Enough? Bored to tears yet by this rambling old fart who doesn't know when to quit? I know I am. I'm going to bed; it's after midnight now, and this will auto-post in the morning, thanks to the magic of cyber robots. I'll be along to say hello soon enough. Thanks for reading. And Happy Groundhog Day. Ole motheaten Punxatawny Phil will sure see his shadow around here tomorrow and hide away, indicating six more weeks of winter, which we desperately need.