Tonight's diary is a fill-in for jlms qkw, who is taking some well-deserved time off.
Enjoy.



National News

College Republicans Offer GOP Advice For Winning Over Their Generation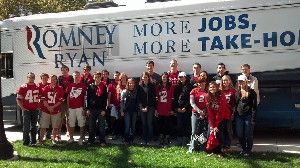 by Don Gonyea

During President Obama's State of the Union address this week, 14 members of the College Republicans at Ohio State University gathered in a meeting room at their student union on campus in Columbus, Ohio.

The president's speech, which they watched on a giant flat-screen TV, was punctuated with groans, rebuttal, criticisms and sarcasm from this young audience. These students worked hard, to no avail, to deliver the much prized battleground state of Ohio to Republican presidential nominee Mitt Romney.

Not only did the GOP lose the state in last year's presidential election, but it also faces a big challenge when appealing to young voters.

In the past two presidential elections, voters under 30 have gone big for Obama. Young voters are much more likely than their elders to identify as Democrats, to have positive views of government and to favor same-sex marriage.


Texas, a place where guns are right at home
Rick Jervis

BEAUMONT, TEXAS — Pastor James McAbee believes the Scriptures can tame temptation and wash away sins.

But he'll tell you that nothing repels true evil like a well-placed, loaded Glock .40-caliber pistol.

McAbee, known around town as the "Pistol-Packing Preacher," keeps his loaded Glock in a holster tucked in his pants at all times, whether making a bank deposit or preaching from the pulpit of the Lighthouse Worship Center, an Assembly of God church where he pastors.

When not preaching, McAbee offers a $50 one-day concealed weapons course to gun enthusiasts. Since the Sandy Hook Elementary School shooting in December, when a 20-year-old man shot and killed 20 students and six staffers before shooting himself, he's offered the classes for free to teachers.

It's the Texas way, McAbee, 36, says. "We believe an armed society is a peaceful society. This is Texas, and everybody has a gun."


Man charged with slapping toddler out of a job
The Associated Press

MINNEAPOLIS (AP) — A man charged with slapping a toddler on a Minneapolis-to-Atlanta flight appears to be out of a job.

The Atlanta Journal-Constitution reported Saturday that AGC Aerospace and Defense had suspended 60-year-old Joe Rickey Hundley, of Hayden, Idaho, as president of its Unitech Composites and Structures.

On Sunday, AGC issued a statement saying that, while not referring to Hundley by name, calls reports of an executive's behavior on personal travel "offensive and disturbing" and says he "is no longer employed with the company." The statement does not say whether the executive quit or was fired.

Hundley was charged with assault last week after he was accused of slapping a 2-year-old boy and called him a racial slur during the Feb. 8 flight. His attorney has said he will plead not guilty.


Tens of thousands demand action on climate change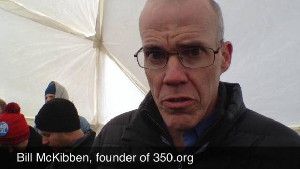 The Associated Press

WASHINGTON — In what was billed as the largest climate rally in U.S. history, thousands of people marched past the White House on Sunday to urge President Obama to reject a controversial pipeline and take other steps to fight climate change.

Organizers, including the Sierra Club, estimated that more than 35,000 people from 30-plus states -- some dressed as polar bears -- endured frigid temperatures to join the "Forward on Climate" rally, although the crowd size could not be confirmed. Their immediate target is Obama's final decision, expected soon, on the Keystone XL oil pipeline that would carry tar sands from Canada through several U.S. states.

"This movement's been building a long time. One of the things that's built it is everybody's desire to give the president the support he needs to block this Keystone pipeline," Bill McKibben, founder of the environmental activist group, 350.org, said as protesters gathered on the National Mall.


Maker's Mark to restore alcohol content of whiskey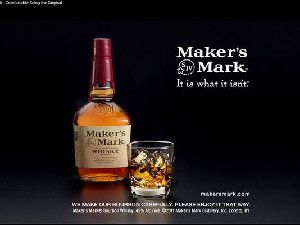 Mark Boxley

LOUISVILLE, Ky. — After hearing from "thousands" of bourbon drinkers in less than a week, Maker's Mark is reversing course. It will no longer try to extend supplies of its flagship spirit by adding extra water.

The company waved the white flag at noon EST on Sunday, announcing through email and social media that it was a mistake to reduce the bourbon's alcohol content from 45 percent to 42 percent.

"We've been more than humbled by the overwhelming response," said Maker's Mark Chief Operating Officer Rob Samuels in an interview.

Starting Monday, he said, every bottle coming out of the Loretto, Ky.-based company will be back to its historic 90-proof strength.

International News

Pope Benedict makes first appearance since resignation news
By Laura Smith-Spark, CNN

(CNN) -- Huge crowds in the Vatican cheered Pope Benedict XVI on Wednesday as he made his first public appearance since announcing his resignation at the end of the month.

He thanked the Roman Catholic faithful in several languages and said it was not appropriate for him to continue as pope.

"I've decided to resign the ministry given to me by the Lord. I've done this in full freedom, for the benefit of the church," he told those gathered in a Vatican City audience hall for his regular weekly appearance.

Benedict said he is fully aware of the gravity of his decision but he could not carry on as pope "if I don't have the strength that it requires."


Israeli lawmakers to investigate Australian spy mystery
By Dan Williams and Allyn Fisher-Ilan

(Reuters) - Israeli lawmakers announced plans on Sunday to investigate the 2010 jailhouse death of a reported Australian immigrant recruit to the Mossad spy agency.

The statement by Parliament's Foreign Affairs and Defence Committee followed calls by Prime Minister Benjamin Netanyahu at a cabinet meeting to dim a growing media spotlight on the affair he saw as at risk of jeopardizing national security.

The case kept under wraps for two years then publicized by Australian television last Tuesday involves a 34-year-old immigrant, Ben Zygier, said to be a Mossad operative held on suspicion of security offences, who died of what has been labeled an apparent suicide behind bars.

In a terse communique, the legislative panel's subcommittee on intelligence said it has "decided to conduct an intensive examination of all aspects of the incident involving the prisoner found dead in his (prison) cell in December 2010."


Huge Bomb Kills Dozens In Pakistani Market
by Korva Coleman

At least 81 people are dead and another 180 are wounded after an explosive device went off in a crowded marketplace in Quetta, Pakistan. Photos from the scene show heavy smoke rising over buildings.

Pakistani news outlet, Dawn, cites Quetta senior police official Wazir Khan Nasir, who says the bomb appeared to target Shiite Muslims because of the neighborhood the attackers picked. Most of the victims are women with their children who were shopping for vegetables.

After the blast, enraged residents formed a huge crowd, and police and rescue workers couldn't initially get through to victims. The bomb was stashed on a motorcycle and parked next to a building; the building partially collapsed after the explosion, and there are reports that some people were trapped inside.

According to The Associated Press, there have been several attacks against Shiite Pakistanis in Baluchistan province, of which Quetta is the capital, over the past several months. Militant groups are active in the region.


Reality show with Pistorius girlfriend upsets South Africa
Ed Cropley

JOHANNESBURG (Reuters) - It was billed as a fitting tribute to "an intelligent, beautiful and amazing woman" but the airing of a Caribbean reality TV show featuring the girlfriend of Paralympic star Oscar Pistorius two days after she was shot dead has upset some South Africans.

In particular, women's rights activists criticized an edited clip at the start of Saturday night's 'Tropika Island of Treasure' in which law graduate and model Reeva Steenkamp talks about her "exit".

"I think that the way you go out, not just your journey in life but the way that you go out and you make your exit is so important," she says, leaning against a palm tree in a pre-recorded interview on the show's set in Jamaica.

At the end of the tribute, presumably recorded when she was voted off the show, she blows kisses to the camera and says: "I'm going to miss you all so much. I love you very, very much."


Report: Assange Sees Legal Defense in Politics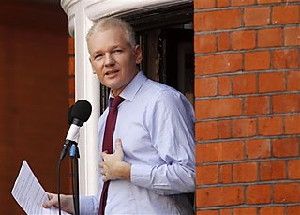 By ROD McGUIRK Associated Press

WikiLeaks founder Julian Assange regards his bid to become an Australian senator as a defense against potential criminal prosecution in the United States and Britain, a news website reported on Monday.

Assange spoke to The Conversation website at the Ecuadorian Embassy in London where he was granted asylum in June to avoid extradition to Sweden on sex crime allegations.

If he wins a Senate seat at elections on Sept. 24, Assange told the website that the U.S. Department of Justice would drop its espionage investigation rather than risk a diplomatic row.

The British government would follow suit, otherwise "the political costs of the current standoff will be higher still,"Assange told the website.

Assange supporters last week enrolled him to vote in Victoria state, a necessary step toward being nominated as a candidate.

Odd News

Scientists support breaking wind on the airplane
A new study says that flatulent fliers should release during flights because holding it in causes bloating, indigestion and heartburn. Charcoal is a remedy to combat the odor.
By Michael Walsh

To break wind or not to break wind, that is the question. The answer? Let it rip!

A group of scientists took a deep breath and entered an apparently hitherto neglected area of medical research: in-flight flatulence.

High altitude air pressure changes cause more gas to brew in the belly, but such close proximity to other people intimidates gassy passengers to hold in their personal vapors. The gastroenterologists cut to the chase about cutting the cheese: dismiss the social stigma and just go for it.

"(Holding back) holds significant drawbacks for the individual, such as discomfort and even pain, bloating, dyspepsia (indigestion), pyrosis (heartburn) just to name but a few resulting abdominal symptoms," the researchers claim.

"Moreover, problems resulting from the required concentration to maintain such control may even result in subsequent stress symptoms."