Warm and fuzzy Friday greetings to one and all!
Last week's Coffee Hour was posted by the automatronic Marko. I was off bounding through the snowdrifts and sliding down the stubby mountains on the German/Czech border. I thought perhaps this week I'd post a few photos from my trip. Seems I took about 150 pictures -- perhaps this week I'll just share a castle ruin with you and perhaps next week I'll drag out the monsters.
Keep in mind that this is a community open thread so don't bother wiping your shoes. Come in and track some snow of your own on the rugs.
Join me after the coiffed ginger hairball won't you?
Let me introduce you to Krakovec[photo-heavy link (content in Czech)]: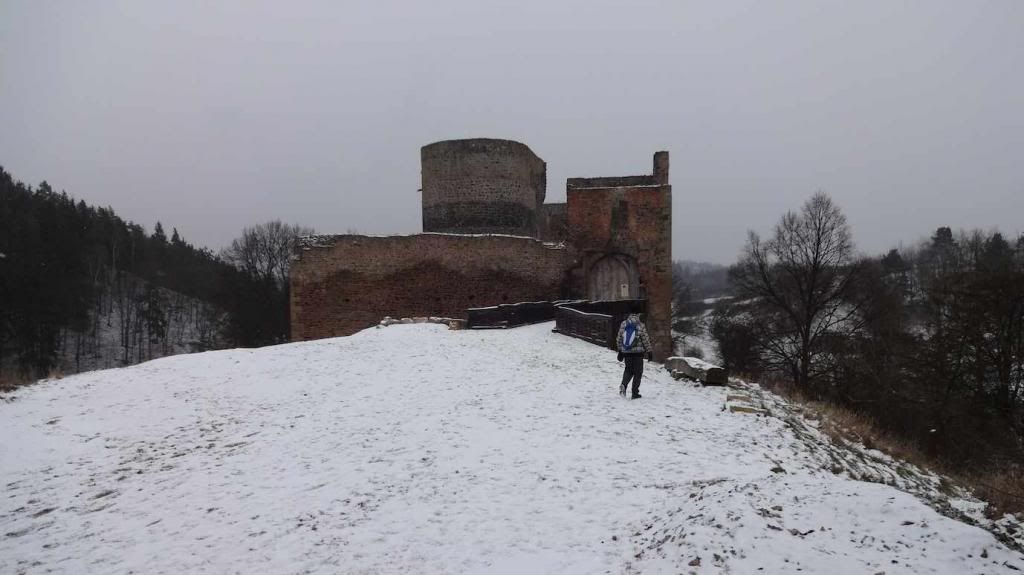 Built by King Václav IV's Master of the Hunt (I suppose that's how one of his many titles translates), Castellan of Křívoklát, and master builder: Jíra of Roztok, between 1381 and 1383. It was indeed the work of a master builder and was something of a minor architectural wonder for its era; featuring large windows and remarkable vaulted ceilings. Well, after being the home of Jan Hus for a time in the early 15th century before he was burned alive for heresy, and undergoing a Renaissance makeover in the 16th century, Krakovec was gutted by fire in 1783. And other than occasional use as a film backdrop or the guided tours and a rare wedding in season, the place remains the ruin you see here.

The bridge to the main gate.

The lock on the door.

And if I lift my camera up over a gap in the wall by the gate -- I get a view of the courtyard.
Yeah, the one day last summer I was also at this castle the entrance was as far as I got. I had a nice chat with the local Castellan who was selling tickets that day. Turns out he was closing the whole place for one of those rare weddings in just a few minutes. So I sat outside and made a sketch and watched the wedding party mill around outside until I left. But that was last summer... here's a few more pictures of Krakovec in the snow:

From the village below.

Check out that lovely local stone!
And here's a sandstone statue of Jan Hus that was recently erected -- that's kind of the back side of the castle. It overlooks the point where two streams join to form a small river: