The Ryan Budget -- we've all heard about that, even though one of its main pillars -- Repealing Obamacare -- was soundly rejected by a significant majority of the American People in the last election. Even though the idea of repealing the Affordable Care Act, was also soundly rejected by a conservative Supreme Court.
Even though all that is factually true -- most of the Media is still treating the Ryan Budget 2.0 as if it were a serious 'bargaining position' -- even though it has not a credible leg to stand on.
Well, Bill Maher has had enough for that noise. He's calling out the Ryan's Budget for the non-starter that it is -- while at the same time, putting another 'more popular' Budget on the discussion table in the process.

Rachel Maddow and Bill Maher: proposed Ryan budget is 'laughable'
on rawstory.com -- March 15, 2013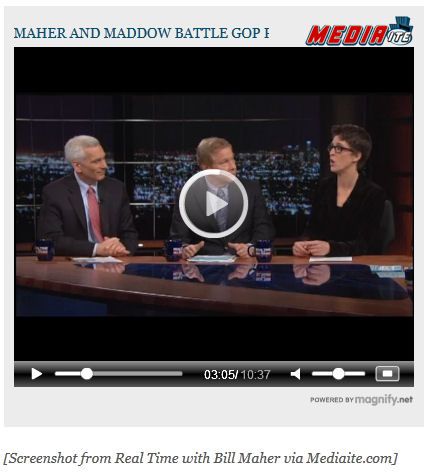 Here's my transcription of the key parts from that video in the above link
Starting at Time 3:40 -- Bill Maher:

Let me give you the Progressive Caucus Budget because this is the one that you don't hear about. And I don't know why, because the Tea Party has 49 members, and the Progressive Caucus has 78. But apparently in the Media, what they propose is laughable. But let's give it some air.

Ummm, $2.1 Trillion stimulus. That's a big -- it's a liberal group, OK?

Including $875 Billion dollars for infrastructure. But let's remember money has never been cheaper to borrow than now.

AAh, it still reduces the Deficit by $4.4 Trillion dollars -- almost the exact same number that the Ryan Budget reduces the Deficit. It just does it by a different method:

It taxes people -- it makes a differentiation between people who make over $500,000 dollars and people who are Billionaires. Now they get taxed the same -- they're saying the super-rich, the Billionaires are going to get taxed a lot more.

AAh, it has a Carbon Tax.

It reduces Defense Spending to '06 levels.

It negotiates 'bulk pricing' for pharmaceutical drugs. I don't know why we aren't doing this now -- it's only common sense.

(applause)

AAh, and it includes a Public Option.


And if you think this is radical stuff, Business Insider did a study where they actually released this Budget, almost exactly this Budget, but they didn't label it as to who's Budget it was. It was the Budget that was favored by the most people, including 47% of Republicans.
[...]
Duh!
That must be why they call it
the People's Budget
-- since the majority of people would choose it -- if we were only given the chance.
(Or maybe at least, given a clue that it even exists, and is favored by 78 members of congress vs the Tea Party 48. Of course, it is also strongly opposed by 1 -- the Top 1 Percent afterall -- since THEY have the most to lose, if its solutions ever see the light of day. And thus the 'public shunning' of the People's Budget in the Village Town Square. Nary a word is ever spoken of it, anymore ... maybe they, the Progressive Caucus needs a better "public affairs rep," eh?)

The entire Maher show was pretty good this week, catch it if you can ...




May it not only get 'some air' -- but also some desperately needed, and well-deserved 'light of day' ...
Budget of the Congressional Progressive Caucus

Updated for Fiscal Year 2013


#Budget4all

Give the People what they want -- Economic Equality ... and what they used to call 'a fair shot' at the American Dream.
Enough with the Raw Deals already, give us the Real Deal, this time around. Please, we implore you. There ARE more than 2 sides to this Budget story.
There's the People's side too.