Euro zone senior financial officials are in a panic over the Cyprus situation, as the transcript of a conference call shows. Just check out these quotes:
In detailed notes of the call seen by Reuters, one official described emotions as running "very high", making it difficult to come up with rational solutions, and referred to "open talk in regards of (Cyprus) leaving the euro zone".

"Markets believe that we will find a solution and that we will provide more money and this might not be the case," one of the participants on the call said, according to the notes.

"The economy is going to tank in Cyprus no matter what," the notes quoted him as saying. "Restrictions on capital will probably be imposed," he said
This is NOT the talk of people who have the situation under control and have a plan to deal with it.
The Cyprus parliament is considering nationalizing pension funds (i.e. stealing retirement money), while continuing to keep banks closed until next week.
Officials said it could include: an option to nationalize pension funds of semi-government corporations, which hold between 2 billion and 3 billion euros; issuing an emergency bond linked to future natural gas revenues; and possibly reviving the levy on bank deposits, though at a lower level than originally planned and maybe excluding savers with less than 100,000 euros.
Yep, seizing savings accounts are still on the table.
All these solutions are unprecedented in Europe, but are very familiar in
South America
.
Cyprus only has 4 days to find a solution before the EU cuts them off and their banking system collapses.
The people of Cyprus have already given up on their banks. No trust remains. The bank run has started.
"It's all about cash now. Only a gambler will take cheques in this situation," said retired government official Phaedon Vassiliades as he withdrew money from the bank's ATM at Ledra Street,....
"The markets have already factored in the Cyprus debacle. Nobody is going to have trust in Cyprus again. I just want to withdraw cash as much as possible as even fuel stations and departmental stores are now accepting only cash."
The problem with Cyprus is that their banking system is so much larger than their economy. In order to bail out the banks Cyprus must come up with
$7.5 Billion
, but their entire economy is only $23.6 Billion. That's why such extrordinary measures are being considered. A simple income or sales tax wouldn't raise enough money, or raise it fast enough. Cyprus already owes $3.3 Billion from a previous bailout.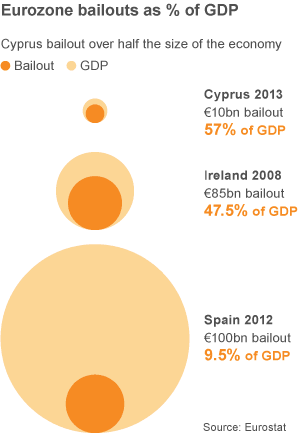 The situation in Cyprus is very similar to the situation in Iceland in 2008, with a bloated and bankrupt banking system that dwarfs the size of the real economy. The difference is that Iceland had their own currency.
Default will eventually be the only solution for Cyprus unless Europe relaxes the bailout conditions.
Meanwhile, the general European recession deepens.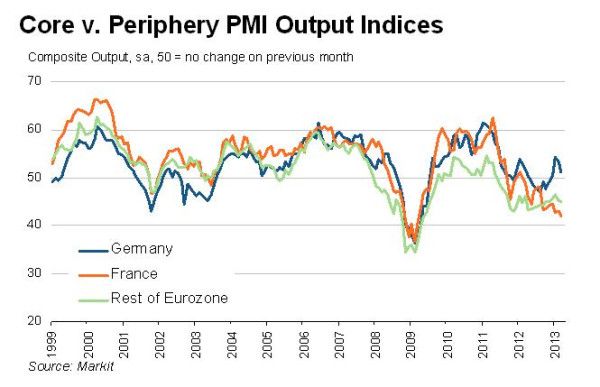 3:40 PM PT: UpdateProtestors scuffle with police
Panic, anger and fear surround the Cypriot parliament – as protesters took to the streets to keep up the pressure on their politicians.
Angela Toniou, an employee of the Bank of Cyprus said: "We're afraid that the whole system is collapsing. If today, it's the Cyprus Popular Bank, tomorrow, the rest of the banks. And if the banks collapse, the whole of Cyprus, everything, collapses. That's what we're afraid of."