Hello everyone (anyone?), it's your old, fuzzy pal Marko here bringing you another open thread to play in. Relax, have a sip of something sloshable, and let me know how life is treating you.
In scrounging up a theme to blither about I found a couple of odd things to link together: my most recent grisly drawings and a video from Rachel Maddow.
Visit NBCNews.com for breaking news, world news, and news about the economy
I watched this clip from The Rachel Maddow Show and it got me thinking about zombies. Please join me under the decorative orange hairball for a few of my thoughts and a couple of my drawings of dead things. Or just hop down to the comments; it is an open thread. Please don't feel obliged to react to my fluff.
First, a round of applause for me finally figuring out how to clip the video down to almost exactly the length I wanted. Anybody impressed?
No?
Me either. Still, one must take pride in one's work.
Anyway, I enjoyed that bit of Rachel's show. But what's that about zombies, you ask? I'm asking myself the same question.
I've been drawing inspiration for my drawings this week from a book I own about Tombs, Graves and Mummies. It's quite a normal human trait to be fascinated by death. I'm not a huge fan of zombie movies because most of the horror is just gore, brains, blood and entrails and that stuff just doesn't phase me. Unlike my wine, I prefer my corpses dry.
I grew up with my dad's anatomy books, I dissected a variety of critters in biology classes, I've been a regular blood donor, I've hunted and fished and prepared and eaten what I've killed, I've assisted a hog butcher-- no, the juicy stuff just doesn't freak me out. What gives me that twinge of morbid fascination is the dry stuff. There's something about a dust-dry, old corpse that draws my attention. One of my first reports written in school was about ol' King Tut and I included a drawing of his unwrapped mummy. I have a collection of animal skulls that I've found while walking in the woods. A colleague of mine in a ceramics studio brought a dried rat, that he'd found in the attic space of a cabin, to work one day -- and it was wonderful! A delicate, thin, bit of leather and bone that weighed almost nothing. It was almost hairless, literally just skin and bone. Cool.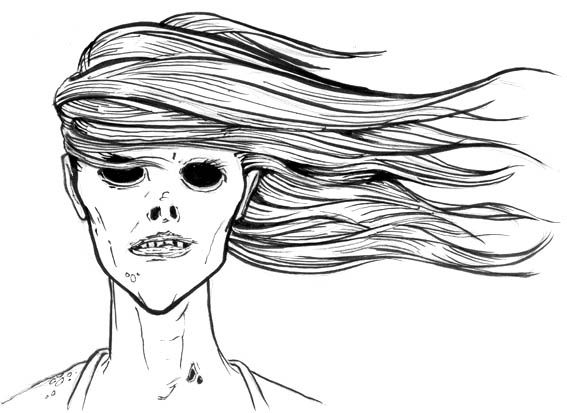 I never understood the modern zombie's desire for brains. What's the attraction? If any undead creature should be craving internal organs it'd be the juice-less husks of mummies. There's a void to be filled there. And I surprise myself by thinking such things. Here I am looking for logic in the dietary habits of undead creatures.
Which brings us to Republicans.

Well, all people really. I think we all have areas of our lives where logic leads us into a dead end alleyway and instead of turning around and laughing at our folly we double down and continue to claw at the wall that blocks our path and cry out for "braa-i-i-i-ins ...".
Representative John Boehner joins over 90% of all Americans in their approval of universal background checks for gun purchases. But alas, he's turned back to face the wall again.
Senator Rob Portman pushed his nose against the wall, had the epiphany that gays are human beings (maybe even descendants) and turned around. Now he's fighting his way back, past the swarms of Republicans all lurching down the same alley of inequality. And the disembodied voice of the GOP screams "Turn around, Rob! The brains are behind you!" -- at the end, at the dead end of the alleyway?
Rand Paul had a moment of juicy lucidity before his keepers turned him back down the dead end of banning abortion. Keep clawing Rand. Keep crying out for those brains. No, there was a glimmer of light! It's at the other end of the alley, Rand! Get out of there! But even his own brain isn't talking to him anymore. He stumbles on, trying to tear through the wall, hungry ... untroubled by the rotting stench of hypocrisy, blind to his own duplicity.
And the poor little rich boy Willard Romney spun like a top at the end of that dead end, craving-- yet never receiving, those elusive brains. I'm afraid to look, but I suspect he's still spinning.
The problem may indeed be that they lack the brains to comprehend that what they're really missing most are guts and hearts.
It seems to me that there are many ways in which any of us can find ourselves clawing frantically, furiously, impotently at a wall in some dark alley. What does it take then to get us to turn around and make our way back out into the daylight? This desire for brains is just another dead end addiction. We all crave things we do not need and in our innermost mind we know that to pursue them is harmful. My doctor warns me about fat and salt and triglycerides in my diet yet here I am, up against the wall, clawing desperately in the dark, and crying "baaaaay-con ..."
Sun Mar 24, 2013 at 9:43 AM PT: Thanks for the rescue! I was away from my usual computer trying to rec and comment via my mobile phone. Sorry that I didn't stick with that clunky, awkward process longer. I'm a firm believer that as long as it's possible to comment, as long as the window of opportunity hasn't closed, I'll still be checking in. I suppose a rescued diary is something like an undead diary-- buried under the recent diaries, risen from the dusty depths of the archives. It can live again!