I'm going home at the end of April. Just for a little while. I'm returning to New York to spend a few days with my mother, see my nephew, and catch up with friends. Most, but not all, of these friends are from my high school or grammar school years. A few are from my late 20's and early 30's, my "socialite" years. A couple are women that I met through political activism on Facebook.
It's been 18 years since I moved to Colorado on March 1st, 1995. I don't ski--I was terrible at it in both high school and college, and now the boots hurt my shins in spite of the 2" foam padding I shoved in them last time--and I don't hike. I'm not the outdoorsy type at all. I like Central Park--plenty of room for adventures and all kinds of fun, plus restaurants. And exits everywhere. The open space near my house has weeds and coyotes, and nothing to look at except the Denver skyline. No convenient exits, no taxis.
I miss taxis. When I first came to Denver, before I moved here, I had an interview downtown. I don't remember how I got there--probably my then-boyfriend dropped me off--but afterwards, I was stomping around searching desperately for a taxi, and getting royally pissed off. A nicely dressed woman smiled at me and said, "Are you looking for a taxi?" I said, "Yes!" She said, "You're a New Yorker, aren't you?" I said, "Yes," feeling vaguely embarrassed. She told me that I had to call a taxi and directed me to a pay phone. I thanked her and stomped towards the phone, muttering about the uncivilized Wild West. Story continues below the fold.
So, I got engaged to Kevin the Horrid, and moved from my cozy apartment on 63rd Street between Madison and Park (right across from Ronald Perlman. Whom my brother met at a party, and said, "My sister lives on the top floor right there!" And from then on I had to close my blinds before I took a shower, so Ronald Perlman didn't see me in a towel. Dratted brother.) to Kevin's ugly little house in Englewood. Kevin had told both me and my parents that his car would be paid off in March, so he would buy me one. But, since he was a horrid man, he changed his mind, saying, "It's really nice not to have a car payment."
I got a temp job at Janus. I had to take two buses every morning and evening. Sometimes, I would miss the connections. I begged my parents for a car, but they said, "No. Come back to the city." I learned to drive in the Hamptons at age 11, but--long story--I didn't get a driver's license until I was 28 and moved back to New York from Boston. I took Driver's Ed at 16, meeting two other girls and the perverted Mr. Jackson in front of Marymount every Saturday morning. Mr. Jackson claimed that the best coffee in the city was somewhere in Times Square. On Saturday mornings in the late 1970's, Times Square was full of hookers in spandex. And Mr. Jackson could never remember where the coffee place was, so we had to slowly trawl until he found it. Every Saturday.
So, I suffered mightily on my tortuous daily bus rides. I read, of course, at the bus stop and on the bus. But every morning, as I checked my watch constantly, I muttered. And then, one morning, a blonde woman who was at the second stop every morning said to me, "You're a New Yorker, aren't you? You seem so impatient with the buses." I said that I was, and we became friends. Until, one night, she borrowed her boyfriend's car and we went downtown for dinner. After dinner, she headed up Colfax, seemingly looking for something. She spotted a man, who motioned her down a side street. She parked and got out of the car. I didn't like this. It was late, it was spooky, and I had no idea what the hell she was doing. Another man came and joined the first one. Turned out that she bought crack. I was FURIOUS. I didn't say anything until she brought me home, then I said, "What is the matter with you? That's a dangerous damn drug, one, and TWO, what the F--- were you thinking, endangering ME like that?" She burst into tears and apologized. But I was done with her. I started taking earlier buses.
On the day that I got a permanent job, I dumped Kevin the Horrid. By then I was living on Capitol Hill, still car-less. I was happy on Capitol Hill. When I told my parents that I'd dumped Kevin, they said, "So you're coming back to New York now, right?" I said, "No, it's really nice here," and asked for a car. They grudgingly agreed to send me a check for a used car. I got a piece of crap at an auction, but luckily somebody broadsided me shortly afterwards, and I ended up with a 1985 Bronco II. Loved that car! In celebration of my new job, my mother sent me this postcard: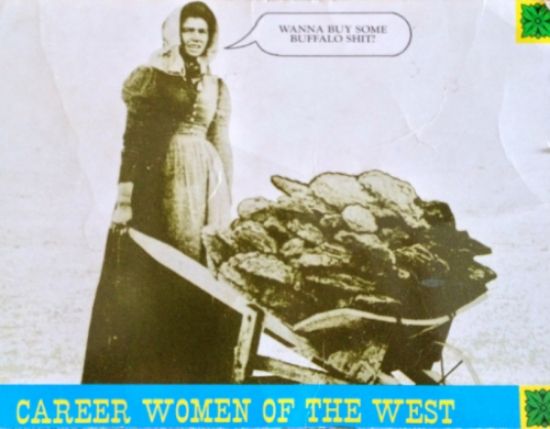 Making friends was a little difficult. Not only was I constantly overdressed--I only owned one pair of jeans when I moved to Colorado, and in my mind, they were "dirty work or country weekend" pants--but I was a NEW YORKER. From MANHATTAN. As an icebreaker during orientation, our managers made us illustrated name tags. This was the one made for me: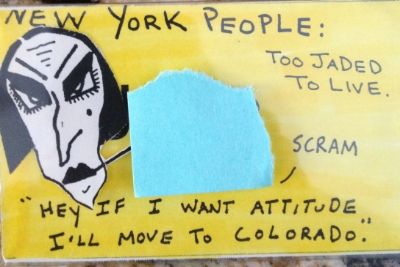 Hmpf. Well, I did make a few friends. The company that I worked for was based in Kansas City, MO, and I was shocked to to learn that many people had never seen the ocean. They were shocked that I knew actual Mafiosi and wasn't buried in a New Jersey landfill.
So the years marched on. I got married, and my firstborn was a son. My mother and my aunt, from practically the day that he was born, urged me to call Kent Denver and "get him on the list." So one day, I did. A nice lady answered the phone, and I politely inquired as to the feeder schools. She told me that there weren't any, really, they used an admissions test. I said, "Oh, thank you." She said, "How old is your son?" I said, "Sixteen months." There was a pause, and she said, "You're a New Yorker, aren't you?"
I said, "Yes." She said, "I can always tell. We've had people call for two-week-olds."
This past Christmas we went to Florida. An old friend who currently lives there drove 40 miles to our hotel to see me. We hadn't seen each other since my wedding, in 1999. But he's the person I always call when I've been drinking :) He said to me, "Nobody could ever believe that you stayed in Colorado. We were shocked. You're the quintessential New Yorker, you knew everybody. We kept thinking that you'd be back."
I said, "No, I'm happy there. The children are in great public schools, our neighborhood is safe. It's a good life." And it is. I have a garden, we've done and are still doing extensive renovations to our large but admittedly crappy-assily-built tract house, and we have a great circle of friends.
I do miss New York, frequently. I feel more alive there, somehow, as if some intrinsic "me" is awakened. I miss the shopping. When Lord & Taylor closed in Park Meadows, my favorite salesladies and I sobbed on each other's shoulders. When Saks closed, I was terribly sad. The closure of Loehmann's was a final blow. When I was growing up, my mother and I would make the scary trip to the Bronx once a year. What an adventure! I was delirious with joy when I found the old Loehmann's in Tamarac Square, and ecstatic when they moved right across from Park Meadows.
I miss my family and friends, all people who "get" me. After all this time in Colorado, I now own many pairs of jeans, and wear them nearly every day. My mother said that "Jeans are really inappropriate for women over 40." I said, "I live in Colorado. It's different." My mother said, "Hmpf." So I'm looking forward to going home, to immersing myself in noise, crowds, and dearly loved people, in a city where my friend Nello (owner of the eponymous restuarants in the city and Southampton) gave me THIS because he thought that I would "need it in Colorado.":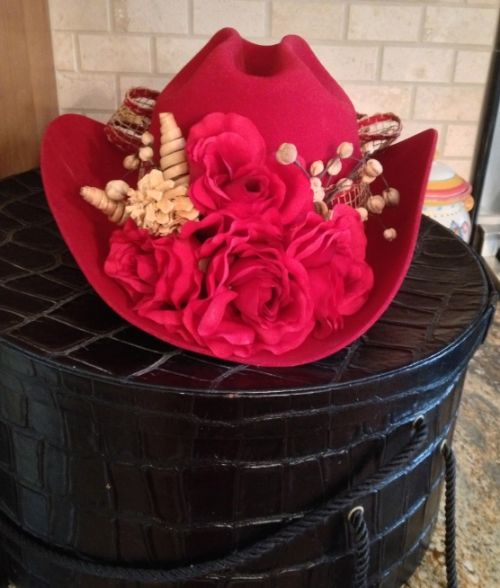 I finally wore it, for the first time, to a "Western Theme" fundraiser for my daughter's school. It was apparently de trop, but we only stayed 20 minutes. I think I might wear it more often, though, like to King Soopers. Maybe :)