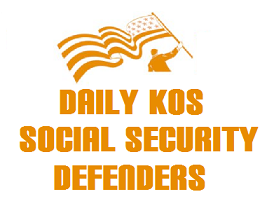 Well Monday went well, after a little juggling of our schedule. Though I picked a lame title for my "Wisconsin Idea" dairy, what I thought was a great historical perspective on the 2 UW econ professors who wrote the 1935 Social Security Bill, turned out to be a DK flop.
Here are Mondays DK SSD blogathon diaries
Social Security grew from the Wisconsin Idea
The 'greatest retirement crisis' in history looms large
Why do we have Social Security anyways?
Tuesday's lineup includes joanneleon @11am EDT, joe shikspack @ 1pm and at 3pm- Arshad Hasan Executive Director of DFA. Wednesday we have Poopdogcomedy (wasn't he on the Conan show?) and the Founder of the Social Security Defenders group @DK, Bruce Webb (otherwise known as Mr SS), as well as teacherken.
Thursday Jim Dean the DFA Chair, kicks off the days events @11am. Followed by One Pissed Off Liberal and Floridagal (Madfloridian @ DU). Friday is going to be awesome, Economist Dean Baker starts the day at 11am, VCLib came back from vacation but has to work, but he will have his diary in the queue, he has the 1pm slot> VClib will be explaining why Social Security is Wage Insurance, and I think I've talked DK Featured writer Armando to finish up the weeks activities.
Selected shares from Twitter:

Social Security grew from the Wisconsin Ideadailykos.com/story/2013/03/… via @rdanafox & @dailykos #HandsOffMySocialSecurity

— Angie in WA State (@AngieinWAState) March 25, 2013
Please sign WH petition! No cuts to #SocialSecurity benefits, No Chained CPI wh.gov/sFfA #HandsOffMySocialSecurity #noSScuts

— JoanneLeon (@joanneleon) March 23, 2013
Day 4: Sign the petition, Tell Obama No Chained CPI, #noSScuts dailykos.com/story/2013/03/… via @dailykos

— dkmich (@dkmich) March 24, 2013
Daily Kos: Welcome to the Daily Kos Social Security Defenders Blogathon dailykos.com/story/2013/03/…

— Patrice Lamoree (@alkahest) March 26, 2013
Social Security Defenders Blogathon Kickoff!Please RT and support! dailykos.com/story/2013/03/…

— JoanneLeon (@joanneleon) March 25, 2013
Carolyn W. Colvin Assumes Role of Acting Commissioner (February 2013)

On February 14, 2013, Carolyn W. Colvin became the Acting Commissioner of Social Security. Prior to this designation, she served as the Deputy Commissioner, having been confirmed by the United States Senate on December 22, 2010 as President Obama's nominee. In addition to her role as the Acting Commissioner of Social Security, Ms. Colvin serves as a Trustee to the Social Security Board of Trustees.
One group of lawmakers is thinking seriously about America's future, and another group isn't
Nancy Altman and Eric Kingson

3-21-13

The proposals put forward by Democrats in Congress reflect the values of the overwhelming majority of Americans, both in their priority on jobs and growth, and their understanding that Social Security never has, and never will, contribute to the federal debt and deficits and therefore should not be part of any discussions about the nation's budget deficit. The same cannot be said for the budgets put forward by Republicans in Congress.
REPORT:The Washington Post Overwhelmingly Favors Cutting Social Security Benefits Over Increasing Revenue
ZACHARY PLEAT

3-21-13

The Washington Post wrote editorials mentioning policies that would cut Social Security benefits more than editorials mentioning Social Security revenue increases by nearly six to one, according to a Nexis search of Post editorials since late 2010. This analysis was performed as Social Security becomes a major topic in the upcoming budget negotiations.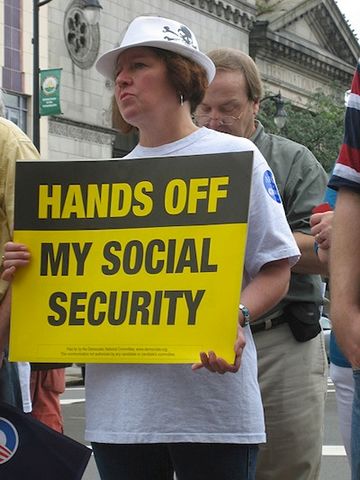 Dont forget to sign the petition telling Obama #noSScuts, please share.