Okiciyap Quilt 2013 second row center block
People are amazed at the rugged beauty of the quilt created from twelve blocks stitched together with love by the members of the DK Quilt Guild, assembled by Melanie and quilted by Bead Lady. The proceeds from their efforts will be used to support Okiciyap (we help) Food Pantry and Youth Center, located on the Cheyenne River Reservation, in Isabel, South Dakota.
Wander below the fancy stitching to discover how you can participate by donating or bidding on this extraordinary quilt during this wonderful cross-community project. Time is getting short. We only have a week before the final auction, and the end of our blogathon seeking to replenish the food shelves via donations.
But first, let me tell you my Okiciyap story.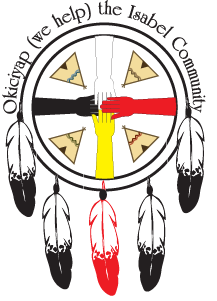 Like many here, I lurked for a long while before joining. I had retired from teaching in a Vocational High School, where I offered GED instruction to students who were at the end of their rope. Most were motivated to come to school because of their Automotive Technology or Culinary Arts classes, but were so far behind in their regular classes that they were at a high risk to drop out.

I nurtured the "young", tolerated the "hyperactive" and worked on individual strategies with the learning disabled. The hungry got fed, the exhausted got naps and the stressed got sent for respite at the counselor or principal's office. These kids are needy. I worked until everything was gone; I was empty, so I retired.

Spending time on DKos became the way a formerly enthusiastic educator could stay active, without having to return to a work setting. When Georgia Little Shield asked for help with the Food Pantry she was starting, I saw a way to become involved in the very satisfying area of GED instruction once again. I sent to her my "Teacher's Library" and offered my support as soon as she was able to bring her new GED teacher on board. Georgia passed away suddenly last spring, and the pantry's connection to DKos became tenuous. To the rescue came Okiciyap (we help) Group at Daily Kos. Dozens of people at Kos have stepped up to bring Georgia's work to fruition.

In the beginning, The Okiciyap Pantry needed so many things!! There was a donated building to move and make ready, and the hungry residents of Isabel to feed. Here at Kos, we astounded the volunteers in South Dakota; by banding together we brought air conditioning, a new refrigerator and computer equipment to the building. We filled it again and again with food, school supplies, kitchen equipment and clothing. They now have fabric and craft supplies and books and office supplies.
Like a quilt, so many pieces were pulled together to make something substantial so that the town and the tribe would notice. Georgia's dream came true, the town of Isabel does have Okiciyap (we help) Food Pantry and Youth Center.

It is now my turn to say thank you to the many quilters who have also banded together to offer this handsome quilt for auction. Every bit of work on it has been donated by members of the DK Quilt Guild, and every dollar in the winning bid will be donated to the food pantry. This community makes my heart swell, and my eyes leak just a little.
NEW HIGH BID FROM LAST NIGHT $940.00
UPDATE FROM SOUTH DAKOTA, OKICIYAP PANTRY Cindy reports recent donations have now topped $1000.00 in PayPal, and she did not count any checks!!

OKICIYAP QUILT 2013
Bidding is easy. Leave your bid in this diary or any one of the future diaries. The final bidding will be one week from tonight, here in the DK Quilt Guild's regularly scheduled diary.

If you prefer to bid anonymously, you can Kosmail either glorificus or me, and we will give you an anonymous number. You can also leave an absentee bid with either one of us.
If you have questions, most answers can be found in the
Rules, listed in full in this diary.
We also invite you to donate to Okiciyap Pantry at their website.
Ongoing cash support to the pantry comes when online shoppers sign up for IGive.

The following Kossacks have supported the Okiciyap Quilt Auction by writing diaries about the creation of the quilt and about the struggles and successes of the Okiciyap Pantry.
March 17 BeadLady Photos of the Finished Okiciyap Quilt
March 17 glorificus The Auction Rules Time for the Big Show!!
March 18 Glen the Plumber Helping the Helpers
March 19 GreyHawk Twelve is a Community Number
March 20 Aji Feeding the Body, Feeding the Spirit Okiciyap (We Help)
March 21 Pam from Calif We Quilt for Others
March 22 winifred3 Of Quilts and History
March 23 BeadLady Okiciyap Auction Quilt
March 24 leu2500 Why this quilt ?
March 25 One Pissed Off Liberal Okiciyap We Help
March 26 Meteor Blades Help the People of Cheyenne River
March 27 GreyHawk Let the Bidding Begin
March 27 radical simplicity We Help That's What It's All About
March 28 Horace Boothroyd III Two-Spirit and Okiciyap
March 28 Denise Oliver Velez This Quilt is Not Invisable
March 29 Patriot Daily News Clearing House Sharing the Quilters' Stories
March 29 glorificus Okiciyap - Feeding the Hungry
March 30 Dave in Northridge Okiciyap Quilt Auction Benefit
March 30 Zen Trainer Why a Food Bank ? By the Numb3rs
March 31 weck
April 1 GreyHawk
April 1 peregrine kate
April 2 navajo
April 3 Smoh
April 4 Bob Johnson
April 4 Grizzard
April 5 RLMiller
April 5 nomandates
April 6 mollyd
April 6 ninepatch
April 7 betson08
April 7 Pam from Calif

If you have followed us this far, you may also be interested in joining the Daily Kos Quilt Guild Auction Alliance Group. We kosmail all members with updates through out the auction; be the first on your block to know the newest high bid!