Another day, another "Turn back the clock" in North Carolina.
This time, the target of the Republican dominated Assembly: Renewable Energy. This is happening through House Bill 298 (HB298), introduced in mid-March 2013.
Here is how the bill was introduced:
AN ACT TO REDUCE THE BURDEN OF HIGH ENERGY COSTS ON THE CITIZENS OF
NORTH CAROLINA BY ELIMINATING RENEWABLE ENERGY PORTFOLIO STANDARDS.

The sponsors: Mike Hager (R) of Burke, Rutherford.
In 2007, the North Carolina Senate passed House Bill 3 (Bill 3), mandating that portion of electricity sold by Utilities companies be generated from renewable sources.
For those of you who don't remember, back around 2007 America was debating how to reduce its dependence on foreign Oil. In North Carolina, a progressive government brought together Businesses and political leaders to discuss ways to decrease that dependence of the State on Foreign Oil. Bill 3 was born. Main objectives of Bill 3 was:
Promote the Development of Renewable Energy and Energy Efficiency in the State through implementation of a Renewable Energy and Energy Efficient Standards (REPS).

One of the key pioneers of Renewable Energy in North Carolina is one of the most powerful business owners in Cary North Carolina: Dr. James Goodnight. He is the President and Co-founder of one of the most SAS Institute, Inc.. SAS is privately held and has consistently been named one of the best companies in NC to work for. You can read SAS Corporate Responsibility Document here.
The picture below represents a Solar Farm on the campus of SAS Institute in Cary, NC.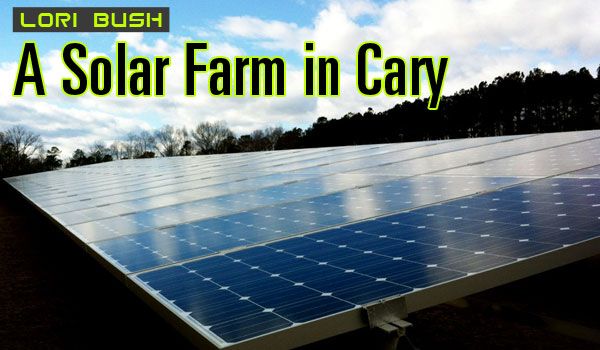 Today, the Commerce and Job Development Subcommittee on Energy and Emerging Markets approved a revised version of the bill by an 11-10 vote.
People who oppose the bill (this includes clean energy business leaders, farmers and energy experts) say HB 298 will undermine North Carolina's expanding clean energy industry, which has generated $1.7 billion and more than 20,000 jobs in the state since Senate Bill 3's Renewable Energy and Efficiency Portfolio Standards (REPS) laws have been in place.
According to John Morrison (chief operations officer at Chapel Hill's Strata Solar)
North Carolina was on track to becoming the fourth-largest solar energy provider in the country. House Bill 298 sends the message to the investment community that North Carolina is no longer open for business for solar investors
HB 298 sponsor Rep. Mike Hager, and speakers from conservative political advocacy groups Americans for Prosperity and the Civitas Institute, argued that ratepayers are unduly burdened by REPS that factor into their power bills.
Soon, pictures like these might be Passe in North Carolina.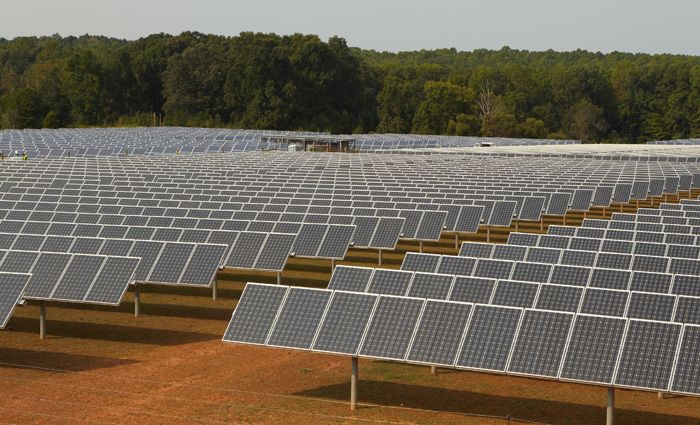 Solar Farm, on SAS Campus.