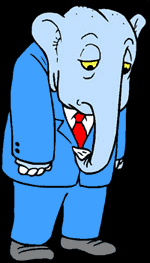 To answer the question of the title, it's hard to know what's going on that we don't see, but what we do see is, um, well, let's say there are reasons some people think the Republican definition of "outreach" must be uniquely theirs.
For example, in what I assume must have been an audition for the new reality show, "State Legislators are the Craziest People!", state legislators in North Carolina decided to try a new direction in tentherism by establishing a state religion. Feeling reached-out to, non-Christians? No, they didn't specify Christianity as the state religion explicitly, but they're trying to preempt a lawsuit by the ACLU against a county whose board begins public meetings with Christian prayers. I mention that just in case anyone mistakenly thought these Republican legislators meant to institute Zoroastrianism. They're working under the tenther theory that the 10th Amendment gives states the sovereignty to ignore the rest of the Bill of Rights, especially the establishment clause ("Congress will make no law respecting the establishment of religion...). How can they take away the right to sue? The right to petition for the redress of grievances is in the First Amendment right next to ... oh yeah.
Let's stay in North Carolina another moment, because the GOP majority hasn't forgotten you, college students. They're well aware of your problem. No, not the need to take on excessive debt to get an education. They mean your tendency to vote Democratic, and they hope to help you by making voting costly. Well, making it more costly for parents, who will have to pay a tax penalty if their children vote where they attend school instead of voting at home, even though federal law says they can do that. The Republicans also want to reduce early voting to just one location per county (gee, I wonder which party the larger counties tend to support) and abolish election day registration. College students might think it's ridiculous to claim that such restrictions on voting are aimed just at them, and you'd be right. There are reasons beyond stopping you from voting. They also want to stop voting by other people too! People who use election day registration and early voting. Who tends to make the most of those things? Well, people who move more use election day registration more, and low income people tend to move more than middle and upper income people, and who on average has a lower income than white Republican legislators? Black people, of which North Carolina has a sizable minority. Who uses early voting more often? Low income people, who can't afford to take off all day to wait in long lines on election day (and contrary to Republican mythology, they mostly work), so they try to vote when they can. Well, creating long lines during early voting should fix that problem. Hey 47%, why aren't you feeling the love?
At least North Carolina didn't just impose a new photo ID requirement for voting, at least that I'm aware of. The one I'm aware of was just passed in Virginia. How is that going over with the people the GOP supposedly wants to reach out to? From first indications, not well. Blacks think Republicans want to stop them from voting, and they won't vote Republican. I have a feeling these two things go together. As usual, the IDs are supposed to be free, but somehow there are people who can't afford the documents to get the "free" ID, people who have problems getting the documents aside from affording them, and people with transportation problems getting to the DMV. We in Minnesota managed to beat photo ID because it was a constitutional amendment on our ballot, so we could show a majority that voters would be suppressed and the elections turned into a mess. Unfortunately, in Virginia they had the task of convincing the Republican governor and legislative majorities who think voter suppression is a feature and not a bug. Now Republicans get to try to convince disabled people, elderly people, and low income people to vote for them. Not sure which is the tougher task.
The latest conservative darling, Ben Carson, once known as one of our most prominent neurosurgeons before he decided there was more appeal to playing crazy guy at conservative events, rather scuttled whatever outreach to the LGBT community by comparing them to pedophiles and people who engage in bestiality. You might think someone with a scientific background like his would know better. Instead, you would get a lesson how human beings can compartmentalize. You should trust him with your brain in the operating room, but maybe not with the steak knives in the cafeteria. You shouldn't be wondering why so few gay people vote GOP.
And just for some bonus crazy, Carson might make outreach to scientists a bit more difficult despite his credentials since he's a creationist. Is his objection to evolution that the science doesn't support it. No. He insists evolution is false because it's immoral. "Ultimately, if you accept the evolutionary theory, you dismiss ethics, you don't have to abide by a set of moral codes, you determine your own conscience based on your own desires." Maybe that great scientific thinker Rush Limbaugh is right that scientists are Democrats, but Limbaugh and Carson might be confused about which came first. Good thing they don't think gravitational theory is immoral, or they would insist we fly off into space right now as the ethical thing to do.
Maybe the GOP is making progress closing the gender gap. How is the outreach to women going? In Ohio, the GOP state attorney general wants to give employers the right to stop women from getting contraceptives. The boss man's religion trumps the female worker's health. Funny, I had the notion it was the employee's insurance, not the employer's. Telling the employees how to use their insurance is like telling them how they can spend their paycheck. It's part of their compensation. They do their job, get paid, and use their pay as the y see fit --- unless they have a religious employer who thinks he gets to control employees outside of work.
Well, let's be fair, maybe Republicans meant "outreach" only in terms of non-whites, particularly Latinos. How is that working out? If you've been following the news recently, you probably saw Republicans cringing when they heard Rep. Don Young, R-AK, refer to migrant workers as "wetbacks". How about if we replace the ethnic slur with the phrase "cheap labor". Would that be better? Actually no, because once you get past the slur, the message to Latinos is "we think of you as cheap labor". But hey, they're all really conservatives you don't know it yet, right?
Cross posted at MN Progressive Project