Floyd v City of New York, aka Stop & Frisk on Trial, continued into its fourth week today, with Judge Shira Scheindlin evincing acute interest in the 'Frisk' part of 'Stop & Frisk.'

"Which pockets?" Judge Scheindlin asked. "Pants? Jacket? Shirt?"

The man, Nicholas Peart, 24, was certain the police had reached into his pants pockets.

"Front pockets or back pockets?" the judge asked.

...

When one witness testified that his jacket pockets were searched, Judge Scheindlin wanted to know whether those pockets were on the outside or inside of the jacket...
The basis of 'Stop & Frisk is a 'Terry Stop', legalized by the US Supreme Court in 1968 in Terry v Ohio. It allows the police to lightly pat down someone when the officer believes there is

a reasonable suspicion that the person has committed, is committing, or is about to commit a crime and has a reasonable belief that the person "may be armed and presently dangerous."
Only if a weapon or other contraband is discovered in this patdown
is the search allowed (theoretically) to continue.
Courts have generally found that an officer's frisking can expand into a search of a suspect's pockets only if the pat-down reveals the presence of a weapon or some other contraband that the officer was able to immediately identify simply by patting it.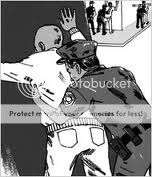 But as anyone who has ever seen someone 'Frisked' or has listened to testimony about being 'Frisked' knows, the police routinely and consistently violate the 4th amendment as defined by Terry v Ohio, e.g.

During the stop of Mr. Peart on his way to the bodega, he was handcuffed and placed in a police car. There, an officer asked him if he had marijuana, took off his sneakers and patted down his socks, before releasing him, Mr. Peart testified.
It is no surprise that NYPD has never been particularly concerned about consitutional rights, but in the era of 'Stop & Frisk' that concern has diminished even further, as pressure to make stops has risen.
Silverman presented findings from two surveys he and Prof. John Eterno did of retired police officers... In the case of pressure to make stops, the proportion of cops that reported high pressure to make stops increased almost fourfold (from 9.1% for the pre-1995 era to 19.1% in the 1995-2001 era to 35.1% in the 2002-2012 era) while those reporting low pressure fell by more than half.

One thing that Silverman and Eterno's 2012 survey found that did go down was pressure to obey constitutional rights. For the early era, 44.6% reported high pressure to obey the Constitution, and in the Bloomberg era, that number dropped to 35.7%.
Not only is 'Stop & Frisk' unconstitutional because it violated Equal Protection - young men or color are statistically certain to be targetted more than other demographics,
as was testified to last week...
((Professor Jeffrey Fagain's analysis demonstrates that)) the higher the percentage of Blacks and Latinos in a neighborhood, the more likely people are to be stopped there... an individual's race is a statistically significant predictor of how likely they are to be stopped, with Blacks and Latinos more likely to be stopped than whites.
but given a Terry inch, the police inevitably take a Scalia mile. (Just made that up, but it seems apropos). 'Stops' turn into assaults; 'Questions' turn into abuse; and 'Frisks' turn into whole body searches and, when male police searches of women occur, the opportunity for sexual exploitation.
It's time for Judge Scheindlin to order NYPD to put the 'reasonable' back into 'suspicion' for 'Stop' and the Fourth amendment back into 'Frisk'.
-------
Other Stop & Frisk on Trial and Related Diaries:
Stop & Frisk on Trial. 'Floyd v City of New York', Class Action against Stop&Frisk, Began Yesterday.
Stop & Frisk on Trial: NYPD Chief Kelly Admitted Cops Target Blacks 2 'Instill Fear' Says State Sen.
Mr. "Stop & Frisk" Comes to Oakland.