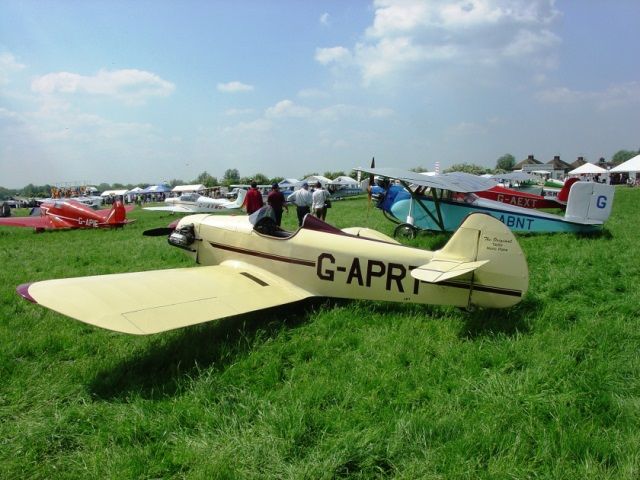 Very ocassionally, someone does something quite startling. In this case it was John Taylor, who decided to design and BUILD this pretty little monoplane in his first-floor living room in an apartment in Ilford, Essex ('second floor' to my American reader)! It just so happened to be the first post-WW2 British homebuilt design to fly. Mrs Taylor must have had a heart of gold, is all I can say, particularly when it came to removing the bay window to get the fuselage and wings out, and slide them down inclined planks of wood - I have seen photographs of this most unusual event. The now-assembled aircraft, G-APRT, was flown from White Waltham, Berkshire in July, 1959 and displayed fine handling characteristics - it has been compared to a 'mini-Spitfire' which is saying a lot! The power was originally supplied by a J.A.P 99 engine (putting out about 37hp, and similar to the one in the Dart Kitten II), but it was subsequently fitted with a VW conversion, the more powerful ARDEM 4CO2, producing 45hp.
The loaded weight was only 660 lb, so, despite a small engine, its maximum speed was 115 mph, and it cruised at 100 mph. Stalling speed was quite acceptable at 40 mph; 'over the hedge', so to speak. The only disappointing performance metric was the aircraft's relatively short range of just 290 miles.
The JT-1 Monoplane is of all wood construction, with a two-spar wing, and a rib structure which utilizes the famous Warren Truss; in this, it shares a design element with both the Fiat CR.42 and the Hawker Hurricane. The wing leading edges are ply covered, as is a portion of the wing surface, but behind the main spar it is covered with Dacron (or other approved) fabric. The fuselage consisted of four longerons, covered with ply, to form a 'box', just as in a DH80 Puss Moth. All these elements go towards building up an immensely strong structure, rated at +9/-9 G. This means that the pilot might break before the aircraft does! The original undercarriage design was unusual, in that it consisted of slim, vertical units, damped by internal coil springs. This gave a very pleasing appearance, which has been somewhat marred by some later-built aircraft, a few of which have been equipped with spring steel undercarriage members, splayed apart at quite a wide angle. This gives the impression on the ground of the aircraft 'waddling' towards you. Many aircraft have just a 'basic six' instrument panel, but there is room for a holder for a 'hand held' radio, and some pilots manage to stick a small GPS in the cockpit, somewhere.
The tailwheel is steerable, an unusual feature in this class of aircraft, and you can build a JT-1 with or without flaps (I know what I would do!) Canopy variations include a very nice 'tear-drop' canopy - as seen on G-AYSH, flown in a Royal Navy Korean War scheme of 'Extra Dark Sea Grey' over 'Sky' and complete with black/white 'invasion stripes' as used by Seafires of No. 800 Squadron FAA onboard HMS Triumph - or a higher 'coupe' style canopy, as seen on CS-AXB, a lovely Portugese example based in the Azores, which was built by a former Portugese Air Force fighter pilot. The owner of British-registered G-BGHY built his JT-1 with a squared off fin and rudder; unhappily, this shape does NOT look good, as the little monoplane ceases to resemble a mini-Spitfire.
John Taylor owned his creation from 1959 to 1961, then moved on; 4 owners later, it ended up on the Portugese register (1985 to 1989) but it has, fortunately, ended up back in the UK. There have been some alterations to the colour scheme over time (it appeared at the 1971 Popular Flying Association Rally, at Sywell, in a truly terrible 'WW2' scheme, which fortunately did not last) as well as the full-blown canopy being dispensed with, and the addition of a spinner. The prototype Taylor JT-1 Monoplane is an absolute gem, and it is seen here at the Great Vintage Flying Weekend, Hullavington. It has been followed into the air over the years by more than 110 others, with examples flying in countries from Finland to Australia.
Whatever John Taylor thought he was doing by building his little masterpiece, and whatever price he paid for tearing out his front window - it has paid off handsomely!