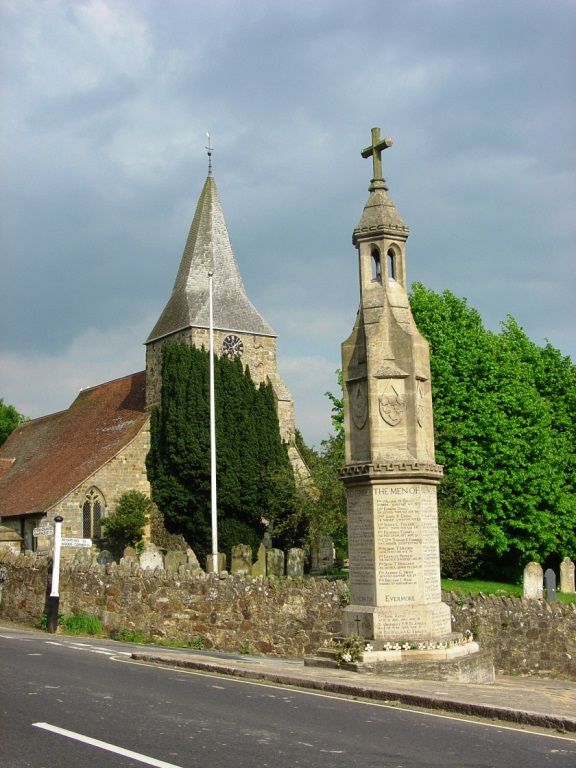 I have written earlier of the central rôle that both pubs and churches play in village life in Britain. This is even more evident when the village concerned has a 'famous son or daughter'. Burwash, a beautiful little village in East Sussex is no exception to this. Its principal street, the High Street, is littered with ancient properties, some residential, some commercial, dating from as early as 1380, and one of them, 'The Bear' has a room named after its most famous former resident - Rudyard Kipling.
Kipling lived here, in a beautiful Jacobean iron master's house - Batemans - for the last half of his life, from 1865 to 1936. It would be fair to say that his best work was done here, and the deep, dark Sussex woods and the tiny little River Dudwell, which flows through the grounds at Batemans, are featured prominently in many of his stories. Also featured - 'Puck of Pook's Hill' (1906) and 'Rewards & Fairies' (1910) - is the village church of St. Bartholomew's. This Norman church, dating from 1090 – only 24 years after the 'dread fight on Senlac Hill', the Battle of Hastings - was built in the local style of stone and clay-tile, and quite likely replaced an earlier wooden structure on the same site. Senlac Hill, and Battle Abbey, are only 8 miles away, so this area was amongst the very first to feel the grip of the Normans.
I have visited this gem on several ocassions, and there are many historical features. A beautiful, carved octagonal font from the 16th century is located in the nave, and there is a 14th century cast iron sepulchral slab (now removed from the floor, where I first saw it, and hung on the wall) to John Collins, a local ironmaster. This slab, and the character of John Collins, both feature in Kipling's stories. The lovely tower - with its peel of eight bells - is the only major part of the Norman structure that is left to us, due to the nave and chancel being expanded and extended during the 13th and 14th centuries. The church did remain substantially unaltered from 14th to the 19th centuries. Then, however, the wave of Victorian 'church improvements' which was sweeping the country reached St Bartholomew's! In 1856, a massive rebuilding program was undertaken, and the character of the church altered. The largest change since then was a complete floor replacement - due to rot - which was completed in 1990.
Smuggling across the nearby shingle beaches was a feature of Sussex life in the 18th and 19th centuries, and a number of identified smugglers are buried in the churchyard. Air Commodore John Marsden CBE, RAF is also buried here, as is Wing Commander Charles Farley, RAF, killed in action, 9th May, 1941. The imposing monument you can see (at the end of Bell Alley Lane) is to those who fell in the two World Wars. Approximately 500 villagers served in WW1 (488 are known with certainty) out of a 1914 population of some 3,000. Amongst these was 2nd Lt John Kipling, Irish Guards, the author's only son, who was reported wounded and missing on his first day in action, 27th September, 1915, during the Battle of Loos. Rudyard and Carrie Kipling searched for years for him, hoping that he was only incapacitated or a prisoner of war; it wasn't until 1919 that they accepted his death. Kipling's poem 'My Boy Jack', written in 1915, is extremely poignant. His story was turned into a stage play (1997), written by the English actor David Haig, and later (2007) a major film of the same name, starring Daniel Radcliffe. "Jack" Kipling is also commemorated by an oval bronze plaque inside the church; this was the first commercial work of Charles Wheeler, R.A., later President of the Royal Academy of Arts. That this church is beautiful there can be no doubt, but if the Victorians had left more than just the Norman tower to St Bartholomew's, and had not 'restored' it, I think that we would all enjoy it even more.
It is not just British war dead that are remembered. A list of casualties compiled locally also includes Unteroffizier Bruno Zimmerman, the pilot of a Luftwaffe Heinkel He III P4 bomber, which was shot down by a Royal Air Force Boulton Paul Defiant nightfighter on 22nd December, 1940, during the 'Blitz'. Unteroffizier Zimmerman was buried locally, then subsequently re-interred in the German Military Cemetery, Cannock Chase, Staffordshire.
War is hell - but it is a measure of our humanity how we remember those who fought, and suffered, on both sides of any conflict.