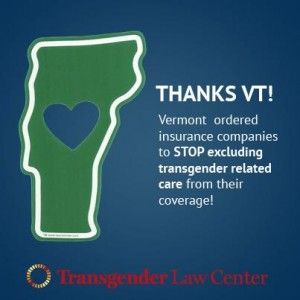 It seems like only a couple of weeks since California became the third state, after Colorado and Oregon, to require health insurers to cover the medical needs of transgender residents of the state. Oh, hey, it was just two weeks ago.
On April 22 Vermont's Department of Financial Regulation's Division of Insurance issued a new health bulletin which requires insurance companies wishing to do business in the state to cover "medically necessary services" for all transgender residents. That includes sex reassignment surgery.

DFR is committed to ensuring that Vermonters do not face discrimination in accessing medically necessary health care benefits, including those based on gender identity and gender dysphoria.

This is both a simple question of fairness and a matter addressed by existing insurance law and DFR regulation.

--DFR Insurance Bulletin 174 (pdf)
Many health insurance plans categorically exclude gender transition-related care for no reason other than stigma and bias, and that is wrong. There is no principled reason for denying a transgender employee medically necessary health care.

--Corey Mallon, Vermont Equal Care Coalition
The bulletin
makes the following points perfectly clear
:
Medical necessity remains the fundamental standard of care and legal requirement for treatment provided to transgender people
Insurers cannot exclude coverage for medically necessary health care services for transgender people, including transition-related surgeries and other care provided for gender dysphoria and related conditions.
Plans offered through Vermont's Health Benefits Exchange are covered by the bulletin.
Transition-related health care is medically necessary for many transgender individuals whose health and well-being depends on bringing their physical body into alignment with their gender identity. And determination of what care an individual patient needs properly rests with medical providers, not insurance companies.

--RU12? Community Center press release
Insurance companies must comply with the terms of the bulletin, and new insurance policy forms filed by insurers will not be approved if they exclude gender transition related care. The bulletin will impact a wide range of plans purchased by individuals and employers in Vermont, but does not regulate self-insured employer plans, which will continue to be subject to federal law.

--RU12?
Of course, the chances that the federal government will adopt the same language are slightly less than the chances that this Congress will pass ENDA.
We are extremely pleased that yet another barrier to receiving quality health care has fallen.

--Mari Cordes, RN, President of the Vermont Federation of Nurses and Health Professionals
Health care costs are a major barrier for most transpeople, given that 15% of us earn less than $10,000 per year.