I had a nice, simple diary started on First World Problems, then went to get K2 from school and saw something that gave me such a warm fuzzy I have to write about it. Follow me below the dingledoodle squigglie dKosagnocchi dividerthingie fold after a word from our sponsor...

Here at Top Comments we strive to nourish community by rounding up some of the site's best, funniest, most mojo'd & most informative commentary, and we depend on your help!! If you see a comment by another Kossack that deserves wider recognition, please send it either to topcomments at gmail or to the Top Comments group mailbox by 9:30pm Eastern. Please please please include a few words about why you sent it in as well as your user name (even if you think we know it already :-)), so we can credit you with the find!
It was about 10 minutes before K2's school let out for the day, and I'd walked over early because it was so lovely out (that and the roundtrip walk is ~1500 of my 10000-step Fitbit goal, but that's another diary). I saw a car stop in, not near, the crosswalk. Its driver got out and began talking to another woman on the sidewalk who was holding a clipboard. Then, this smiling little old lady slowly got out of the front seat while the two younger (and by younger I mean at least my age :-)) women opened the backseat doors. Three more little ladies, two even older than the first, were helped carefully out of the car. Walkers were retrieved from the trunk and, just as the school bell rang, they began their trek together to the side cafetorium door.
It was Special Primary Day here in Massachusetts, for the Senate seat formerly held by John Kerry, and they were here to vote.
That short stretch from sidewalk to door also is the path to the playground, and so I placed myself at the entrance to slow any exuberant students so eager to get to the slide or soccer field that they might accidentally bump the would-be voters. Once they made it inside, I wandered over to check on K2 and consider civic duty.
Those women easily could have said "Eh, it's a lot of work to get out and vote, and in a Primary no less." Many others seemed to have made that choice. I'd voted an hour earlier, and was ballot #174. There are thousands of registered voters in my ward. The polls had been open for 6 hours. It was a beautiful, sunny, reasonably warm day. The choices made in today's election set the stage for the June 25th election to fill one of our TWO, count em, two, Senate seats. All that, and only 173 others had made the effort to vote before me.
So many people find the time to complain about the state of government today. They mutter about "the people" having no say, or not being heard. Ask if they vote, exercise their Constitutional right to make their voice heard, and the two most common responses I hear is either "I didn't have time today" or "It doesn't make any difference, they're all the same."
I don't buy either of those excuses. I don't buy the one about "people just aren't into it after the Marathon bombing." Please... it matters. Post April 15th, maybe it matters even a little bit more. It matters... and these ladies made the journey in a cramped station wagon (seriously... imagine being in the middle of the back seat in YOUR 80's!) to walk at a snail's pace because they knew it. I don't care which party's ballot they chose; they fulfilled their civic responsibility.
Fifteen minutes later, the door was held open and the women began their journey back to the sidewalk. I'm sure I wasn't supposed to take pictures anywhere near the polling place, but it was too poignant to resist.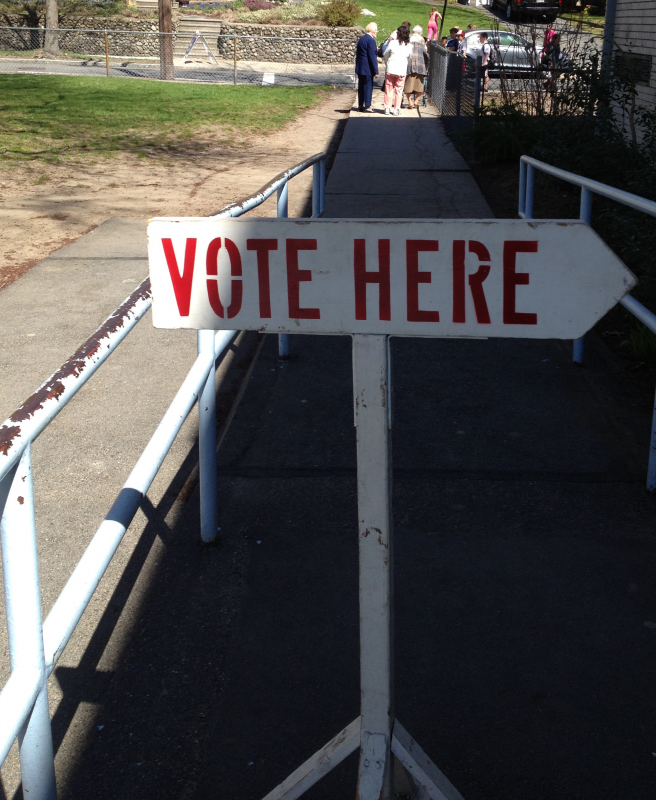 Clipboard woman worked to keep everyone steady and safe while parents kept their kids from bumping into the unsteady ones. The car pulled back to the curb, and the women piled back in. As it pulled away, I walked over to clipboard woman and said "Thank you, that was beautiful." She looked quizzically at me, and I explained "Helping those women get to the polls to vote."
"Ohh, the seniors all take it very seriously, they love to vote and we do what we can to get them here. Jane (name changed for anonymity) there, you know she's going to be 100 in August. You know what she said when she got into the car? See you in June for the Election vote!" She said she'd been shuttling seniors to the polls all day; based on the number of lines on that clipboard, I don't think she was done yet.
I think I'm going to volunteer to drive people to the polls next time, if they can use a minivan. Or I can be a Clipboard Woman, too. No matter what, I hope Jane gets out of a cramped station wagon in June and once again schools remedial non-voters in the fine art of Civic Duty.
---
Brillig's ObDisclaimer:
The decision to publish each nomination lies with the evening's Diarist and/or Comment Formatter. My evenings at the helm, I try reeeeallllyy hard to publish everything
without
regard to content. I really do, even when I disagree personally with any given nomination. "TopCommentness" lies in the eyes of the nominator and of you, the reader - I leave the decision to you. I do
not
publish self-nominations (ie your own comments) and if I ruled the world, we'd all build community, supporting and uplifting instead of tearing our fellow Kossacks down.
From Silvia Nightshade:

Seriously, why can't we do this with student loans? By detroitmechworks, from Matt Bors' Rules Schmules.
From Noddy: implicate order reveals Palin's plans in poopdogcomedy's diary AK-Sen: Tea Party Group Launches Campaign To Draft Sarah Palin (R) To Run For U.S. Senate.
From Yours Truly, brillig:

wo from Hunter's delicious America's Dumbest Congressman melting down before our eyes: doingbusinessas compares Texas' Louie Gohmert to McCarthy, and agnostic*'s reply to SixtySomething's suggestion he be locked in a room with Michelle Bachman.

In eclectablog's Mich Township Clerk calls Township Supervisor an "arrogant n!gger" (and, yeah, she's a Dem), which demonstrates we don't ONLY call out (R)'s when we see injustice and idiocy, joynow shared the nicest story about confronting racism.

---
Top Mojo for yesterday, April 29th, first comments and tip jars excluded. Thank you
mik
for the mojo magic! For those of you interested in How Top Mojo Works, please see his diary
FAQing Top Mojo
.
1) It was a very American coup. The SC lost all... by LiberalCanuck — 189
2) Yup. Her "mistake" had real life consequences. by Its the Supreme Court Stupid — 114
3) There's really only one comment worth reading: by Inland — 94
4) FL Supreme Court ordered statewide recount by RFK Lives — 88
5) On behalf of those of us who can't or won't by Bob Love — 85
6) The gender politics are interesting by Dave in Northridge — 81
7) My wife has been aware of this for some time by FishOutofWater — 80
8) There auta be a law 'bout this by ColoTim — 79
9) I suspect that those who thought there by illinifan17 — 79
10) She has one helluva nerve! by Radiowalla — 75
11) and we don't even know by esquimaux — 72
12) There is and always has been a religious left by commonmass — 71
13) It's a bad sign her purse was left at the station. by suesue — 71
14) They danced with who brung them by Hollowdweller — 67
15) This is the French model by tommyfocus2003 — 65
16) Charm offensive by T Maysle — 61
17) I was wondering the same thing. by chrississippi — 60
18) Two days too late for my nephew, who, on by Fury — 58
19) Last time a French guy hooked me up by blue aardvark — 57
20) so, corvo, we're back where we started by BlackSheep1 — 57
21) I liked the rest of the Adelson joke by Azdak — 56
22) I did not know what to make of by Gary Norton — 56
23) you keep talking about facts by jfromga — 54
24) I hate this type of diary. by tharu1 — 54
25) Somehow, I can't imagine President Gore by Crashing Vor — 54
26) Gee, ya think?!? by djMikulec — 53
27) This line's to the point... by durrati — 52
28) KoKo's Tayl... by kishik — 50
29) She's also the one who (purportedly) by Hillbilly Dem — 49
30) I'm listening to the Dan Patrick show right now by Spud1 — 49
---
Top Pictures for yesterday, April 29th. Click any image to be taken to the full comment. Thank you
jotter
for the image magic!




ps - It's going to be Markey vs Gomez, the longtime Representative versus the political unknown. This has Brown 2.0 all over it and I'm a bit nervous. Markey better not f-ck this up.