Welcome to the 8th installment of my continuing series on the political geography of the United States. In this segment, I turn my focus to the House of Representatives districts with a focus on their partisanship downballot. You can find my previous installment on the 2012 presidential election by district and the house of representatives elections themselves here. While presidential performance is a strong indicator of local congressional strength, there are many exceptions that range from small differences to astoundingly large ones as we'll see. As usual, my focus will cover the period from 2005 to present by calculating D vs R statewide election performance by district so that we may compare each district to its respective state and determine how that relationship trended over the last two downballot general election cycles such as 2006 and 2010. First let's take a look at the national map with the underlying geography of the districts, which party drew them, and their current representation in congress.
The districts: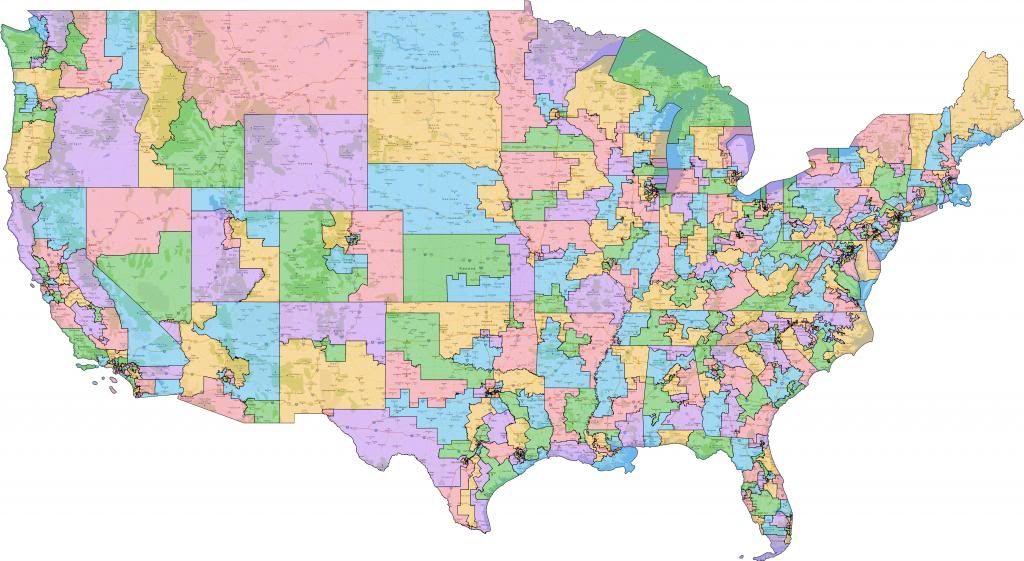 (full size image here)
By their numbers:


(full size image here)
By who drew them: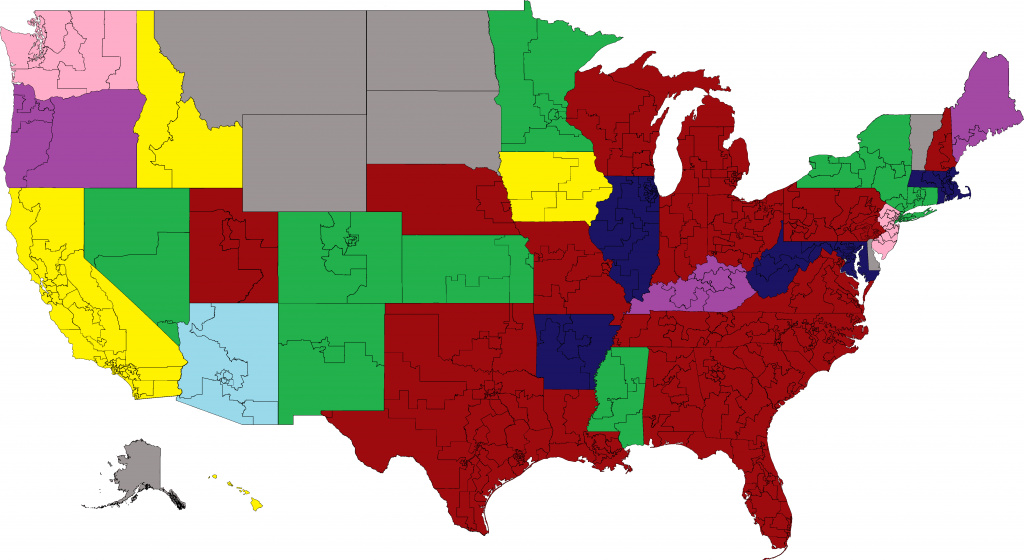 Blue - Democratic drawn
Red - Republican drawn
Purple - Bipartisan Compromise
Green - Court drawn
Light Blue - Independent Commission favorable to Democrats
Pink - Bipartisan Commission favorable to Republicans
Yellow - Nonpartisan-Independent Commission drawn
Gray - At-Large state
By their Representatives' party:


(full size image here)
This map can have every district's color (minus AK-AL and HI-02) changed with just one click, so feel free to download it and play around with it if you like. Remember, you can find interactive google based maps for every state here courtesy of Daily Kos Elections. All of the election by election data that went into making the following maps is available for download by state or if you just want the partisan averages and presidential numbers by district. This part will examine districts in states starting with A through M while part 9 will cover N through W. So follow me over the fold for maps, and please note that the scale changes for some of them.
Alabama
First off is Alabama which Republicans were easily able to gerrymander by packing Dems into one dark blue seat. No other district is any more Democratic than the state at large, which is quite safe federally for Republicans.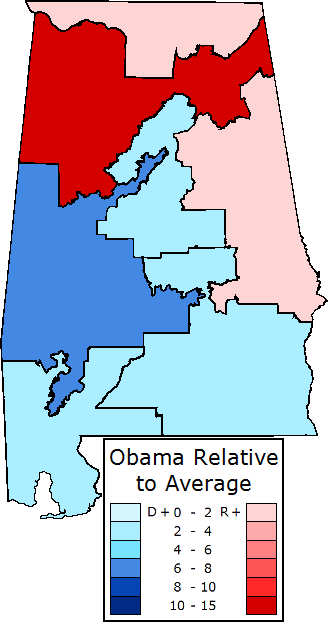 Characteristic of largely white southern areas, Obama underperformed significantly in the north of the state, while overperforming in the state's Black Belt thanks to the difference between minority turnout in presidential years and midterms when the state holds most of its statewide elections.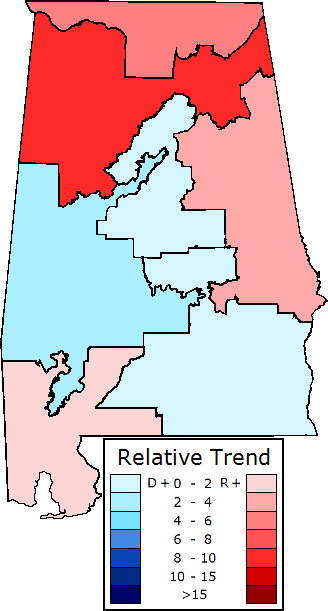 In both the 2006-2010 map and the 2008-2012 map below it, you can see a clear pattern of northern Alabama trending against Democrats and it will probably continue to do so as this was the one region where most of the conservadems and Blue Dogs lived. Since the Black Belt is very inelastic, it trends towards Dems by staying in place or swinging mildly towards us while the whiter parts shift away. Still, the suburban districts such as the 6th trended Democratic as suburban areas nationwide have tended to do for the last manyl election cycles.
Arizona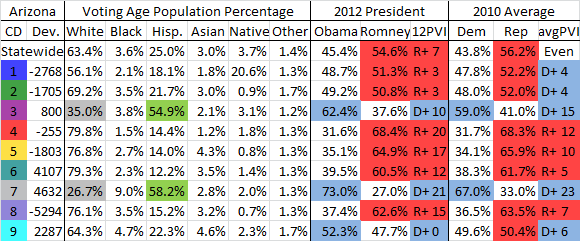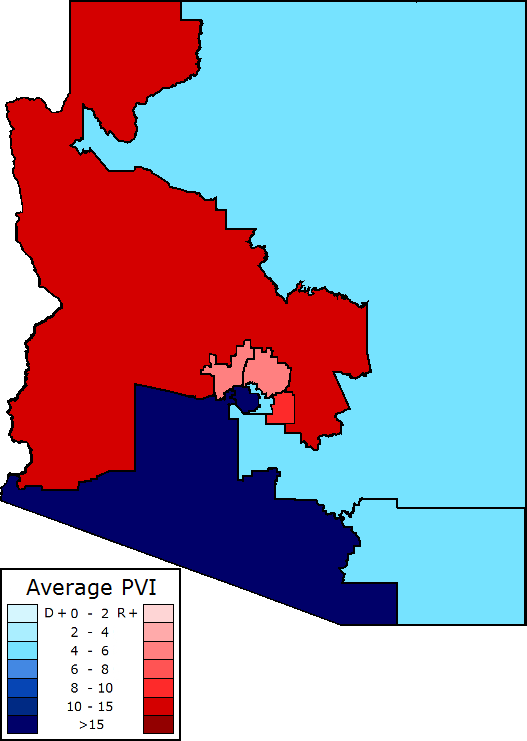 Arizona shows you just how nice a job the independent redistricting commission did from Democrats' perspective. Thanks to having to consider competitiveness as well as other more usual non-partisan standards like communities of interest, there are three districts which are all clearly a fair bit more Dem than the state was in 2010 and that allowed us to narrowly carry all three of them in 2012.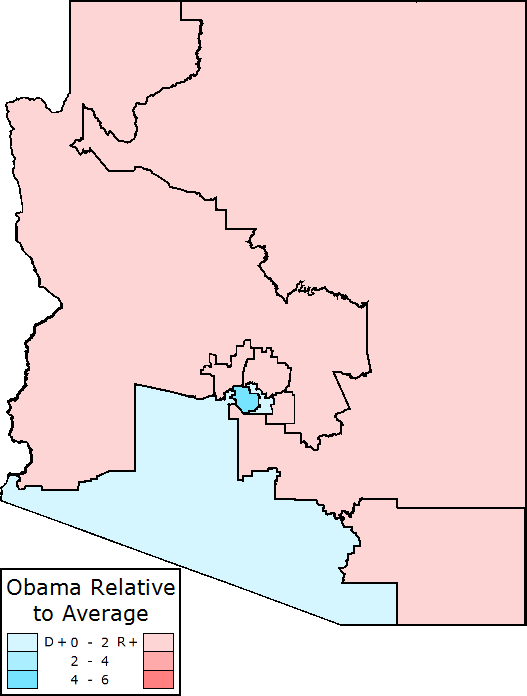 Obama's performance wasn't all that atypical of what you'd expect given his statewide vote share, but he did do a little better in the most Hispanic heavy districts given his special appeal and their tendency to have more turnout dropoff relative to whites in midterms when Arizona holds its statewide elections. This will make it somewhat harder for Dems like Kyrsten Sinema to win in 2014 as they can't count on the presidential turnout to put them over the top, but fortunately for her that district is trending Dem downballot though I don't have access to the 2006 precinct data to confirm that.
Arkansas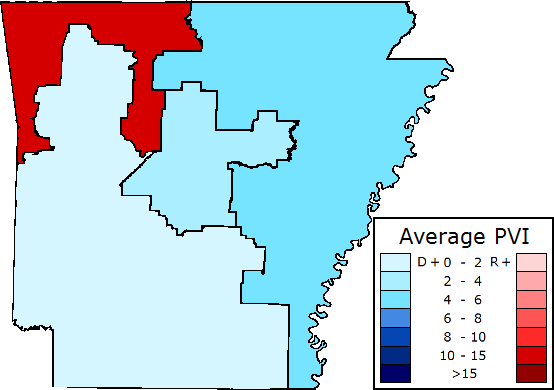 Arkansas saw the infamous Democratic dummymander where they tried to make three of the state's four districts winnable, as should easily be seen in this map, but of course as none of the districts is Democratic enough, we lost all three. Republicans are quite strongly packed into the 3rd, and it's possible we could yet win the 1st or 2nd but it would be a struggle.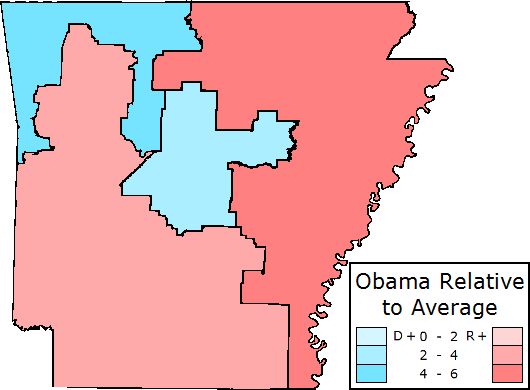 Obama drastically underperformed what local Democrats are capable of everywhere in Arkansas, but it was very uneven. He did far worse than average in the 1st especially as well as the 4th, while he held up much better in the more downballot Republican heavy 3rd district than any of the other three.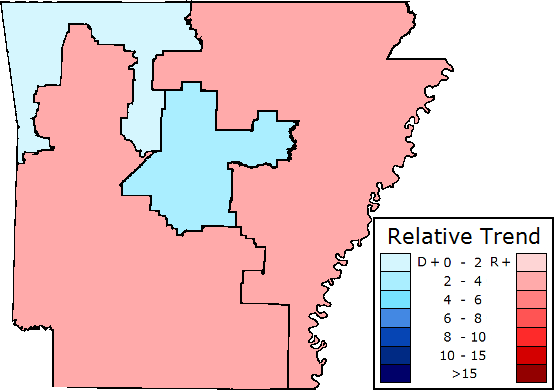 As the state as a whole trends Republican, the rural 1st and 4th districts are leading the way. The 2nd, which is our best bet of flipping any of the districts, is weathering the storm a little better than its neighbors, but still there isn't much to be hopeful for Arkansas Democrats. If Mark Pryor is to win next year, he'll need to carry the 1st and 2nd, keep it close, and not get blown out in the 3rd.
California
On a brighter note we come to California which is trending strongly Democratic in recent years. Given how blue the state itself is, even many of the districts we currently hold are red in this map, which was drawn by an independent citizens' commission. Still, our best chances at pick ups remain the 10th, 21st, and 31st while Republicans' best opportunities are the similarly 'red' 36th and 52nd. Unfortunately the statewide database from which I obtained the 2010 numbers had inaccurate 2006 numbers, but suffice to say that as the state itself grows bluer, practically all of the competitive districts should trend Democratic overall.
Compared to Obama there's a somewhat clear pattern of him underperforming in the largely white non-urban districts as well as the Sacremento area in general. He does the best in the heavily Hispanic VRA districts where, par for the course, there's more dropoff there than in whiter areas in the midterms when California holds its statewide elections. This patter should hopefully be diminished going forward as California implements same day registration.
Colorado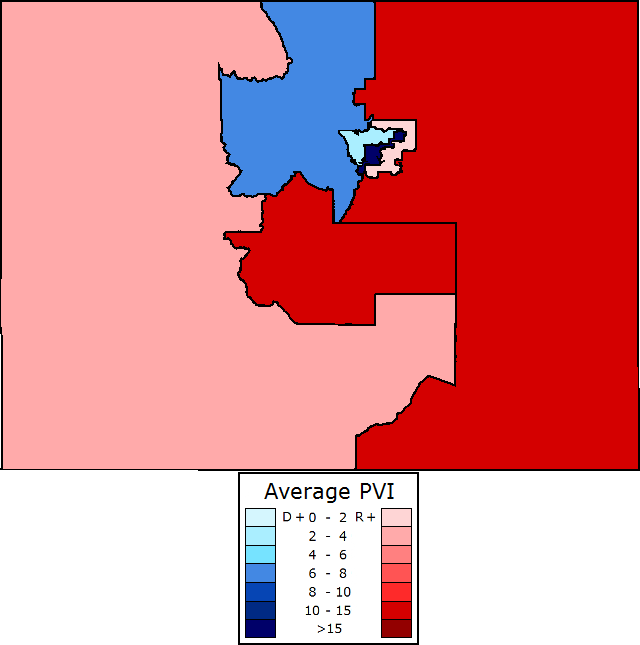 Looking at Colorado's court-drawn map we actually see a good balance between a few Safe D, a few Safe R, and a few competitive districts. Our best chance going forward will be in the 6th which we narrowly lost last year, but the 3rd also remains in play for the right candidate in the right environment.
The reason this is so, is that Obama really underperformed what statewide Democrats usually get and if we get a strong Blue Dog like former Rep. Salazar was, this seat could be competitive. On the whole, Obama performed pretty typical elsewhere in the state.
Unfortunately the 3rd is trending fairly moderately away from us despite it having a large Hispanic population. However the 6th district is trending Dem up and down the ballot and I fully believe we'll win it by 2016 if not next year.
Connecticut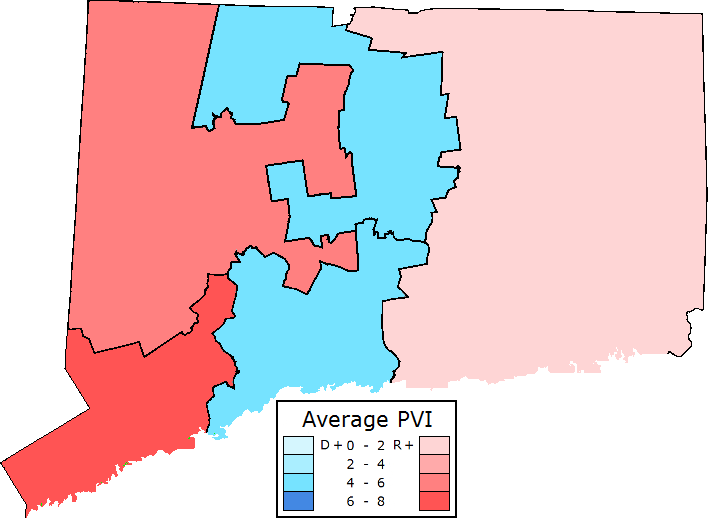 Connecticut has a court-drawn map of what was essentially 2000's legislative compromise. It has two safely Dem seats, one that leans pretty strongly Dem, and two that are more swingy.
Despite it having the lowest Dem average performance, the 4th saw Obama overperform a noticeable about to where it voted for him at a higher rate than the neighboring 5th.
Part of this has to do with the trend, as the 4th trended Dem by several points while the 5th did the opposite, but Obama also has a tendency to overperform in suburban districts like the 4th. Going forward, if the 5th keeps trending Republican it will continue to cause Rep. Esty to have competitive races, but it's possible that the trend either slows or stops in which case she should be fine due to incumbency.
Florida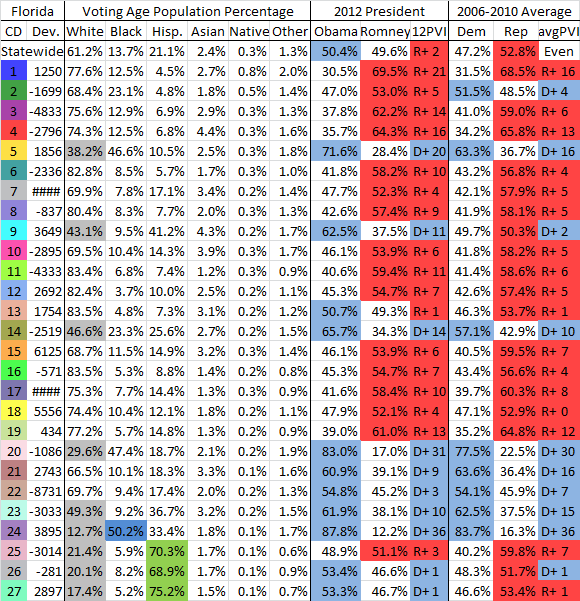 Republicans gerrymandered Florida as best they could to pack Democrats into just 7 districts, the 5th, 14th, 20th, 21st, 23rd, and 24th. However, thanks to the 22nd's natural blue lean and bad candidates in the 18th and 26th, we won 10. Going forward it's ridiculous that we didn't win the 2nd in 2012 and I think if we put forward a well funded Blue Dog rather than someone like Al Lawson, whose race may have hurt him in this Deep South district, that we should have a great shot at winning the seat. Our next best option is FL-13 where hopefully Bill Young can be scared into retirement, or FL-27 if Ileana Ros-Lehtinen ever retires.
Comparing Obama to the average there's a very clear pattern of him seriously underperforming in the non-minority heavy districts, especially so in the more culturally southern north of the state. He also underperformed in the more Jewish heavy southeast Florida districts. Obama overperforms massively in the Hispanic heavy 9th district which is why Alan Grayson can't expect to win in a blowout in 2014 as turnout drops off considerablly there. Obama also overperformed in the I-4 corridor as a whole and the minority heavy south Florida districts, particularly the 25th while surprisingly not all that much in the 26th.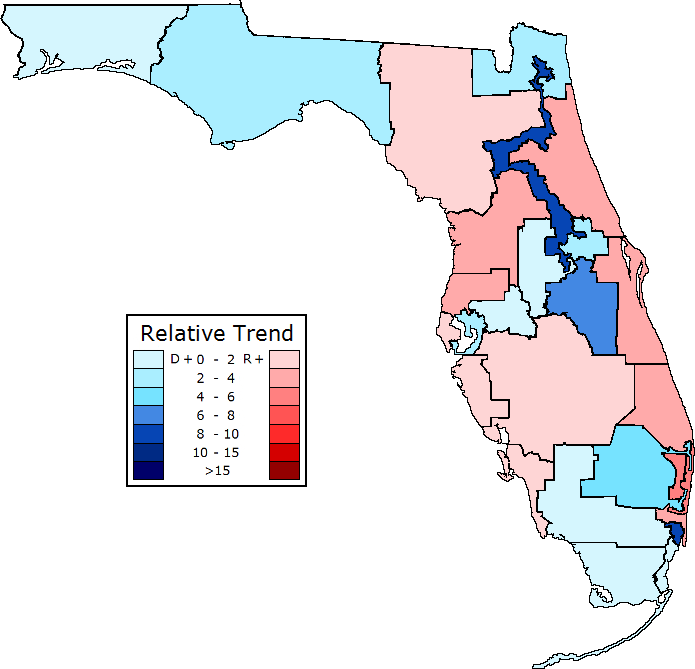 Unfortunately the trend is clearly negative for us trying to hold the already Republican leaning 18th and I wouldn't be surprised at all if Murphy loses it next year. Fortunately, the 2nd is trending towards us as are the I-4 districts. Hopefully we can pick off the 2nd next year as our gubernatorial nominee should easily win the district, and win the 10th against Dan Webster in 2016 with presidential turnout.
Georgia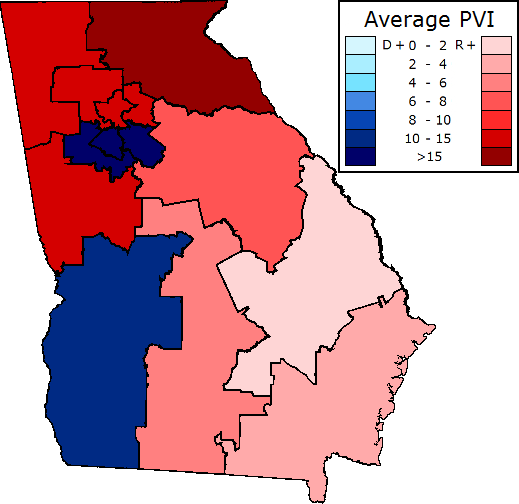 In Georgia Republicans tried to draw a 10-4 map but given his incumbency and crossover appeal, Blue Dog John Barrow was able to hold on with relative ease against a crappy opponent in 2012. He also benefits from still having the least Republican of the non-vote sink districts. I highly doubt we can pick up any more seats in the state and wouldn't be surprised at all if we lose Barrow's, but our best bet is the 1st which is both the least Republican of the Republican held seats and will be open next year.
Unsurprisingly, Obama underperforms in the heavily white rural districts and overperforms the most in the urban VRA majority black districts. He also overperforms in the white suburban districts in the Atlanta area.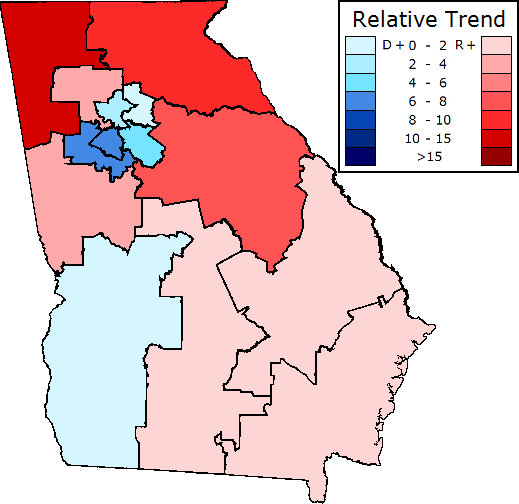 Unfortunately the trend isn't particularly helpful in Georgia as the white conservadems starting to vote Republican downballot outweighs the increasing impact of minority voters in the south Georgia districts. The three Atlanta VRA districts trended Dem thanks to this minority growth and the suburban 6th and 7th did the same and will likely continue to do so, but they're already deep red and unlikely to be competitive this decade.
Idaho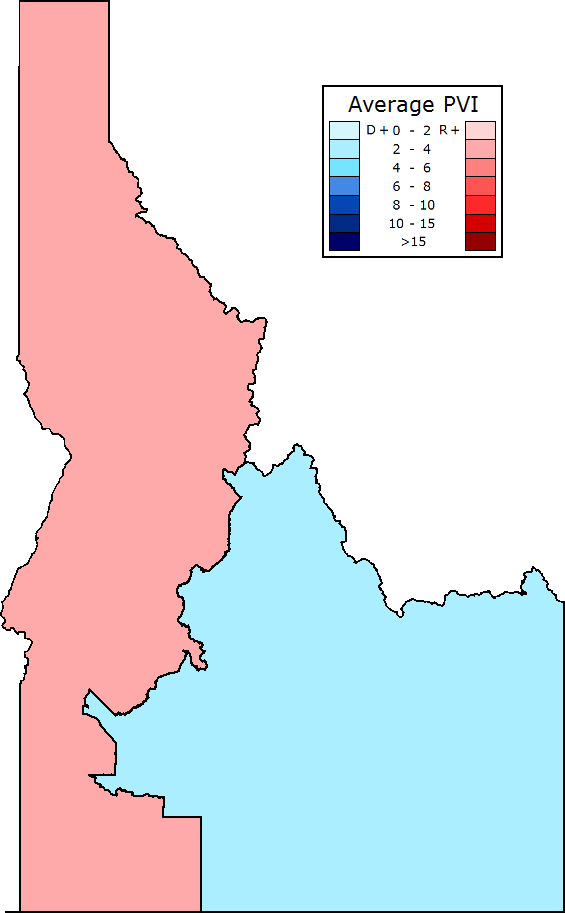 Idaho is a deep red state where an independent commission handles redistricting. Thanks to the inclusion of relatively blue Boise, the 2nd district is a good deal more favorable to Dems, but still pretty staunchly red.
Given how mormons make up a larger percentage in the 2nd than the 1st, it's no surprise that Obama underperformed there.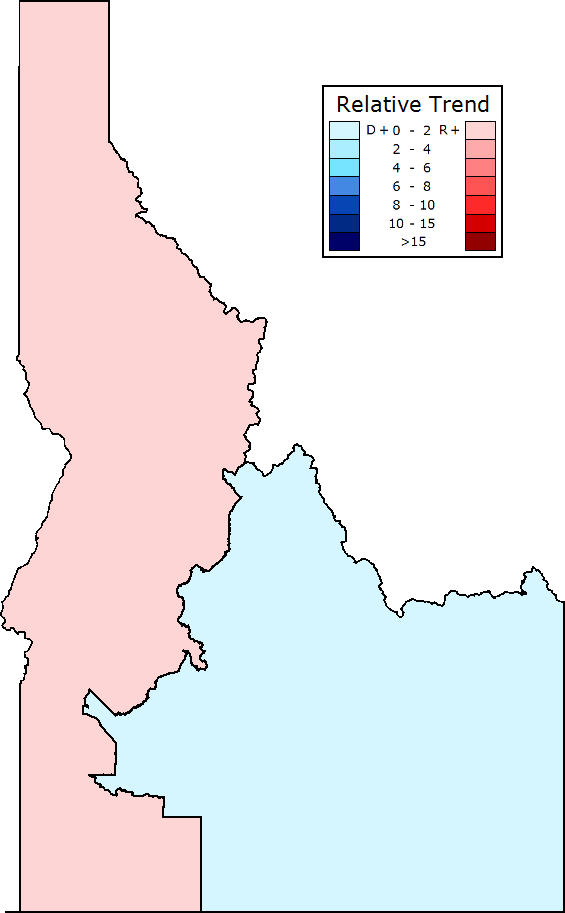 Both districts remained pretty consistently Republican with the 2nd having a slight Dem trend relative to the state and the 1st a Republican one.
Illinois
Illinois was the lone major state that Democrats aggressively gerrymandered and it payed off with us winning 12 of the 18 districts and coming short just 1002 votes in the 13th. Given how blue it is, all of those light pink and red districts are actually quite favorable to dems, though by no means safe. Our best shot at a pick up is of course limied to the 13th, while our toughest hold will likely be the 10th given how it has a relatively strong former incumbent running for a rematch.
Despite it being his home state, Obama didn't really see much of a home state boost in Illinois last year, especially compared to 2008. Like Dem presidential nominees tend to do, he overperformed the most in the minority heavy and suburban Chicago districts as well as the presidentially D trending northwest. Her performed far below the average downstate though and despite only narrowly losing the 13th and narrowly winning the 12th, those are districts that should by all rights be Democratic.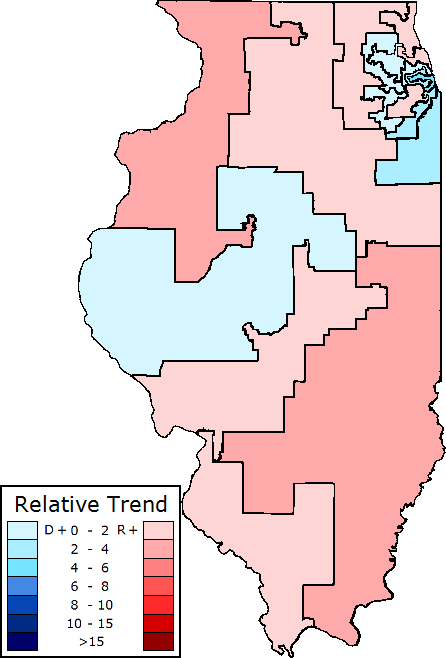 The trend in Illinois wasn't great from 2006-2010 as the 17th went strongly republican and downstate did so as well, which will make winning the 13th progressively harder.
Indiana
Indiana saw a somewhat tame Republican gerrymander that still left several districts potentially competitive. Our best chance of winning another seat is the 2nd against 'Wacky Jackie" Walorski, or the 8th if popular former Rep Brad Ellsworth runs again.
Unlike in 2008 when he basically outperformed everywhere, Obama underperformed considerably downstate but also in the 2nd district. He overperformed the most in the Indianapolis metro area, including the urban 7th and more suburban 5th.
The trends aren't all that positive for Democrats as the downstate districts trended fairly strongly Republican between 2006 and 2010 and the 2nd did so a good deal between 2008 and 2012. The 5th district and Indianapolis in general are trending fairly strongly Dem, but it would take several more cycles before the 5th becomes competitive.
Iowa
Iowa saw a non-partisan commission draw the map which gave us just one truly competitive district. Tom Latham though is unfortunately a very strong incumbent and it would likely take an open seat or a wave for us to have a chance.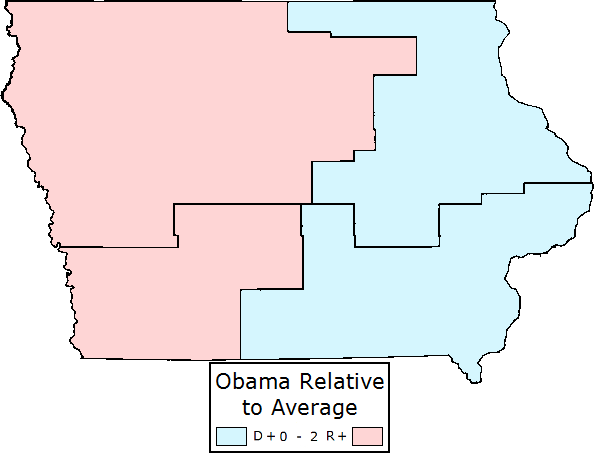 Given its swing state status and heavily white electorate, it's unsurprising that Obama performs consistently with the average in the state's four districts.
Fortunately for Dems, the 3rd district trended towards us between 2006 and 2010 and will hopefully continue to do so thanks to the presence of Des Moines.
Kansas

Kansas has a court drawn map where a few districts are more Dem than the state, but given how red they are overall they're still favorable to Republicans. If we are to flip any of the districts, it will likely be the Kansas City based 3rd.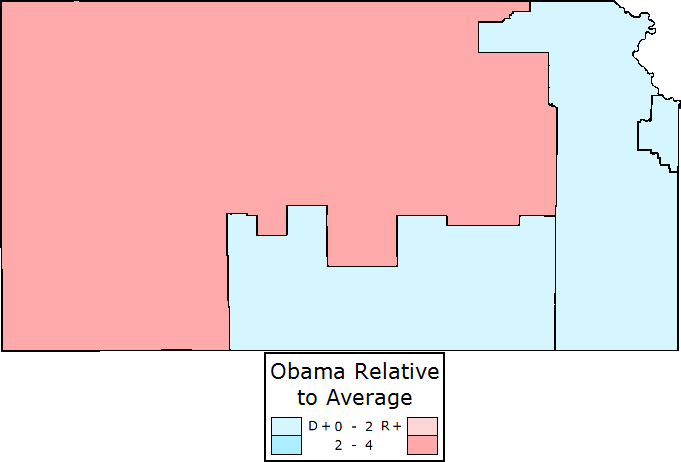 Obama performed consistent with the average in all but the most rural 1st district.
Unfortunately though, the 3rd trended Republican pretty strongly in 2010 while the 2nd did the opposite.
Kentucky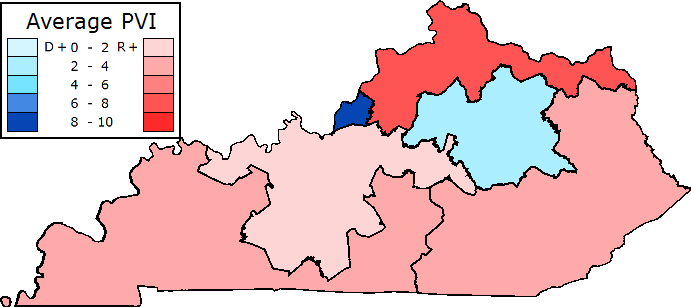 Kentucky had an incumbent protection compromise map which left us with one district that was swingy yet still more Dem than the state in the 6th. It should hopefully be a ripe target going forward and maybe even essential to regaining the House.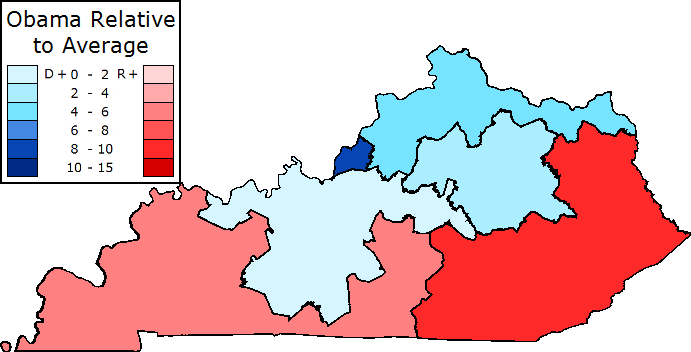 Like Arkansas, Obama underperformed everywhere in Kentucky but that underperformance diverges wildly by district. He holds up much better in the urban and suburban districts such as the 3rd and 4th and comes in ridiculously below average in the rural 1st and 5th. This is because these two districts are among the top coal producing ones in the country and Obama's stance on energy and global warming are particularly unpopular among conservative labor Democrats here.
The trend in Kentucky though is one bright spot for dems as the 6th trended very strongly Democratic between 2007 and 2011 despite Dems doing roughly the same statewide. As long as we don't run someone who supports cap and trade as Rep. Chandler did, this seat should be very winnable. Thanks to the shift among the coal counties away from dems though, the 1st and 5th are zooming away from Dems and even in the event of a Hal Rogers retirement and a Dan Mongiardo candidacy in the 5th, we'd be very hard pressed to win it, especially if it's in a presidential year.
Louisiana

Like in Alabama, Louisiana Republicans were able to gerrymander democrats into one massively blue vote sink. Given how red the state is overall we're unlikely to pick up the 4th, which is the most Democratic of the Republican held seats.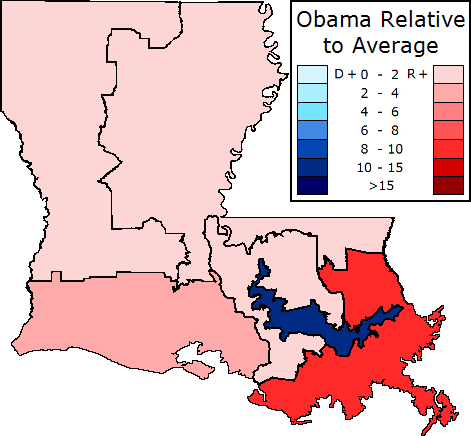 Due to the difference between turnout in presidential and odd numbered years, Obama does much better in the 2nd while doing much worse in the more conservaDem friendly 1st and 3rd.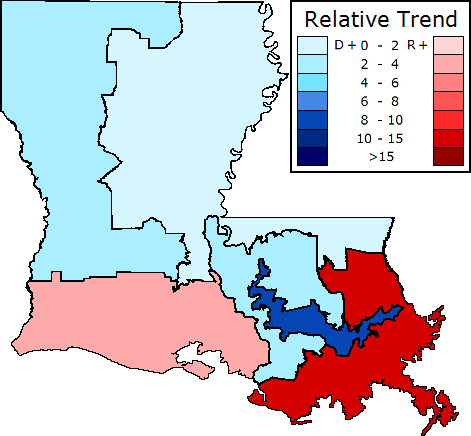 Between 2007 and 2011 as the Democratic brand collapsed, the 2nd's inelasticity caused it to trend Dem while the 1st shifted heavily towards Republicans.
Maine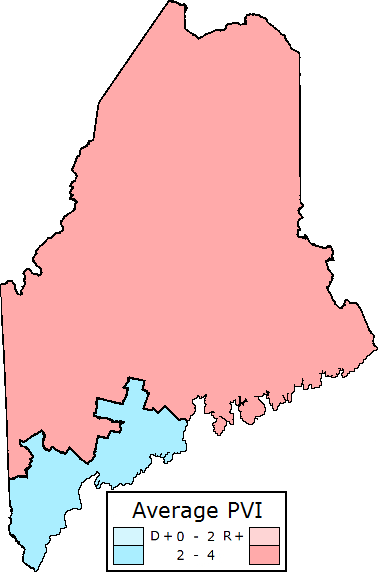 The Maine map is rather boring, but the compromise map saw one safely Democratic district and one leaning Democratic district preserved. If Mike Michaud runs statewide his seat will be competitive, but still a likely Dem hold.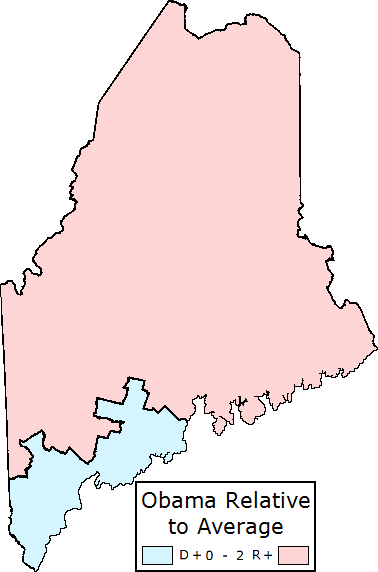 Obama basically performed at parity in both districts, though underperforming slightly in the 2nd. Unfortunately there was nothing to average for the year by year trends as Maine is one only three states that elects just senators and governors statewide.
Maryland

In Maryland you can clearly see the power of Democratic gerrymandering at work. The 1st district is jam packed with Republicans which leaves most of the other districts safely Democratic.
Predictably, Obama performs in the more heavily black districts and underperforms in the more conservadem friendly Eastern Shore based 1st.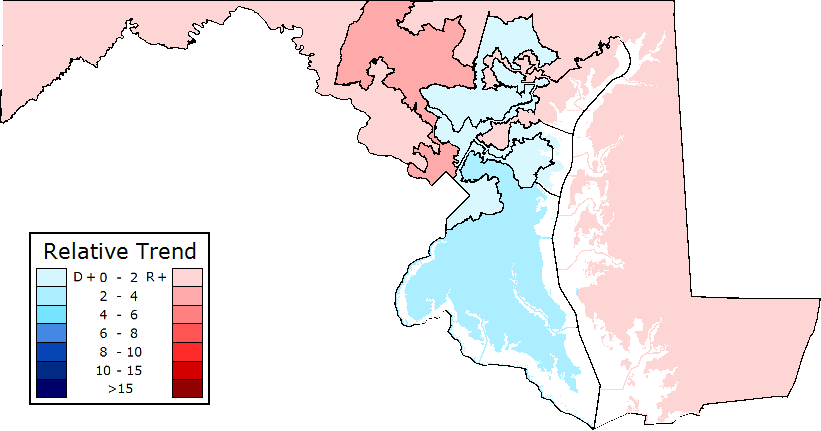 Also predictably, the more heavily black districts trended Dem in 2010 as they are more inelastic.
Massachusetts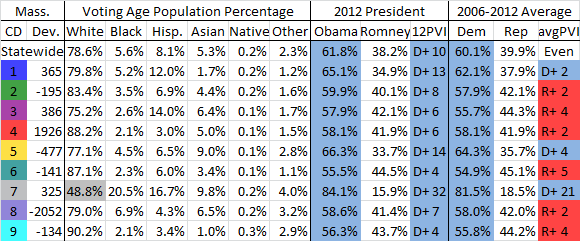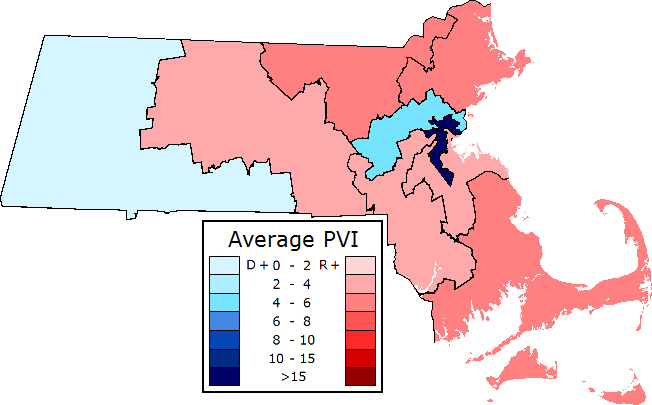 Massachusetts Democrats drew this map, but it wasn't really that much of a gerrymander as they easily could have cracked the dark blue Boston based 7th to shore up the neighboring seats. Still, no seat is more than R+5 compared to the state which still leaves it strongly Dem if not for 'scandal' plagued incumbent John Tierney in the 6th district.
Obama underperformed more in the districts south of Boston and in the northeast, while he overperformed the most in western Massachusetts, however none of the divergences were very significant.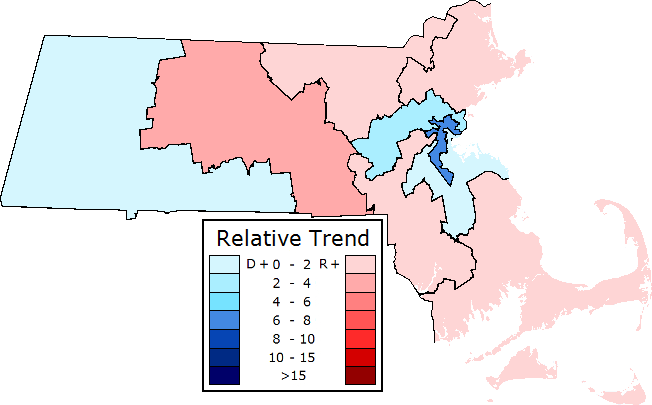 Massachusetts is yet another state where the blue areas are trending blue the most while the relatively red areas are trending redder as America continues to polarize. Still, none of the districts trended red by all that much and were basically stagnant in gross terms as the state as a whole trends blue.
Michigan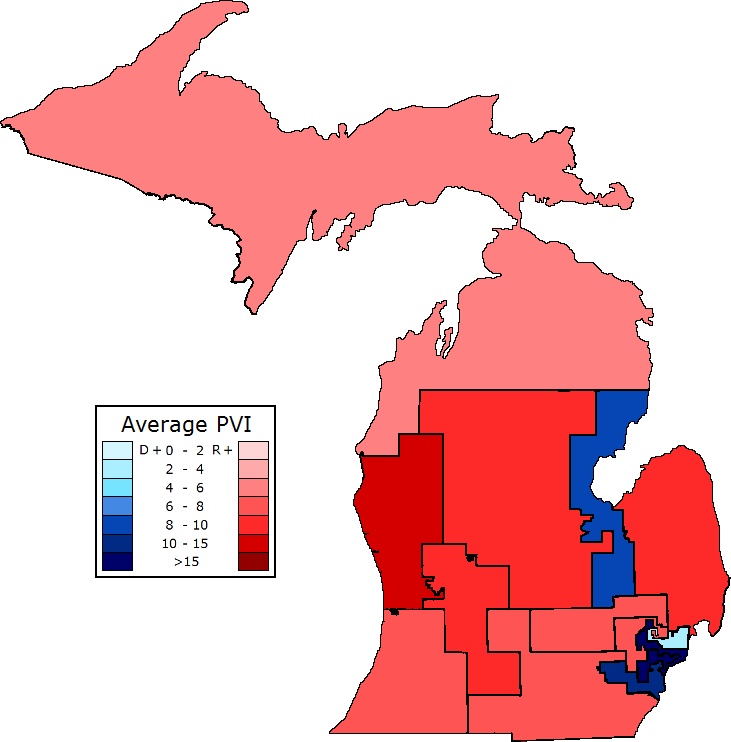 Another state, another map Republicans gerrymander the crap out of. You can clearly see Michigan Republicans did a good job of it too as all 9 of their districts are a good deal more Republican than the state while the Democratic ones are incredibly packed. Our best chances at a pick up involve the conservadem friendly 1st and the 7th home to divisive Rep. Tim Walberg. I would mention the 11th as a possible pick up, but I don't see how crazy accidental Rep. Kerry Bentivolio survives a primary
Unlike in 2008 where Obama overperformed in the state as a whole, here we saw him run much more typically, though it varies by district. Obama underperforms the most in the more conservadem heavy districts like the 1st, 5th, and 10th while overperforming of course in the 2 VRA districts in Detroit, as well as those in western Michigan. Though it may be rather surprising to some DKE readers, Obama didn't really overperform at all in the suburban 11th as the difference between his vote share there and statewide basically matches the difference in the averages in the district and the state.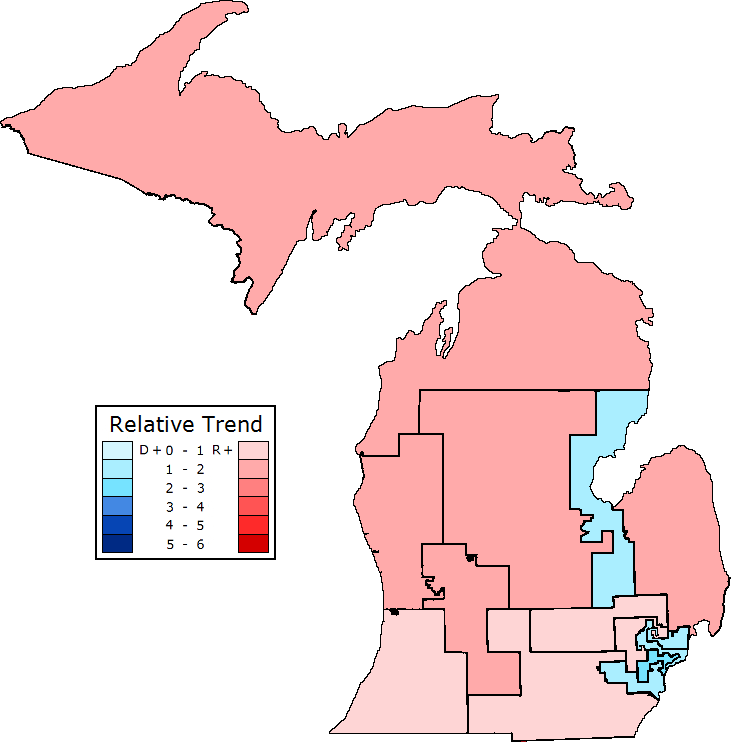 Sadly, the district we should have won in 2012 and would be our easiest target thanks to a tea party Rep, the 1st district, trended fairly strongly towards Republicans as did most of the north of the state. Looking at the 2nd 2008-2012 trend map, you can see the polarization we've observed elsewhere demonstrated perfectly as the Republican held districts trended Republican and the Democratic ones Democratic.
Minnesota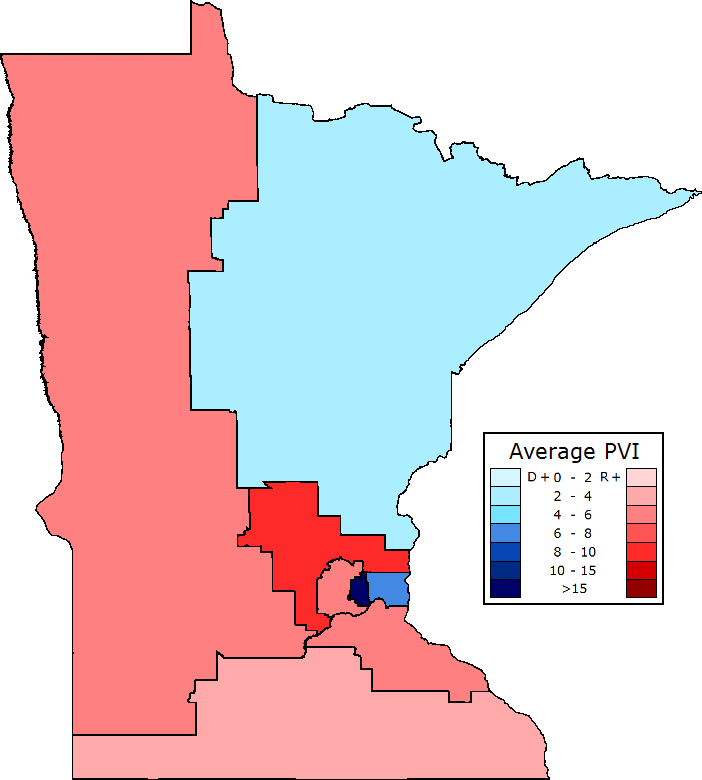 Like it has had for the past four decades, Minnesota saw a court-drawn map implemented which left a fair number of potentially competitive seats. Our best chance at a pick up ironically remains the most conservative seat in the state, but only because incumbent Rep. Michele Bachmann is batshit insane and quite unpopular, narrowly winning last year. That seat would be a 2 year rental though, so long term our best bets are in the 2nd where John Kline will eventually retire and in the 3rd if Paulsen runs statewide. Unfortunately Collin Peterson is getting up there in the years too and his retirement would make his 7th district competitive, but by no means a lost cause.
Looking at Obama's performance, we can see he actually underperformed significantly in not only the 7th and 8th, but also the 6th. He overperforms the most in the innermost twin cities metro area districts.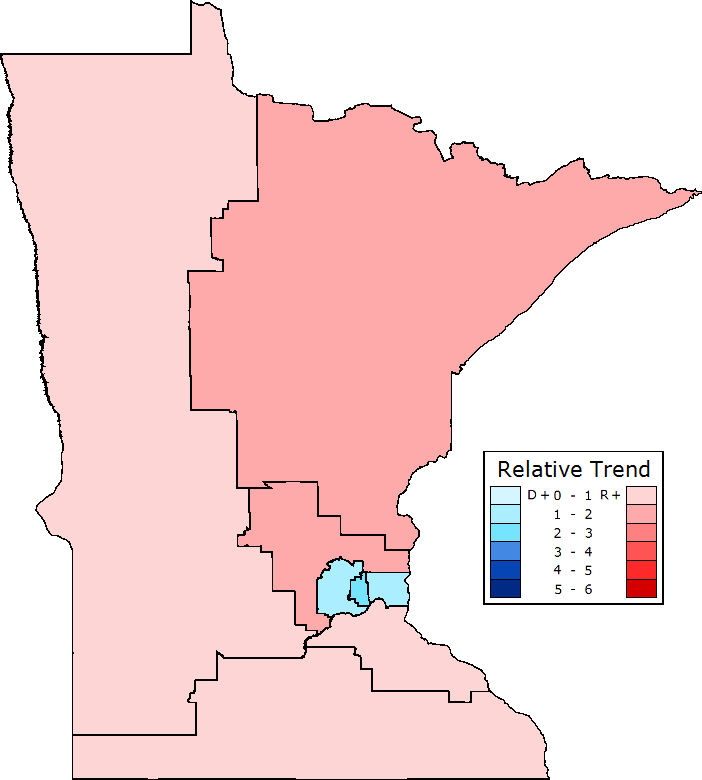 Yet again though we see a state where the trend isn't good for dems as all of the outstate districts trended Republican, even the 6th while our already packed 5th trended Dem the most. Fortunately though the 7th was pretty stagnant between 2006 and 2010 and while we might be slight underdogs to hold it if Peterson retires soon, we have a strong bench and it would be a tossup.
Mississippi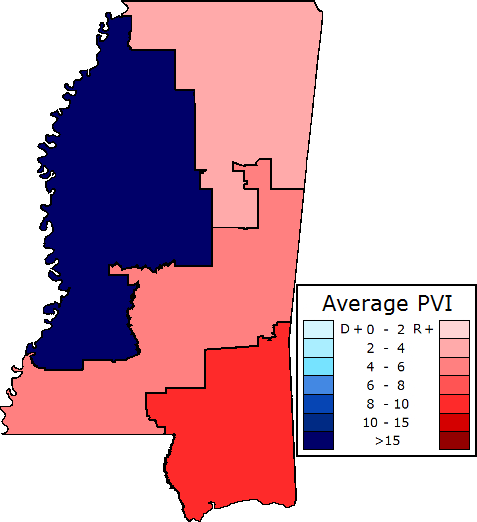 Mississippi was a state Republicans didn't even need to gerrymander as racial polarization all but ensures we'll be packed into one district under this court-drawn map. None of the other districts is competitive.
Like Louisiana and Kentucky, Mississippi holds its statewide non-federal elections in odd years preceding a presidential election, so turnout is very different between those and presidential elections. Thus, Obama overperforms the average in the districts with higher concentrations of black voters while underperforming in the two whitest ones. If the state is forced to draw a 2nd VRA district next decade which is somewhat of a possibility, this divergence would be even more pronounced.
Looking at the trend, the black majority 2nd trended strongly dem and the heavily white 1st sharply Republican, though I have no idea what would cause the 1st to do so yet not the 4th and welcome your insights.
Missouri
Our last state for this segment is Missouri, which Republicans mildly gerrymandered with the help of democrats to prevent the return of Ike Skelton and if anything did us a favor by protecting the 5th somewhat. Still, this is a state where Democrats are naturally packed in St. Louis and Kansas City so none of the 8 districts is competitive.
It should come as no shock that Obama holds up better in the more urban/suburban seats, particularly the near black majority 1st, and does relatively worse in the more rural white seats.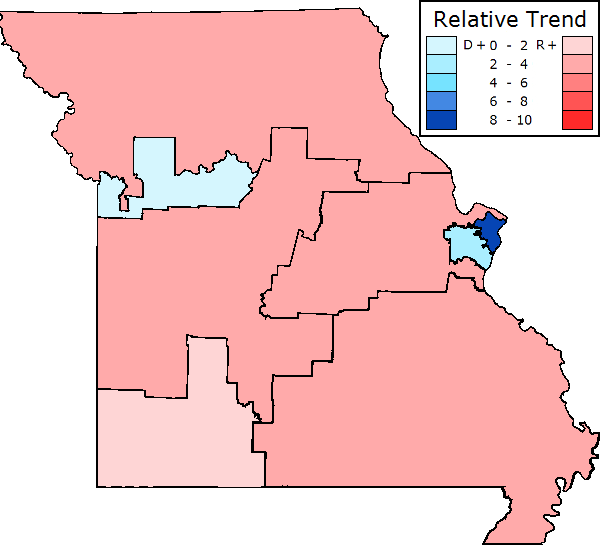 Between 2006 and 2010, when the Democratic brand did significantly worse, we held up much better in those same 3 districts where Obama did better.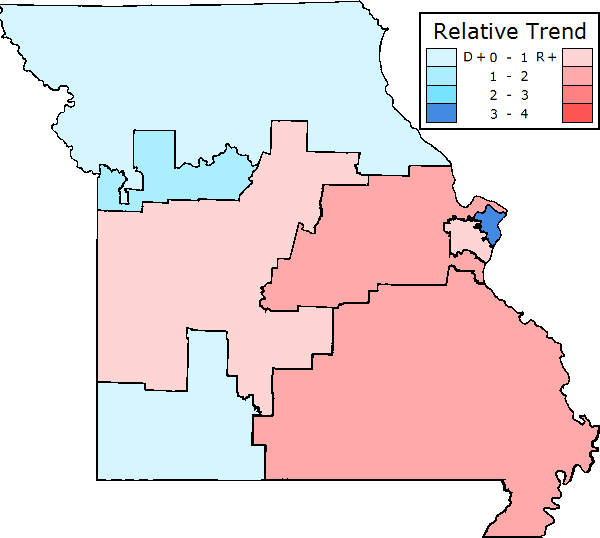 Between 2008 and 2012 though, when the state went from being a heavily contested swing state to safe Romney, our statewide candidates did just about as well though that involved seeing the 1st trend (and swing) Dem as did the 5th. The southeast of the state in particular swing pretty sharply towards Republicans.
This concludes part 8 of the series and I hope you will read part 9 covering the districts in states from N to W next week.