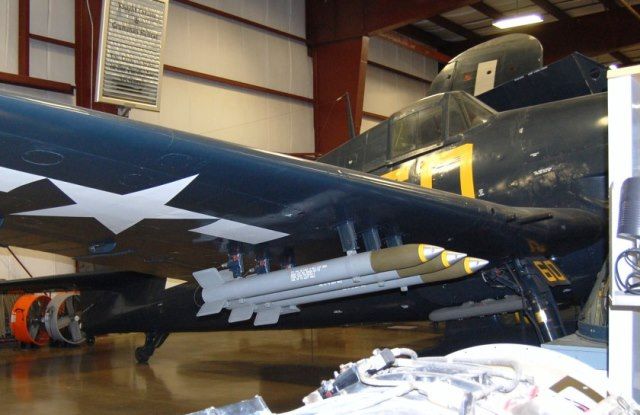 I have received a request to show the HVAR - the High Velocity Aircraft Rockets – carried by the F6F-5K Grumman Hellcat at the New England Air Museum. I am always happy to comply with requests for particular subjects (within reason), so here we are!
The predecessor of the HVAR was the FFAR (Forward Firing Aircraft Rocket); this had a 3.5 inch diameter rocket motor fitted with a 5 inch shell. The resulting rocket was 'slow', at only 485 mph, and a better alternative was needed. A new rocket body of 5 inch diameter, using 24 lbs of propellent, was devised and first tested in December 1943. This new rocket carried a modified 5″ shell 'warhead' (carrying 7.8 lbs of explosive) with a MK149 nose fuse, and the total weight of the rocket was 134 lbs.
There were two types of HVAR, a General Purpose rocket with both base and nose fuses, and a Semi Armour Piercing version with nose fuse only. After WW2, two more variants were added to the production line, an Anti-tank round with a shaped charge warhead, and a General Purpose type with a proximity fuse. The velocity of the HVAR went up to 950 mph, with a 'slant range' of approximately 3 miles. During the Korean War, pilots of F-51 Mustangs were advised to fire their rockets in a 60º dive, the optimum range being around 2,500 ft from the target.
The first use of the HVAR was not, however, by the US Navy, but by the 9th Air Force, against German targets near St. Lo, France, in July 1944, during the Battle of Normandy. These USAAC versions of the rocket had a steel-finished rocket motor body (as opposed to the grey-painted USN type) and a special set of tail fins, complete with grooves and extra grounding wires, which enabled the rockets to be 'stacked' one on top of the other, and a larger load of these weapons to be carried; this arrangement was particularly used by the Lockheed P-38 Lightning.
By the time production was phased out in 1955, no less than 1,000,000 rockets had been made, and they had been used against targets on land and at sea in WW2 and in Korea. This was an incredibly effective weapon – one whose nickname was 'Holy Moses', from the reaction of pilots on seeing them explode for the first time!
Oh, and in case you are wondering about the HVARs shown in museums and carried by flying 'warbirds' - these are, usually, very high grade, lightweight copies, made by companies like Bombs Away Inc., who specialize in reproductions for 'warbirds'.
The HVAR was one of the most important munitions of WW2, the Korean War, and even continued to be used into the Vietnam era. A highly effective air-launched weapon.
http://shortfinals.wordpress.com