Also posted at Voices on the Square
On her first visit to Egypt, shortly after she became the chief U.S. diplomat, Secretary of State Hillary Rodham Clinton dismissed the importance of a State Department report on the human rights situation in Egypt: "We issue these reports on every country," she told Egyptian television on March 2, 2009. "We consider Egypt to be a friend."

Asked whether the concerns raised in the report might prevent a visit by the Egyptian autocrat to the United States, Clinton replied. "I really consider President and Mrs. Mubarak to be friends of my family. So I hope to see him often here in Egypt and in the United States."
Source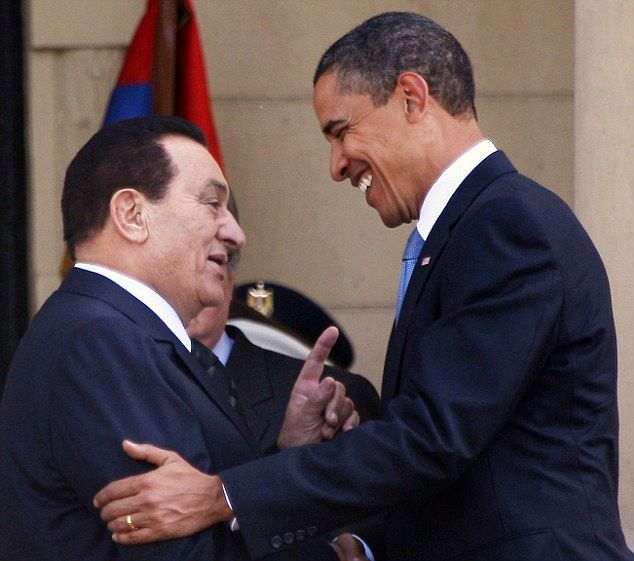 Under Mubarak, foreign aid flowed into Egypt. To the West he remained a strong, reliable leader in a tumultuous region.

By 2011, Washington was sending an annual aid package of $1.3bn mostly in the form of military assistance.

"Hosni Mubarak was an ideal partner for the United States, as long as Washington focused on stability in the present without much thought about long-term implications," says Middle East analyst, Marina Ottaway.
Shortly after his arrival Wednesday in Saudi Arabia, Obama and King Abdullah went to the Saudi ruler's farm for a welcoming reception. The two leaders met privately afterward.

Obama said he was "struck by his wisdom and his graciousness. Obviously the United States and Saudi Arabia have a long history of friendship. We have a strategic relationship."
Human Rights WatchWorld Report 2012: Saudi Arabia

Saudi Arabia responded with unflinching repression to demands by citizens for greater democracy in the wake of the pro-democracy Arab Spring movements. King Abdullah bin Abd al-'Aziz Al Saud announced economic benefits worth over US$130 billion, but authorities continued to jail Saudis for peaceful dissent. New laws introduced or proposed in 2011 criminalize the exercise of basic human rights such as freedom of expression, assembly, and association.

Authorities continue to suppress or fail to protect the rights of 9 million Saudi women and girls, 8 million foreign workers, and some 2 million Shia citizens. Each year thousands of people receive unfair trials or are subject to arbitrary detention.
U.S. Secretary of State Hillary Clinton praised Kazakhstan's role as a global leader and Washington's strategic partner in non-proliferation, disarmament and security, Tengrinews.kz reports citing Silk Way news website.

"We view Kazakhstan not only as a regional player, but also as a global leader. Few countries can be compared to Kazakhstan in terms of its experience in non-proliferation," Clinton said after her talks with Kazakhstan Foreign Minister Yerlan Idrissov on October 3.

SNIP

"Being a critically important link in the Northern distribution network, Kazakhstan takes part in our efforts to supply and support our troops in Afghanistan. Kazakhstan also looks into the future, where the regional cooperation and economic integration will be strengthening after the process of transfer of responsibilities for maintaining security is completed in 2014. Kazakhstan has also undertaken to render support to Afghanistan's National Security Forces and focused its attention on infrastructure projects and training of Afghan officials," Clinton noted.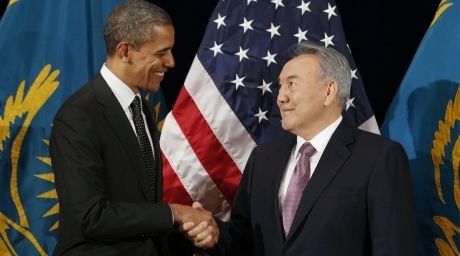 Human Rights WatchHuman Rights in Kazakhstan

Kazakhstan's human rights record has seriously deteriorated following violent clashes in December 2011 between police and demonstrators, including striking oil workers. Authorities blamed outspoken oil workers and political opposition activists for the unrest, and sentenced Vladimir Kozlov, an opposition leader, to prison on vague and overbroad criminal charges. Freedom of assembly is strictly controlled and a restrictive law on religious freedoms remains in force. There were attacks on independent journalists, and authorities shut down key independent media outlets. Legislation regulating workers' rights is vague and burdensome, and a ban on strikes in certain sectors of the economy restricts workers' rights.