Every day is a new day and with that, a new opportunity.
EVERYONE is welcome and please join us each morning at 7:30 AM PACIFIC
to tell us what you're working on, share your show & tell, vent, whatever you want...
...this is an open thread. Nothing is off topic.
Boujou!
So, Disney had . . . not such a good week.
Box office receipts for The Lone Ranger, which opened on what normally would've been a blockbuster four-day weekend, are disappointing, to say the least. Actually, the Lone Ranger and Tonto got their butts soundly kicked — by . . . minions? Yup — minions.
On top of the lousy take, The Mouse is learning what it's really like to deal with a bunch of angry Indians. Hint: It results in hellishly bad PR.
The critical reviews suck, to put it mildly. On top of that are the cultural reviews from Indians from tribes all over the country, and they're blistering. Disney comes in for its fair share of criticism for launching such a racist redface minstrel show in the first place, but special ire is reserved for Cultural Appropriator Extraordinaire Johnny Depp — and not all of it from Native sources, either.
It's encouraging to see that dominant-culture outlets are starting to get it.
Time to reward those who do, and keep the momentum going. Building a critical mass outside of Indian Country will eventually take down those stupid racist major league sports mascots, too.
Yes, even Dan Snyder's.
SPIRIT LAKE P.O.W. PROFILED FOR INDEPENDENCE DAY;
SURVIVED 1950 NORTH KOREAN "TIGER DEATH MARCH"
Spirit Lake Nation member Andy Shaw (pictured at right with former U.S. Senator Byron Dorgan) has been interviewed by a national media outlet for his service in the Korean Conflict War. On July 1, USA Today ran a profile of Mr. Shaw as part of its ongoing coverage of the 60th anniversary of the Korean War. Indian Country Today subsequently picked up the story.
After a week devoted with varying degrees of sincerity to "patriotism," Mr. Shaw's story is worth revisiting here.
Mr. Shaw enlisted in the U.S. Army in 1948. He told his interviewer that he wanted "to see the world." Assigned to the 24th infantry Division, he was stationed in Japan when the conflict between North and South Korea erupted in the summer of 1950. His battalion was one of those sent to hold back North Korean forces while others in the safer South Korea worked to establish a defensive base of operations there.
"We were the closest to Korea," he says. "They loaded us up, and we landed in Korea on the Fourth of July. And it was hot. We didn't have no backing or nothing. The South didn't have any army."
Within a week, Mr. Shaw and his comrades found themselves in the three-day Battle of Chochiwon — on the losing side. He and some 200 fellow soldiers were taken as prisoners of war by North Korean forces; eventually, their ranks grew to some 850 prisoners.

The POWs did not fare well even at the outset, suffering from disease and malnutrition in the camps. On October 31, however, their situation worsened drastically when command of the POW camp was assumed by a new officer, a North Korean Major known simply as "the Tiger" because of his fiercely brutal treatment of the prisoners. Apparently dissatisfied with the fact that the POWs had been permitted to languish in the interment camps, he launched a forced march of the prisoners, forcing them through a dangerous mountain pass in the dead of winter. It would have been a difficult trek for an athlete in peak physical condition; for the POWs, starving, sick, and ill-clothed against the wintry weather, it was torture.

During the course of the march, the Tiger ordered repeated beatings of the prisoners; any who dropped out of line, unable to continue, were summarily executed. In the end, 89 POWs were shot to death in this manner, giving rise to the major's nickname and the name of the march itself: the Tiger Death March. At the end of his three-year interment, Mr. Shaw was one of only about 260 survivors of the original 850 or so.

In 2007, then-Senator Byron Dorgan (D-ND) presented Mr. Shaw with the Prisoner of War Medal at a ceremony in Fort Totten, N.D. (shown above at right). But no medals can give back what he lost during those three years, nor can they make up for the centuries of losses Mr. Shaw and his people have survived at the hands of the U.S. government.
Shaw is among many Native Americans who served a country that hasn't always treated them well, says Brenda Bergsrud of the North Dakota Department of Veterans Affairs. "I still think that they honor this country," Bergsrud says. "They're proud to have served."
All the more reason why their service needs to be recognized, and their care fully funded. Now.


GASOLINE PIPELINE LEAK ON CROW RESERVATION LAND
On July 2, a pipeline carrying gasoline ruptured near Lodge Grass, Montana, leaking some 1,000 barrels' worth (roughly 42,000 gallons) of gasoline onto Crow Nation Reservation lands.
The eight-inch pipeline, known as the Seminoe Pipeline, is owned by Phillips 66, and transports unleaded gasoline, diesel fuel, and jet fuel from its refinery in Billings, Montana, to outlets in other states. Part of the route crosses the Crow Reservation.
According to company officials, the leak was first detected via their Oklahoma "control center" at 5:30 PM local time on July 2; they shut down the pipeline and notified federal, state, local, and tribal authorities in the area.
"We are concerned," [Crow tribal chair Darrin] Old Coyote said. "The leak happend on allottees' land. We're trying to resolve the leak and work out the details later."

There were no injuries related to the leak and no threat to the community or water sources, he said.
Phillips 66 spokesperson Dennis Nuss has made all the appropriate noises about safety, insisting that the company adheres to a "very high standard" and that such leaks are "very uncommon." Unfortunately, this is not the first incident involving the Seminoe Pipeline: It ruptured twice in one week in 1997, spilling some 2,300 barrels' worth of gasoline in both the Lodge Grass area and near Banner, Wyoming. At the time, the pipeline was owned by the Conoco Pipe Line Co., which in 2004 was assessed nearly a half-million dollars in fines for environmental violations stemming from the incident. [By 2002, Conoco had already merged with Phillips Petroleum.] Phillips Petroleum installed new, sturdier pipeline and took other precautionary measures, but clearly, they were not enough to prevent another rupture.

No word yet on how long clean-up efforts will take, nor on the type and degree of environmental fallout from the leak.


More "This Week In American Indian News" and Latest Updates on Kossack Regional Meet-Up News Below the Frybead Thingey
AMERICAN INDIAN PITCHER JOBA CHAMBERLAIN RUMORED HEADED FOR "BRAVES?"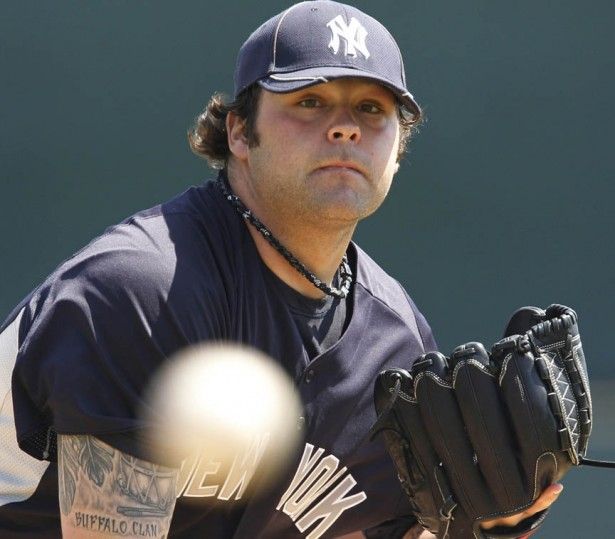 From the "Irony Alert" files:
New York Yankees pitcher Joba Chamberlain (Winnebago) is rumored to be on the trading block. And to where do those rumors say he'll be traded?
Atlanta.
As in the Atlanta Braves.
Numerous factors could come into play. The trade deadline is July 31, and Mr. Chamberlain will be a free agent at the end of this season. According to The New York Post (trust me; they've always done better at sports than at hard news and politics), the Yankees have no plans to keep him as part of the organization at season's end. Atlanta reportedly is looking to increase its bullpen strength. However, the San Francisco Giants are also rumored to be interested in him, and a Giants jersey might make for a better (and easier) fit.
Interestingly, none of the three Native players in the league play for either team with a racist mascot. [The other two are Jacoby Ellsbury (Diné), who plays for the Red Sox, and St. Luis Cardinal Kyle Lohse (Nomlaki).] But avoiding such situations is difficult for professional athletes of color in major-league sports. To pursue your dream at the highest levels, you trade away a lot of subtle but significant abilities. For Indian athletes, that includes the ability to decline to play for a team that employs racist mascots, imagery, and behaviors. Mr. Chamberlain may have no choice but to play for Atlanta, whether he likes it it or not, unless he wants to forfeit his career entirely. In a field where one's professional life is likely to run not much more than a decade at best, that's a huge sacrifice to make, particularly knowing that a refusal to play won't make any difference.
He also clearly sees himself as a role model for other Indian young people:
"It's a question I've been asked since I got [to the majors]," said Chamberlain, who has averaged more than a strikeout an inning over his four-plus big-league seasons. "You really can't pinpoint what's lacking to get these kids to play baseball. I know Jacoby takes pride in being Native and having his family be involved with baseball and [tells kids] that you can play no matter what size, shape, color or nationality you are. … There aren't a lot of Natives in sports in general, so as Natives ourselves, we need to give these kids the opportunities that some may not have."
Mr. Chamberlain has a great deal of talent and expertise, and at age 26, the potential to be able to use them for many years yet. And after two months on the disabled list, his still-pinstriped return to the mound last Monday night saw him not only throw a 96-mph fastball but get his first win of the season.

If anyone here is on speaking terms with the Giants' front office, put in a good word. I'd rather see Native talent in a Giants jersey than surrounded by redface.

A note: Please, do not protest to me that the Atlanta Braves team name is not racist. It is. It appropriates a particular image identified solely with Native Americans and exploits it for the use and profit of others. There is no reclamation in it, no ownership for Indians. Add to that the fans' racist tomahawk-chop "war dance," the faux-Indian "war drums" music on the PA system, the literal redface minstrelsy, and the team's recent attempt to change the logo to the "Screaming Brave" caricature, and it becomes something very, very ugly indeed.


ELEVEN NATIVE DESIGNERS HEADLINE IDYLLWILD FASHION SHOW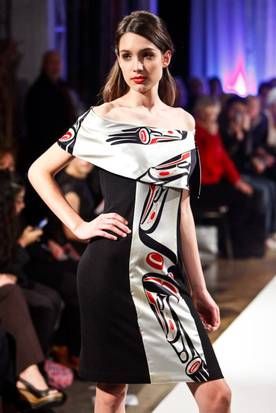 Last Friday, the Idyllwild Arts Foundation Theatre closed out Native American Arts Festival Week with a fashion show featuring eleven indigenous designers from the U.S. and Canada.
The show, a first for the venue, was produced by Dr. Jessica R. Metcalfe (Turtle Mountain Chippewa) of the "Beyond Buckskin" online boutique and blog. Headliners included the renowned Dorothy Grant (Haida), whose work is pictured above at left, and Patricia Michaels (Taos Pueblo), who was a runner-up on the just-ended 11th season of Project Runway.
Dr. Metcalfe designed the event as a sensory experience:
"Fashion is something that you have to experience live and in person."
In keeping with that philosophy, she arranged for a reception after the show, where attendees could see, touch, and order the high fashion they'd seen on the runway only moments earlier. While shopping, they were able to sample a selection of American Indian foods by Native chef Freddie J. Bitsoie (Diné).

Unusually for most such venues, Idyllwild Arts has a dedicated Native American Arts Program [link to YouTube presentation]. Its director, Heather Campionott, described the planned show:
"These fashion designers represent Native American tribes from across North America and are leaders in Native American fashion design[.] Their work reflects their own personal heritage while exploring exciting new directions in contemporary fashion."
Scheduled to open the show were the Cahuilla Bird Singers.


WALKED ON: MARGE ANDERSON, FORMER LEADER OF MILLE LACS BAND OF OJIBWE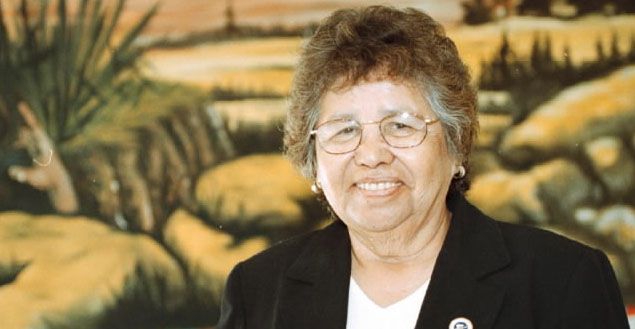 On Saturday, June 28, former Mille Lacs Band of Ojibwe tribal leader Marjorie Ann Davis [Marge] Anderson walked on at age 81. Her death is attributed to natural causes.
Ms. Anderson was a leader several times over: not merely chief executive of Mille Lacs, but its first woman chief executive, and the first woman to head any Minnesota tribal nation. After the 1991 death of tribal leader Arthur Gahbow, she was appointed to serve out his term; in 1992, she stood for and won election to the position in her own right, and was re-elected in 1996. In 2000, she was succeeded by another woman, Melanie Benjamin, as the tribe's chief executive.
During her tenure, Ms. Anderson was a fierce advocate for Native rights. She fought consistently to preserve tribal sovereignty. She worked to strengthen tribal environmental protections and law enforcement programs, and to ensure enforcement of tribal hunting and fishing rights under an 1837 treaty. Her work on the latter issue made her a target for hate mail and even threats of physical harm by non-Indians angry that they could no longer violate the treaty with impunity.
"This case is about more than hunting deer and catching fish," she told the Star Tribune in 1998, shortly before the 1999 U.S. Supreme Court ruling that validated the treaty rights. "It is about preserving and passing along the traditional ways that make us who we are — Ojibwe people."
She also changed how the tribe handled the revenue from what were then its two casinos, switching from a program of dividend payments to individual members to using the monies to fund tribal human services, including schools and health clinics. It was that change that ultimately led to her challenge and defeat by Ms. Benjamin, who ran in part on a platform of returning some monies to tribal members individually. Nonetheless, Ms. Benjamin praised her predecessor:
"Marge Anderson was a great tribal leader for the band and a trailblazer for all of Indian Country. This is an extraordinary loss for the band."
Ms. Davis is survived by her husband, Merlin Anderson, three children, and numerous grandchildren and great-grandchildren.

Chi miigwech.

:: COMMUNITY BUILDING UPDATES ::
Let's build communities!

Every region needs a meatspace community like SFKossacks.
We take care of each other in real life.
I urge YOU to take the lead and organize one in your region.
Please tell us about it if you do and we're here for advice.
•
THINK GLOBALLY, ACT LOCALLY
>>>Instructions on
HOW TO FORM A NEW DAILY KOS GROUP
NEW GROUPS IN THE PROCESS OF ORGANIZING:

Send a Kosmail to the organizers and ask for an invitation to the group.

• Northern Indiana Area: Kosmail Tim Delaney

• Long Island: Kosmail grannycarol

• Northern Michigan: Kosmail JillS

• Nebraska: Kosmail Nebraska68847Dem

• Westburbia Chicago Kossacks: Kosmail Majordomo

• New York Hudson Valley Kossacks: Kosmail boran2

• North Carolina Triangle Kossacks: Kosmail highacidity

• Caprock Kossacks (Panhandle/Caprock/Lubbock/Amarillo area) : Kosmail shesaid

• West Texas Kossacks (including Big Bend Region and El Paso) : Kosmail Yo Bubba

Note to the above new leaders: Feel free to leave a comment any day reminding readers about your new group. Also, tell us about your progress in gathering members. Kosmail me when you've chosen a good name for your group and have created a the group. Then I'll move you to the NEW GROUPS LIST. When you've planned a date for your first event I'll make a banner for you to highlight your event in our diaries and your diaries.
These are the groups that have started since * NEW DAY * began. Please Kosmail navajo if you have started a group before that.
NEW GROUPS LIST:

• California Central Valley Kossacks - Formed: Jul 29, 2012, Organizer: tgypsy

• New England Kossacks - Formed: Aug 6, 2012, Organizers:
Clytemnestra for Lower New England (Conneticut, Massachusetts, Rhode Island)
nhox42 for Upper New England (Maine, New Hampshire, Vermont)

• Houston Area Kossacks - Formed: Aug 7, 2012, Organizer: Chrislove

• Kossacks in India - Formed: Aug 14, 2012, Organizer: chandu

• CenTex Kossacks - Formed: Sep 9, 2012, Organizer: papa monzano

• Central Ohio Kossacks - Formed: Sep 26, 2012, Organizer: VetGrl

• Kansas City Kossacks - Formed Oct 15, 2012, Organizer: [Founder stepped down]

• Phoenix Kossacks - Formed Oct 16, 2012, Organizer: arizonablue

• Chicago Kossacks - Formed: Oct 31, 2012, Organizer: figbash

• Koscadia the Pacific Northwest coast from Northern California to Alaska
- Formed Oct 17, 2012, Oganizer: Horace Boothroyd III based in Portland, OR

• Boston Kossacks - Formed: Nov 7, 2012, Organizer: GreyHawk

• Motor City Kossacks South East Michigan (Detroit) Area - Formed: Nov 10, 2012, Organizer: peregrine kate

• Pittsburgh Area Kossacks - Formed: Nov 12, 2012, Organizer: dweb8231

• Salt Lake City Kossacks - Formed: Nov 17, 2012, Organizer: War on Error

• Twin Cities Kossacks - Formed: Nov 17, 2012, Organizer: imonlylurking

• Dallas Kossacks North Texas - Formed: Nov 21, 2012, Organizer: Stepping down, chancew, please contact him if you'd like to step up. He'll change the groups' permissions for you.

• The Southern California Inland Empire Kossacks - Formed: Dec 3, 2012, Organizer: SoCaliana

• Los Angeles Kossacks - Formed: Dec 17, 2012, Organizer: Dave in Northridge

• Northeast Ohio Kossacks - Formed: Jan 16, 2013, Organizer: GenXangster

• Kansas & Missouri Kossacks - Formed: Jan 17, 2013, Organizer: tmservo433

• I-77 Carolina Kossacks who live from Columbia, SC to north of Winston-Salem, NC. - Formed: Jan 30, 2013, Organizers: gulfgal98 and eeff

• Indianapolis Kossacks - Formed: Feb 6, 2013, Organizer: CityLightsLover

• Southwest Ohio Kossacks - Formed: May 10, 2013, Organizer: Dr Erich Bloodaxe RN

• Northern Arizona Kossacks - Formed: Jul 5, 2013, Organizer: Sam Sara
ESTABLISHED GROUPS LIST: (List will grow as we discover them)

• SFKossacks Founded by navajo, Formed: May 2, 2005

• Maryland Kos Founded by timmyc, Formed: Feb 23, 2011. Contact: JamieG from Md for a group invite.

• New York City Founded by Eddie C - Contact the group organizer for meet-up events: sidnora

• Baja Arizona Kossacks, Event Organizer: Azazello

• Three Star Kossacks Tennessee, Founded by maryKK, Formed: Apr 8, 2011

• Nashville KosKats, Founded by ZenTrainer Formed: Jan 30, 2012

• Virginia Kos Founded by JamieG from Md, Formed: May 3, 2011

• Kos Georgia Founded by pat208, Formed: Feb 13, 2011

• Colorado COmmunity Founded by Leftcandid, Formed: Feb 13, 2011

• New Mexico Kossaks Founded by claude

• Philly Kos Founded by mconvente Formed: Aug 29, 2011

• DKos Florida Founded by ThirstyGator, Formed: Feb 14, 2011, Currently organizing: Kosmail Vetwife to be included in next event.

• Oklahoma Roundup Founded by BigOkie, Formed: Feb 13, 2011, Currently organizing: Kosmail peacearena to be included.

• DKos Asheville Founded by davehouck, Formed: Feb 13, 2011 - Organizing Assist by: randallt
:: Events Currently on the Books for ALL Kossacks ::
Sunday, July 7th

Chicago Kossacks Go to a Ballgame!

TIME: 1:00 PM
LOCATION: Fifth Third Bank Ball Park
34W002 Cherry Lane • Geneva

ORGANIZER: Send NormAl1792 a kosmail to attend.

RSVPs:
1. NormAl1792
2. figbash
3. broths
4. Mr. broths
5-10. edwardssl & her family
11. luvsathoroughbred
12. Mr. luvs
13. never forget

Maybees:
winifred3
luvweasel
Jennifer Clare
ScottyUrb


Latest diary: Chicago(land) Kossacks Meet-Up July 7: Take Me Out to the Ball Game




New York Hudson Valley Kossacks




boran2

Saturday, July 13th

NY Hudson Valley Kossacks' First Meet-up

TIME: NOON
LOCATION: Hudson House
2 Main Street • Cold Spring, NY

ORGANIZER: Send boran2 a kosmail to attend.

RSVPs:
1. boran2
2. thankgodforairamerica
3. betson08

Maybees:
ask
curly


Latest diary: [Coming soon!]

Thursday, July 18th

Phoenix Kossacks Meet-up for navajo

TIME: 6:15 PM Reservation name is Daily Kos
LOCATION: Rancho de Tia Rosa
3129 E. McKellips • Mesa

ORGANIZER: Send arizonablue a kosmail to attend.

navajo's in town one day, even though it's a Thursday we hope you can make it.

RSVPs:
1. arizonablue
2. Mr. arizonablue
3. navajo
4. Azazello
5. Mrs. Azazello
6. ninothemindboggler
7. Mrs. ninothemindboggler
8. thomask
9. mrs. thomask
10. BluejayRN
11. Late Again
12. Mother Mags
13. Kane in CA
14. puzzled
15. mexchewy

Maybees:
Kane in CA
Kane in CA friend
cosmic debris
PSzymeczek
Mr PSzymeczek
Mr. Late Again
dewey in the desert


Latest diary: Phoenix Kossacks Meetup: Welcome Navajo to The Valley of the Sun!


Saturday, July 20th

Motor City Kossacks Consider Meeting-up in Hell to welcome tgypsy

TIME: Noon
LOCATION: TBD
15 miles northwest of Ann Arbor • Hell

ORGANIZER: Send peregrine kate a kosmail to attend.

RSVPs:
1. peregrine kate
2. tgypsy
3. mideedah

Maybees:
dkmich


Latest diary: Motor City Kossacks: Meet-up Sat. 7/20, 12-3 PM. Could it be in Hell?


Saturday, July 20th

Southern California Inland Empire
Kossacks Meet-up

TIME: 11:00 AM (Tour museum then lunch there)
LOCATION: Palm Springs Air Museum
745 North Gene Autry Trail • Palm Springs

ORGANIZER: Send SoCaliana a kosmail to attend.

RSVPs:
1. SoCaliana
2.
3.

Maybees:
Susan from 29


Latest diary: SCIEK: Summer Meetup Location


Saturday, July 20th

SFKossacks Welcome angelajean & Family to Elkhorn Slough, there will be otters!

TIME: TBD
LOCATION: Elkhorn Slough
[map] • Moss Landing

ORGANIZER: Send lineatus a kosmail to attend.

RSVPs:
1. lineatus
2. angelajean
3.

Maybees:

Latest diary: [Waiting for linked diary]

Saturday, July 20th

Dkos Asheville, North Carolina Kossacks Meet-up

TIME: 1:00 PM
LOCATION: The Bywater
796 Riverside Dr. • Asheville

ORGANIZER: Send randallt a kosmail to attend.

RSVPs:
1. Randallt
2. Gordon20024
3. davehouck
4. Joieau
5. SteelerGrrl
6. SteelerGuy
7. Captain Sham
8. Smiley7
9. DawnN
10. Phil S 33
11. LamontCranston
12. Christian Dem in NC
13.

Maybees:
eeff
Audri
gulfgal98
PearlJamSteelworker
Amy


Latest diary: DKos Asheville Open Thread 5/18/13: Frogs and tomatoes and snakes, oh my!


Sunday, July, 21st

Northern Arizona Kossacks Meet-up with navajo

TIME: TBD, early evening
LOCATION: TBD
[Address] • Sedona

ORGANIZER: Send navajo a kosmail to attend.

RSVPs:
1. navajo
2. Sam Sara
3. savano66
4.
5.

Maybees:

Sunday, August 4th

NYC Kossacks Meet-up

TIME: Noon
LOCATION: Spitzer's Corner
101 Rivington Street (Ludlow) • NYC

ORGANIZER: Send Sidnora a kosmail to RSVP.

RSVPs:
1. joanbrooker
2. mconvente
3. belinda ridgewood
4. Yasuragi
5. sidnora
6. Its the Supreme Court Stupid
7. blue jersey mom
8. kathny
9. ask
10. rubyr
11. plf515
12. thankgodforairamerica
13. No Exit
14. gchaucer2

Maybees:
Ollie Garkey
Ian Reifowitz
andgarden
wader


Latest diary: New York City Meetup - August - Choose your date

Saturday, November 2nd

SFKossacks BBQ in the Wine Country

TIME: TBD
LOCATION: Andrew McGuire's home in the Wine Country
Address to be given privately to RSVPs • Windsor

ORGANIZER: Send navajo a kosmail to attend.


Andrew McGuire is Executive Director of California One Care

RSVPs:
1. Andrew McGuire
2. navajo
3. Shockwave
4. Hunter
5. elfing
6. Hunter/elfling offspring
7. smileycreek
8. paradise50
9. dharmasyd
10. maggiejean
11. norm
12. Lusty
13. dksbook
14. Mr. dksbook
15. kimoconnor

Maybees:

Send navajo a kosmail if you post a diary about an event so we can update our round-up.
Okay. Floor's open.
Tell us what you are doing on this NEW DAY?