Having read the diary Dream Defender and Justice for Trayvon Rallies this morning, I quickly planned to hit the one scheduled closest to me, which was planned at Hempstead, Long Island, NY. Even though it cooled down compared to yesterday's heat index of 110, it was still 94 degrees out. I geared myself up with ice and water, had my camera and headed out.
I parked nearby and walked about three blocks, waiting across the street of the District Court because it was shady. As I leaned against a building, all those walking by me - all people of colour - were talking about Trayvon and the President. I didn't realize it, but I was propped up against a building next to a hairdresser. No wonder it was such an active area. People were getting their hair done for Sunday.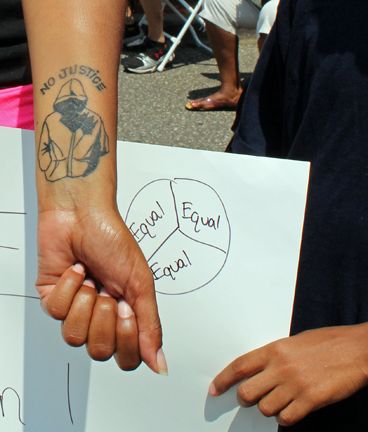 Hempstead, Long Island, NY
A little about Hempstead Village, the location of this rally. From Wikipedia

As of the census of 2010, there were 53,891 people, 15,234 households, and 10,945 families residing in the village. The racial makeup of the village was 21.9% White (6.6% Non-Hispanic White), 48.3% Black or African American, 0.6% Native American, 1.4% Asian, 0.0% Pacific Islander, 22.8% from other races, and 5.0% from two or more races. Hispanic or Latino of any race were 44.2% of the population.

The median income for a household in the village was $45,234 and the median income for a family was $46,675. Males had a median income of $29,493 versus $27,507 for females. The per capita income for the village was $15,735. About 14.4% of families and 17.7% of the population were below the poverty line, including 20.7% of those under age 18 and 16.9% of those age 65 or over.
While the Nassau County NAN Chapter covers all of the county, I would say many of those attending lived in Hempstead Village since many walked there. Before I left at about 1:45, I would say the crowd grew to a near 1000 gathered.
It was an AWESOME gathering.
Elder Annette Dennis opened things up, the chapter President of NAN (Nassau County).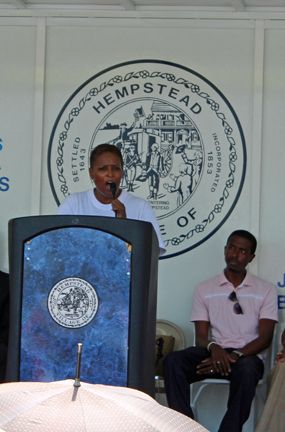 Fathers with their sons. Mothers with their children. Men with toddlers in arms. Women giving an arm for their grandmothers to lean on. Some came attracted by the crowd. Others you knew planned their outing well, they had umbrellas and folding chairs. Those that attended reflected a range in race and ethnicity. There were equal amounts of women and men. Good amount of police presence on the fringes. But I also saw many of them getting their pictures taken with various members of the community. Lots of cameras and press. As I left (an hour and a half later because I could no longer stay under the heat of the unrelenting sun) the crowd was STILL growing!
Clergy ran this rally. There were public officials present and introduced, but they didn't speak (at least not while I was there, not sure if they were slated to speak later.)
No Justice, No Peace was the mantra.
The young represent:

Three siblings trying to stay cool in the shade, before the rally started.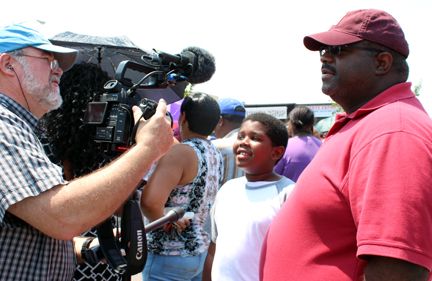 This young man was being interviewed... I couldn't hear anything because of all that was going on

These brothers made this sign themselves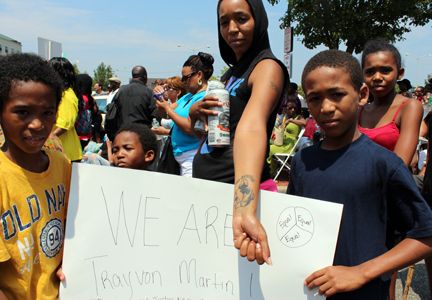 Their mother showed me the tattoo she just got

These young adults stood on the fringes of the crowd. His sign reads:
I am not Trayvon Martin. I AM George Zimmerman. I am a Latino who can "Pass" as White. People perceive that my racial identity has made me immune to be prejudice and participating in systematic racism. They are wrong! If I was murdered, I know my family would not have to wait 45 days for an arrest. My skin is white, and I am alive.
And I leave you with Travis Nelson (sorry for the video quality! just listen to the young man's words)
m

I believe as President Obama said, that with each generation our country becomes a more perfect union. And today, I saw that so many parents brought their children today for this reason. And they are fulfilling their role in ensuring that their kids will continue to contribute to making our country a more perfect union.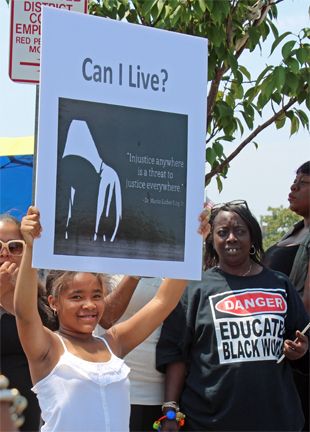 The sign reads: Injustice anywhere is a threat to justice everywhere. Dr. Martin Luther King Jr.