Welcome to Meatless Mondays! This week I am subbing for the fabulous beach babe in florida, aka VL Miller.

in this weekly series we have been discussing the benefits of a vegetarian diet including: better health, animal rights, frugal living, food safety, global food crisis, public health and the staggeringly huge impact of livestock/meat production to climate change/resource depletion.
Macca's Meatless Monday/Meatless Advocates is a solution oriented activist group, with solutions for some of the most pressing issues of our time including: climate change, global food/water insecurity and public health. Here we don't just talk about the severity of the crisis. Armed with knowledge about how our actions can contribute we become part of the solution.
Follow me over the dollop of baba ghanouj for more:
beach babe in fl was inspired to create this series by former Beatle and vegetarian advocate Paul McCartney(Macca) who partnered with the Meatless Monday campaign to promote less consumption of meat. We not only discuss the advantages of a less meat diet; we also do some cooking, share recipes and listen to great Beatle music!
A Very Exciting Lesson in Cooking: grating ginger (maybe everyone else already knows this, but I just learned it): Buy enough ginger for a few recipes. Using a dull knife (like a dinner knife or butter knife), scrape away the outer covering. Use a sharp knife to cut away yucky places, then cut the ginger into appropriate sized pieces for your recipes and put in a plastic bag and freeze (ginger keeps nicely in the freezer). When your recipe calls for ginger, simply take out an appropriately sized piece and grate, still frozen, preferably using a microplane grater. You will have a snowy drift of finely grated ginger with none of the annoying fibers.
If you have a great way of grating ginger, please share in the comments. Use of tools or appliances is definitely welcome! Tips for freezing food also welcome!
I get a Community Supported Agriculture (CSA) box every week in the summer and winter, with a few weeks off in late summer and late winter. CSAs can vary; you can check out the link above for more general information. In some CSAs, the customer can choose what produce is desired for the box. For my CSA, I can choose box size (small, medium, large) and extras (eggs, fruit, bread, and there is a web store for even more on any given week), and I get what I get. There is an email the day before I get the box telling me what is inside, but it is not always strictly accurate. So I have had to find a few flexible recipes that I know I can cook that I can throw many different ingredients into. Soups are often a good choice, but it is too hot here to even THINK about soup. A frittata can fit the bill, but I cannot describe how to cook it so it will come out nicely most of the time. So the following are a few recipes I enjoy eating often and make a lot.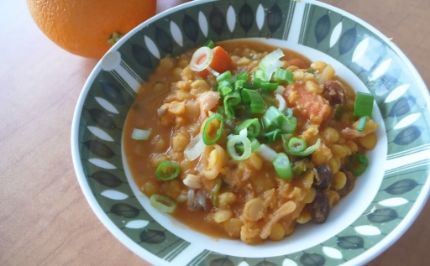 RED SPLIT LENTILS WITH CABBAGE

Serves 5-6
1 ¼ cup red lentils (any type but read the package – they take different times to cook and different amounts of water)
5 c water (see above)
½ t ground turmeric (I would use more)
5 T vegetable oil (I use 1 T good olive oil – from CA)
1 t whole cumin seeds (heaping)
2-4 cloves garlic (never get enough garlic!)
1 medium onion, peeled and cut into fine slices (something onion-y, cut into nicely sized pieces)
½ lb cored and finely shredded green cabbage (or whatever cabbage family thing you have on hand)
1-2 fresh hot green chilis , finely sliced (whatever is on hand, finely sliced, or cayenne)
1 medium tomato, peeled and chopped (or more, or canned is fine)
1 t grated ginger (or lots more)
Cook lentils according to package directions.
Heat some oil in a pan and add the cumin seeds and let them sizzle a few seconds. Add the onion and garlic and cook on medium heat about 5 minutes. Add the rest of the ingredients and cook until vegetables are done, about 20 minutes. Stir in lentils, taste and correct seasonings.
I serve with some brown rice, but Indian bread would be good too.
NOTES: This recipe is good with lots of vegetable variations and I would probably use ground cumin and coriander as well, and at least a tablespoon of grated ginger.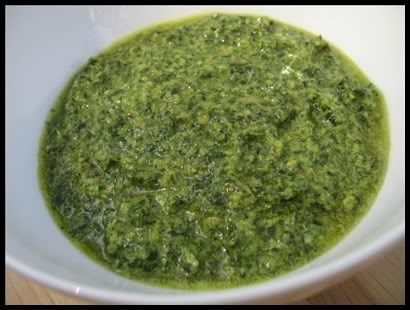 BASIL PESTO

(Original) (Lighter version)
¼ c pine nuts 1/4 c toasted sunflower seeds
1 clove garlic several cloves garlic
3 c basil stuff what basil you have in blender
¼ c parmesan 1/4 c parmesan (or omit or add to dish)
1 T lemon juice ~3T lemon juice
¼ c olive oil 2T water
salt & pepper pepper; add salt at table
Blend Add water as needed to blend
ARUGULA PESTO
(Original) (Lighter version)
½ c toasted sunflower seeds ~1/4 c toasted sunflower seeds
4 c arugula or watercress stuff what arugula you have in blender
6 T olive oil 2 T olive oil
2 T lemon juice ~ 3 T lemon juice
2 cloves garlic several cloves garlic
Salt & pepper Pepper
Blend Add water until it blends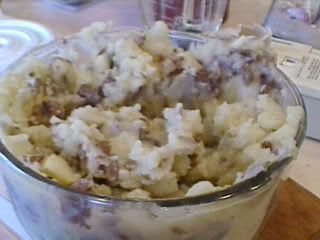 RUMPLEDTHUMPS

5 large potatoes (2-2 ½ pounds)
2 ½ c chopped cabbage
2 leeks, white part only, chopped (or any onion)
2 cloves garlic (if desired, preferably roasted)
2 ½ c chopped broccoli
6 T butter (2 is enough if you are watching fat)
¼ t mace (if desired)
¾ - 1 c milk, depending on amount of potatoes
1 ½ c grated cheddar cheese
Salt and pepper to taste
Peel potatoes (or not if you are using a thin skinned potato), cut into chunks and boil in water until tender (about 15 minutes, depending on size of chunks). Cook onion and garlic in butter for at about 5 minutes or so until soft.
Steam broccoli and cabbage.
Drain potatoes and mash, adding warmed milk and cheese. Put in large bowl and add all cooked vegetables and seasonings and mix.
NOTES: I use a lot of different vegetables in this! I use sweet peppers and cook with the onions. Once I accidentally used a spicy pepper, and that was still tasty. Sliced carrots are good. I have used various amounts of cabbage family vegetables; still have not ruined this recipe. (If you do not have roasted garlic, cook the minced garlic in butter on very low heat for about 20 minutes. I take the garlic out, use the butter for the onions and add the garlic with the vegetables.)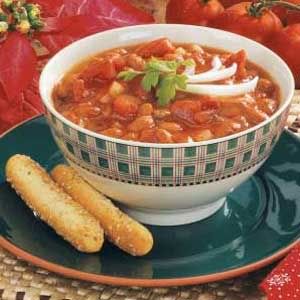 KALE CHILI
4 polano chile peppers (~3/4 pound)
1 (7 oz.) jar or can salsa verde (more than 7 oz. is fine)
1 T oil
1 onion, chopped (or leek or… can also add scallions near the end of cooking)
3 garlic cloves, chopped (or to taste)
2 can beans, rinsed and drained (pinto & black or your preference)
4 cups chopped kale
1 large zucchini (optional – or other vegetables that might be good in chili!)
Broth or water if needed to steam kale
2 t sugar
2 t cumin seeds
2 t dried oregano
¾ t thyme
½ t pepper
ground cumin to taste
canyenne or extra peppers to taste
yogurt for garnish
Line a baking sheet with foil, place poblanos on the baking sheet. Broil about 5 inches from the heat, turning about every 5 minutes with tongs until the skins blister, about 15 minutes. Wrap the peppers in the foil and let them steam for 15 minutes. When cool enough to handle, peel, discard the seeds, and cut into bit size pieces.
Heat oil in large pan, add cloves and onion and cook 5 minutes or more until soft. Add poblamos, salsa, spices, kale and other vegetables (and water or broth if needed). Bring to a boil then reduce heat to simmer, cover pot and cook for about 30 minutes until kale is soft. Add beans and heat through. Correct seasonings and serve.
NOTES: I serve this over rice, but with cornbread or your favorite way to serve chili would work too. I use more cumin, oregano, thyme and pepper than listed. I have also put in too much spice and had to use a lot of yogurt!
NEXT ARE JUST SOME FAVORITE RECIPES


BABA GHANOUJ
1 fancy eggplant (~ 1 lb.)
4-6 cloves garlic, peeled
Juice of 1 ½ lemons
1 t salt
3T tahini
½ t ground pepper
2 T olive oil, divided
1. Pierce the eggplant a few times w a knife. Place it in a shallow baking dish and roast until it softens, about 30-40 minutes. Remove from the oven, cool about 10 minutes, then chill in fridge about 20 minutes. (Can also use propane grill in hot weather)
2. In a blender, puree the garlic and lemon juice. Add the tahini and blend.
3. Cut the stem off the eggplant, peel it and drop it in the blender, along with any juices that collected in the baking dish.
4. Add the salt, pepper and 1 T of the olive oil. Puree and add salt and pepper to taste.
5. Transfer to a serving dish and drizzle with 1 T olive oil
Serve with pita wedges or pita chips or veggies or...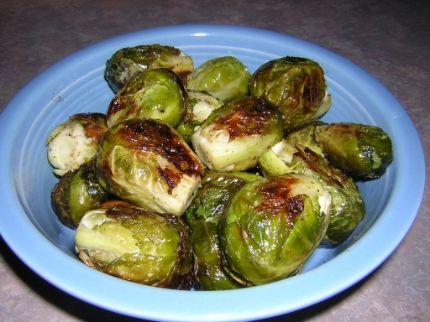 PAN ROASTED BRUSSELS SPROUTS
(12 servings, 1 pt for 1/2 c from WW mag)
4 t olive oil
30 oz Brussels sprouts (trimmed and quartered)
1 onion, chopped
6 cloves garlic, sliced
3/4 t salt
1/4 t pepper
1/2 c water
2 t grated lemon zest and juice if desired
Heat oil in a 12" nonstick skillet over medium-high heat. Add the Brussels sprouts and cook, stirring occasionally, until they begin to brown, 5-6 minutes. Reduce the heat and add onion and garlic. Cook, stirring occasionally, until the onion is golden, about 10 minutes. Add salt, pepper and water and cook, stirring occasionally, until the sprouts are crisp-tender, about 10 minutes longer. Drain and discard any remaining liquid. Stir in lemon zest and serve at once. [my kids are reluctant about Brussels sprouts but they BOTH loved these.]

NOTES: I make this dish at Thanksgiving; it is very delicious and helps me cut down on the more calorie-dense foods also served and enjoyed. I probably use even more zest and the juice of the lemon.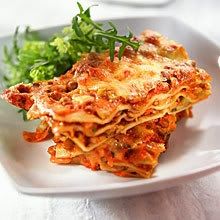 VEGETARIAN LASAGNE
1/3 c. olive oil or salad oil
1 large onion, chopped
2 cloves garlic, minced or pressed
1 medium sized unpeeled eggplant (~ 1 lb.) diced
¼ lb. Mushrooms, sliced
1 can (~1 lb.) diced tomatoes
1 can (8 oz.) tomato sauce
½ c. dry red wine
1 medium size carrot, shredded
¼ c. parsley
2 t. oregano leaves
1 t. dry basil
1 t. salt
¼ t. pepper
1 t. red pepper flakes (optional)*
1 package lasagna noodles (9 for most pans)
2 c. (1 lb.) ricotta cheese
2 c. (8 oz.) shredded mozzarella cheese
1 ½ c. (4 ½ oz.) shredded parmesan cheese
Heat oil in wide frying pan (I use heavy bottomed Dutch oven) over medium heat. Add onion, garlic, eggplant and mushrooms and cook, stirring frequently for 15 minutes. Add tomatoes and their liquid, tomato sauce, wine, carrot, parsley, oregano, basil, salt, pepper, and red pepper if desired. Bring to a boil, then reduce heat and simmer, covered, for 30 minutes. Uncover and continue cooking until sauce is thick. You should have 5 cups sauce. Set aside
Cook noodles in a large kettle of boiling, salted water according to package directions. Drain, rinse in cold water and drain again.
Butter a 9 by 13-inch baking dish. Spread about ¼ of the sauce in the dish. Arrange 1/3 of the noodles (1 layer) over sauce. Dot noodles with 1/3 of the ricotta. Sprinkle with 1/3 of the mozzarella, then with ¼ of the parmesan cheese. Repeat this layering two more times. Spread remaining sauce evenly over top and sprinkle with remaining Parmesan cheese. If made ahead, cover and refrigerate.
Bake, uncovered, in a 350 oven until hot and bubbly (40 to 50 minutes). Cut in squares and serve.

NOTES: I use 1 t. red pepper flakes. I often add a beaten egg and chopped parsley to the ricotta to boost the protein and vitamins. I like more mushrooms, so I usually use ½ lb. I wrap leftovers in individual servings and freeze; they keep well. I use about a tablespoon of olive oil and reduced fat cheeses. I wish I could recommend vegan cheeses for this dish, but I know not how.
AND LASTLY, TWO OF MY FAVORITE INDIAN RECIPES: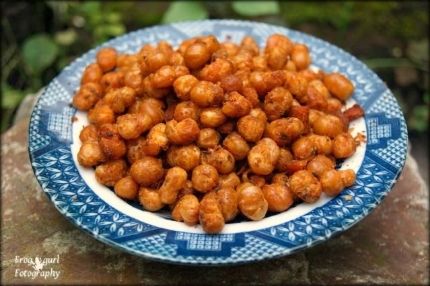 CHANA MASALEDAR
3 T vegetable oil (I use 1 T)
¼ t whole cumin seeds
1 medium sized onion, peeled and chopped
¼ t ground cinnamon
¼ t ground nutmeg
¼ t ground cloves
1 t ground coriander
2 cloves garlic, peeled and minced
A piece of fresh ginger, about ½ inch square, peeled and grated
1 T tomato paste
20 oz can of chickpeas (or close)
½ t salt
1/8 – ¼ t cayenne pepper (optional, as desired)
1 T lemon juice (or more!)
Heat the oil in a heavy bottomed pan over a medium-high flame. When hot, put in the whole cumin seeds. As soon as they begin to darken, after a few seconds, add the onions, turn the flame to medium and cook about 7 minutes. Turn the heat to low and add the cinnamon, nutmeg, cloves, coriander, garlic and ginger and cook for about 3 minutes. Drain most of the chickpea can, leaving about 2 tablespoons. Pour this and the chickpeas into the pan. Add salt, cayenne and lemon juice. Mix well, cover and let the chickpeas cook with the spices for about 10 minutes.
NOTES: This is a good recipe to trick your kids into eating spicy food – start by making this dish without cayenne and slowly ramp it up. I think those directions are overly fussy, but you do want the onions soft for a proper texture. You can use water or broth instead of chickpea can liquid. I serve this over brown rice for a complete protein.
CANNED CHICKPEAS WITH GARLIC AND GINGER
10 cloves garlic, peeled and chopped
A piece of fresh ginger, 2 inches long and 1 inch wide, peeled and chopped
5 T oil (I use 2)
A pinch ground asafetida (aka asafoetida)
½ t ground turmeric
¼ c tomato sauce
20 oz can chickpeas, rinsed and drained
4 medium sized potatoes, freshly boiled and peeled (russet best)
1 ½ t salt
1/8 t black pepper
½ t cayenne pepper
2 T lemon juice
Put the garlic and ginger into the container of an electric blender. Add 4 T water and blend at high speed until you have a smooth paste.
Heat oil in a pan over medium heat. When hot, put in the asafetida. After a few seconds, pour in the paste from the blender, keeping face adverted, then add the turmeric. After a minute add the tomato sauce, 1 cup water, the drained chickpeas. Cut the potatoes into proper sized pieces and add them to the pot, along with the last, pepper, cayenne and lemon juice. Bring to a boil, cover, lower heat and simmer gently for 20 minutes.
NOTES: (I make this for my birthday!)