Georgia Little Shield
(1959-2012)
In March and April, thanks to the craft skills and organizing efforts of the
DK Quilt Guild
, scores of members of the Daily Kos community raised $11,000 by bidding on a quilt at auction to benefit the Okiciyap Food Pantry and Youth Center on the Cheyenne River Sioux Reservation of South Dakota.
Just three weeks from now, Kossacks navajo and betson08 will travel to the reservation town of Isabel for the tribe's annual wacipi (pronounced wah-chee-pee, the Lakota/Nakota/Dakota word for pow wow). The two will present the Quilt Guild's spectacular quilt along with a plaque honoring the late Georgia Little Shield (Eagle Wings Woman) for her founding of the Okiciyap pantry and center. The wacipi itself is being held in honor of Georgia this year.
You can read a little of the history of Okiciyap here and weck's explanation of each block of the quilt here.
Here is a photo of the plaque:

Here is a photo of the quilt:
Names of the financial contributors to Okiciyap (as well as the quilters) will be included on a second plaque navajo and Betson08 will present. Thanks to the efforts of ZenTrainer, susans, 4Freedom and glescagal, who searched through all the bidding diaries and gathered the names of people who said they donated, we've collected most of the names already. But we don't want to miss anyone.
The list of names as we have it so far appears below the fold. If you participated in the auction and you don't see your name mentioned, please let us know in comments or by Kosmail and we'll be sure to add you. Also, please let us know if you'd rather have your real name on the plaque instead of your Kossack moniker.

Keeping the shelves filled.
The best reason to have a pantry in Isabel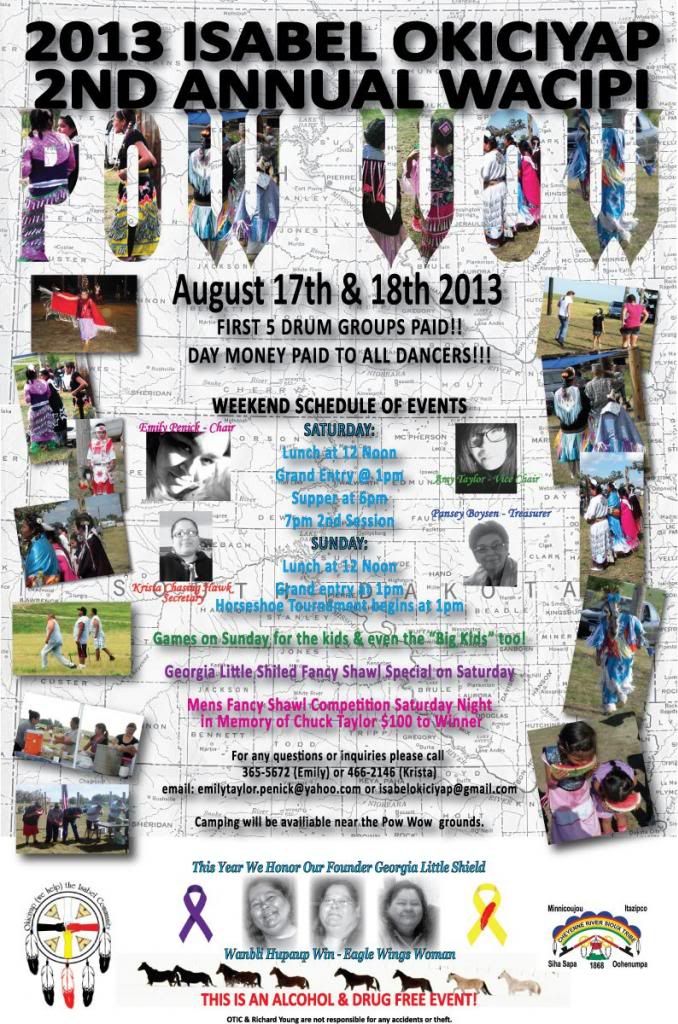 If you would like to donate to Okiciyap, please send a check or money order here:
Okiciyap Pantry
Box 172
Isabel, SD 57633

Or you can donate by clicking on the button at the Okiciyap web site.
The names below will go on a plaque to be hung next to the quilt in the Okiciyap Food Pantry. If you've donated and don't see your name below please tell us in the comments and it will be added.

2thanks
Proud Mom and Grandma
glorificus
Pam from Calif
Anon-27 group (need names)
Radiowalla
Bendygirl
raina
weck
mollyd
Meteor Blades
Neeta Lind
belinda ridgewood
Shockwave
joanbrooker
dano2l
winifred3
peregrine kate
ProvokingMeaning
Dr Erich Bloodaxe RN
Deep Harm
mimi
fb
newore
Bugsby
Gina Whitenight
NormAl1792
YucatanMan
Ninepatch
broths
Denise Oliver Velez
Actbriniel
Fiona West
boadicea
Steveningen
Boston Beans
side pocket
citisven
4Freedom
BeadLady
LinSea
Phil S 33

ZenTrainer
Villanova Rhodes
SilverWillow
Odysseus
greengemini
shortgirl
nomandates
Burned
sidnora
JamieG from Md
NMRed
Glen The Plumber
catilinus
remembrance
TLO
eeff
Dave Bedini
paradise50
smileycreek
PateTX
where4art
operculum
slksfca
Diane in NoVa
hulibow
Dave (in Northridge) Parker
betson08
linkage
hafnium
asterkitty
Sybil Liberty
no way lack of brain
mollyd
Patriot Daily News Clearinghouse
Lorikeet
Bead Lady
betson08
no way lack of brain
PinHole
maggiejean
tardis10
radical simplicity
Melanie in IA

DK Quilt Guild, who quilted the individual patches, will go in a category at the top of the plaque: BeadLady, Florene, Pam from Calif, frosti, kitchen table activist, Melanie in IA, glorificus, leu2500, vtgal, winifred3, Proud of My Bleeding Heart, Embee
The names of the diarists, who donated their time to promote this auction, will also be on the plaque:

Aji, BeadLady, betson08, Dave in Northridge, Denise Oliver Velez, Glen the Plumber, glorificus, GreyHawk, Grizzard, Horace Boothroyd III, leu2500, Meteor Blades, mimi, mollyd, navajo, nomandates, One Pissed Off Liberal, Pam from Calif, Patriot Daily News Clearinghouse, peregrine kate, radical simplicity, Smoh, weck, winifred3, and ZenTrainer