Thursday!

As you can see by Itzl's concerned look, this group is for us to check in at to let people know we are alive, doing OK, and not affected by such things as heat, blizzards, floods, wild fires, hurricanes, tornadoes, power outages, or other such things that could keep us off DKos. It's also so we can find other Kossacks nearby for in-person checks when other methods of communication fail - a buddy system. Members come here to check in. If you're not here, or anywhere else on DKos, and there are adverse conditions in your area (floods, heatwaves, hurricanes, etc.), we and your buddy are going to check up on you. If you are going to be away from your computer for a day or a week, let us know here. We care!

We have split up the publishing duties, but we welcome everyone in IAN to do daily diaries for the group! Every member is an editor, so anyone can take a turn when they have something to say, photos and music to share, a cause to promote or news!

Ok, we have a current diary schedule. If you would like to fill in, either post in thread or send FloridaSNMom a Kosmail with the date. If you need someone to fill in, ditto. FSNMom is here on and off through the day usually from around 9:30 or 10 am eastern to around 11 pm eastern.

Monday: BadKitties
Tuesday: bigjacbigjacbigjac
Wednesday: Caedy
Thursday: weck
Friday: FloridaSNMOM
Saturday:broths
Sunday: loggersbrat
If you'd like to be part of the Itzl Alert Network, please leave a comment asking to join, or send us a message asking to join. We'd love to have you. The bigger our network, the less likely someone will be stranded all alone.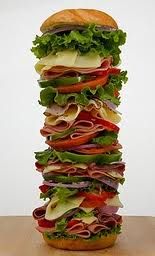 August is, unofficially, National Sandwich Month. Don't plan to celebrate with a burrito, though, because a burrito isn't a sandwich. That's the law. MA Superior Court Judge Jeffrey A. Locke so ruled in 2006 after Panera Bread sued to keep Qdoba Mexican Grill out of a shopping center, claiming it would violate the center's one-sandwich-shop agreement. The judge said he used common sense and a dictionary to decide what qualified as a sandwich. It needed 2 pieces of bread ("thin and usually buttered") to meet the test. Burritos didn't. Qdoba Mexican Grill, whose main attractions were burritos, won.
But about that definition: 2 thin slices of bread, usually buttered. Thin? What about baguettes, ciabatta, Kaiser rolls? Buttered? Consider mayo, mustard, horseradish, oil and vinegar. Aside from that, would quesadillas (one piece, folded) or hot dogs (one piece, hinged) fit the definition? Open-face sandwiches certainly wouldn't make the cut.
H.D. Renner wouldn't have argued with that. He opposed the top piece of bread.
"One sandwich tastes much the same as another...It is only high up in the culinary scale that one finds delicacies spread on bread without the coffin-lid which spells death to the flavour."
That was 1944. Did Mr. Renner know he'd already lost the battle? By then, sandwiches with coffin lids were a staple for lunch and often dinner, at least in the U.S. And there were so many more from around the country and the world that we hadn't tasted yet. Would he have been won over if he'd sampled an oyster po'boy, a ban mi, a beef on weck (heh), a Cubano, a Senegalese bean sandwich? Maybe. But I think he might have been surprised that sandwiches could inspire poetry:
Grilled rye on high
melted swiss on kraut and beef
a Russian on my Reuben

Dandelion leaves
Avocado, re-fried beans
Yes this is heaven

golden delicious
warm cheese melts me to my soul
i'll have another
What's your favorite sandwich? Have you ever felt moved to compose a poem about it? Do you prefer your sandwiches with or without the coffin lid? Or would you rather throw caution to the wind, flout the law, and eat a burrito?