The Daily Bucket is a regular feature of the Backyard Science group. It's a place to note the things you've seen in the natural world around you. Whether it's snails, bears, fish, bugs, weather, meteorites, climate, birds, flowers, or old rocks, nothing is too big or too small, if it's part of the natural world, this is the place to talk about it.
So please let us know what's going on in your neighborhood and whereabouts that is.
Not too far from here, in the St. Francois Mountains, there's a high peak that's capped by a huge granite dome. This dome is the resting place for a multitude of giant boulders that in the minds of many are reminiscent of a herd of elephants, whose story is as fascinating as their appearance.
I'm no geologist and I don't even play one on TV but as I understand it these huge granite boulders are actually just small broken fragments of the gigantic dome on which they sit. Their story begins around 1,500 million years ago as molten magma bubbling and boiling deep down in the earths crust. Being less dense than the surrounding rock, this magma slowly rose upwards, forcing it's way through any available cracks in the solid rock above, a process known to geologists as intrusion. After a time it could find no more cracks, or paths if you will, that would allow it to continue it's journey upwards. If it had found a path that lead all the way to the surface I might be writing about an extinct Missouri volcano right now. But in this case, the magma was stopped in it's tracks and with no escape route, it began to accumulate, forming what we call a magma chamber, still quite deep in the earth from our human perspective but just under the surface when looked at on a scale relative to the earth itself. In time it began to slowly cool and solidify.
This cooling caused cracks or fractures to form within it. And all the while, (we're talking millions of years here), the surface rock above it was slowly but relentlessly being removed through natural erosion. Finally, after eons of being compressed by the once tremendous weight of the surface rock above, but with much of that having been eroded away now, the cooled and solid granite mass was free to expand upwards. This expansion caused yet more cracks and fractures to form within the granite that still lay underground.
These fractures, for reasons I admit to not understanding, formed along nearly vertical and horizontal planes, consequently dividing the once solid mass of granite into a series of huge angular blocks, separate from one another though still sitting side by side and one on top of another, much like a layered cake all cut into squares and rectangles without removing them from the cake pan. Once that happened, water and ice from the surface began working it's way down and into those cracks, slowly but relentlessly eating away at each individual block, rounding the corners and smoothing the edges until what was left were gigantic boulders, amazingly, all formed completely underground and still surrounded and locked in place by the eroded material that had once been part of the whole. Time marched on until eventually the remaining surface rock above eroded away completely, finally exposing these massive stones, after millions of years of waiting in the darkness of their underground nursery, to the light of day. Once exposed, the number and intensity of freeze/thaw cycles increased, the effects of rain, sleet, hail, etc., became more direct and were now enhanced by the added component of wind, all of which increased the rate of erosion, smoothing and polishing these rocks even further, giving them the marvelous sculptured look that we see in them today. The erosion of course continues as I write this, leaving me to ponder and wonder what this amazing place will look like a hundred million years or so from now. It's hard for me to imagine these tremendous boulders turned to dust but that is in fact the path they're on. Stardust to mountaintop to stardust in just a few hundred million years, the blink of an eye.
Try as I might, I just couldn't find a bucket big enough to hold all my elephant rocks but if you'll turn in at the yellow and brown sign and carefully step over the fractured granite I'll show you a bit of this wondrous place. Please check it out and then tell us what's going on in your neighborhood.
There are two ways to get to the top of the dome. One is by way of a well maintained walking path that winds it's way slowly around and up to the peak. The other is to just head straight in, picking your own trail through the maze of boulders that lie all around you. Mrs. burnt has a bad knee that makes traveling over rough terrain difficult so she chose the walking path while my adventurous grand-daughter and I, at much urging from her, headed right into the thick of it. Right from the start I had to work hard just to keep her in sight.
Near the bottom the boulders are surrounded by trees and other plants but as you work your way up the slope, the trees quickly thin out and those that have managed to take root in the shallow soil that has accumulated in some of the crevices get progressively smaller.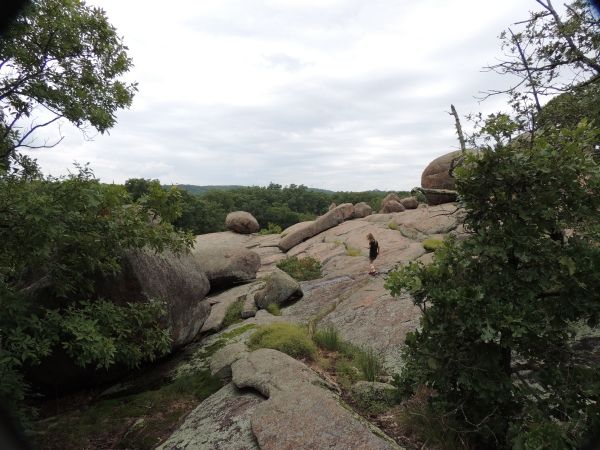 At every turn there's a new vista, each one as beautiful and inspiring as the one before.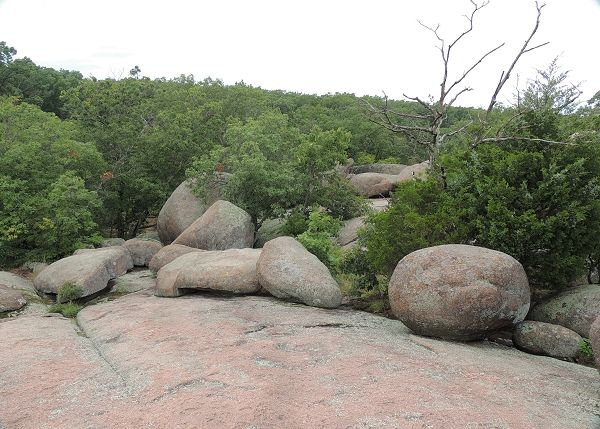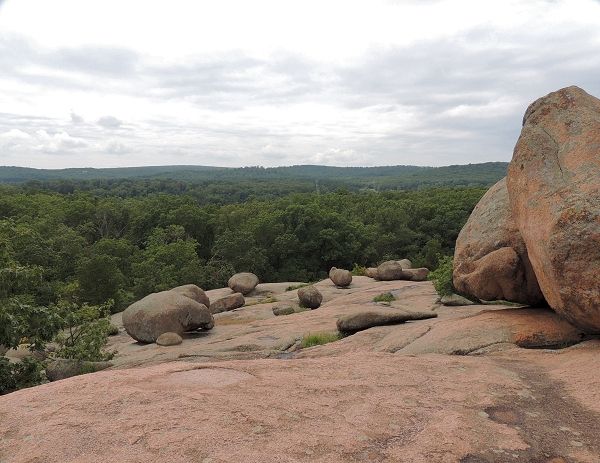 Some of the boulders looked as though any small tremor would send them sliding down the mountainside.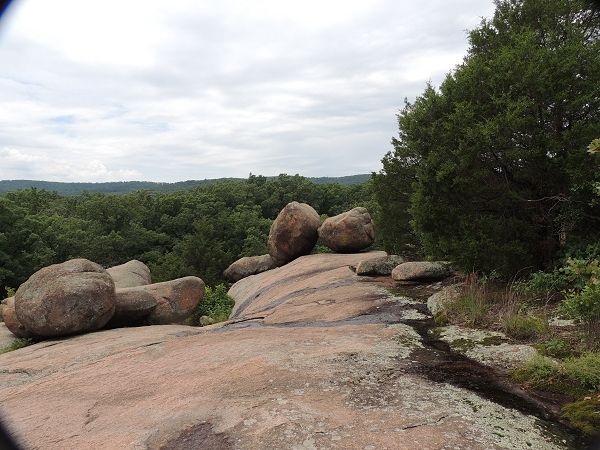 As you walk around on the top of the dome, everywhere you look you can see the whole process is still taking place and that new boulders are already being slowly cut from the next layer to replace the existing ones that even as you watch, are being slowly eroded away by the elements. I was thinking to myself how cool it would be to have the whole process filmed with time lapse photography. Of course the intervals between pictures would be counted not in days or even years, but in millennia.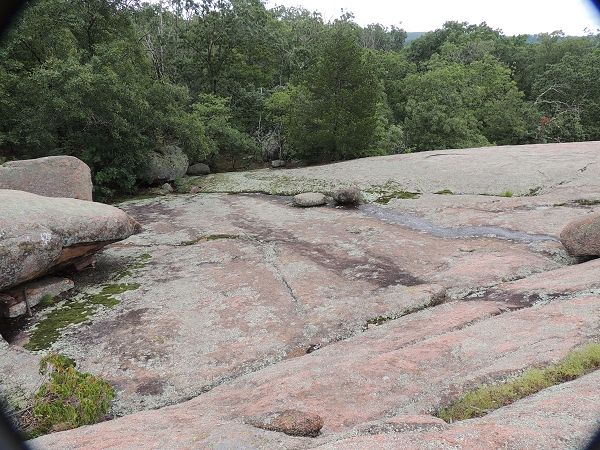 Along the way there are many places that the boulders lie in ways that create small caves and narrow passageways. LB found these places very fascinating and I had to keep a watchful eye to make sure I didn't lose track of her in one of the mazes.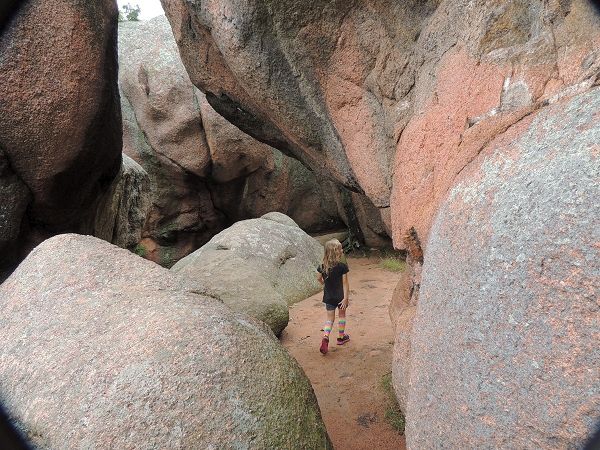 Little bit takes a break while she waits for me to catch up. Come on grampa!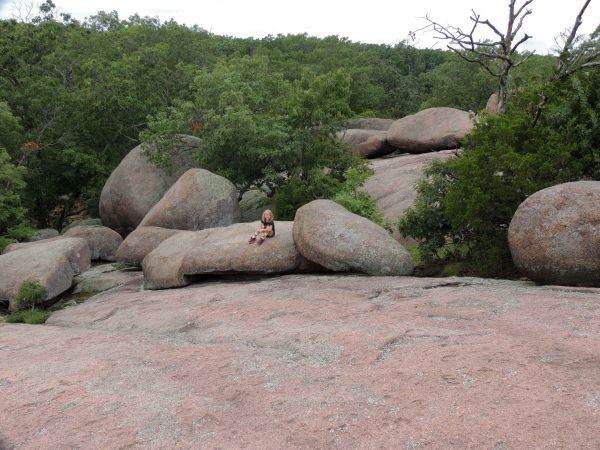 Surface erosion has left countless shallow depressions, locally nicknamed birdbaths, most of which were filled with rain-water. LB was delighted to find tadpoles living in many of them. Such an odd place to find a frog nursery. We didn't see any grown frogs but I suspect the tadpoles were gray tree frogs. I saw mosquito larvae in the water too so I imagine they were a big part of the the tadpoles diet. Most years these shallow pools would likely be bone dry by August, but we've had an unusually wet summer here.
Moss grew in some of the shady spots and lichens grew almost everywhere. And here and there, like little oases in a desert of stone, some of the depressions had collected enough soil over the years to support more lush types of vegetation.
.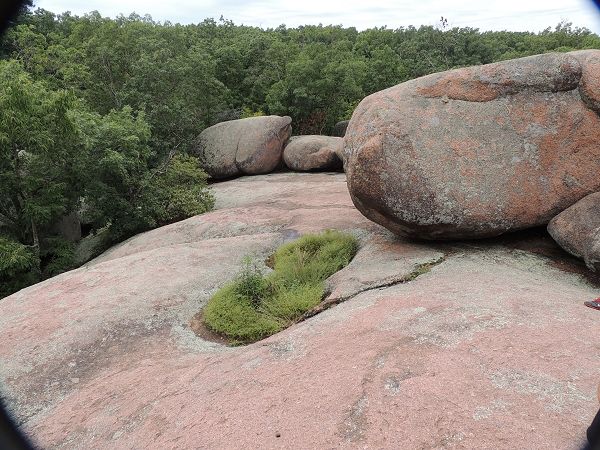 The size of these boulders tend to put into perspective my place in the universe, much the same as contemplating the stars on a clear night does. For reasons that I can't explain, I find that comforting.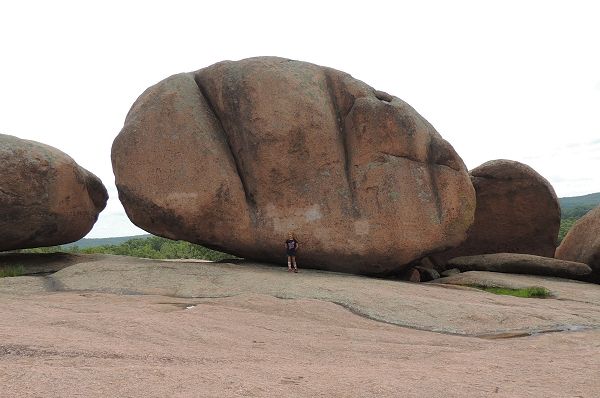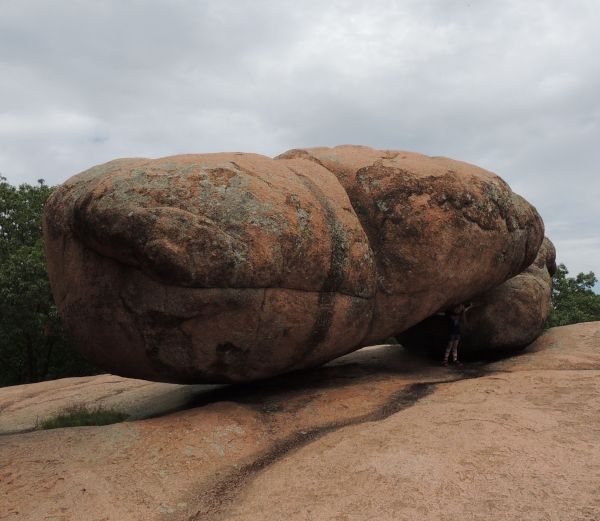 Still fascinated by the tadpoles in their granite swimming pools, she stopped long enough to give them a closer look, giving me the welcome opportunity to sit for a bit and catch my wind after the climb to the top. She even managed to catch a couple of them which she proudly brought to me in cupped hands before returning them to the water.
About the time I was beginning to wonder if Mrs. burnt was still working her way up here or sitting back at the truck waiting for us, I was happy to look up and see her coming up the slope. That's her taking a picture of me taking a picture of her.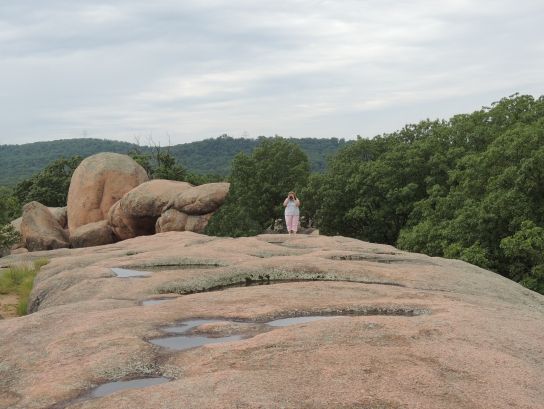 If you ever get to Missouri I hope you stop and check out our mountain top elephants. I think you'll find them as amazing and inspiring as we do.