---
End of summer harvest
As the days get shorter, too soon I know, those plants which were seeds only a few months ago are reaching maturity. In some climates planning and planting for next year has begun but for most gardeners this is the time to pick and preserve. Tree leaves are changing; so too the leaves on those plants which have provided food for the whole season.
Tomatoes in full production a month ago are still producing, but the plants are tired.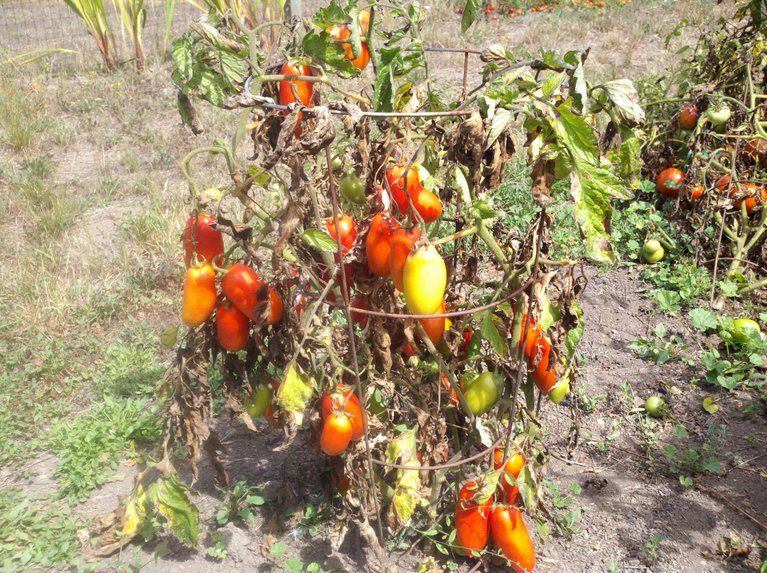 A pile of huge Yukon Gold potatoes from only 5 seed potatoes. Ten have already been eaten.The undug section shows the dead leaves and stems. Red and yellow types are under these.
A sunflower is mature, the seeds ready to be devoured by birds if they can attack
˙uʍop ǝpısdn
Delicata squash are ready, and the vine is almost dead.
But there's always hope and optimism for the future. This carrot bed, planted a few weeks ago, will begin to provide carrots in late fall and through the winter.
So be glad, and celebrate the cycle of seasons with the best people anywhere,
Kossacks.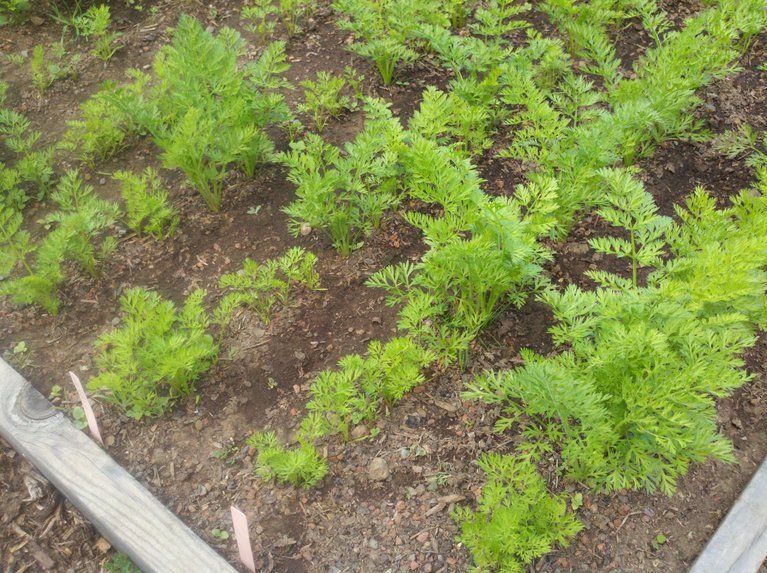 Kitchen Table Kibitzing is a community series for those who wish to share part of their evening around a virtual kitchen table with kossacks who are caring and supportive of one another. So bring your stories, jokes, photos, funny pics, music, interesting videos, and so forth. Or just say "Hi" if you've had a long day and are too exhausted to participate more actively. We would also appreciate links—including quotations—to diaries, news stories, and books that you think this community would appreciate.

Please note that pie fights will be unwelcome in this community, just as in most other series at DKos. There's lots of space at the rest of the site for fighting with other Democrats, progressives, and liberals, and we don't want those battles dragged into this community.

Finally, readers may notice that most who are posting diaries and comments in this series already know one another to some degree, but that definitely does not mean that newcomers will be excluded or unwelcome. We're happy to welcome guests to our kitchen table, and hope to make some new friends as well.

KTK posts nightly at 5:00 Pacific, 6:00 Mountain, 7:00 Central, 8:00 Eastern.