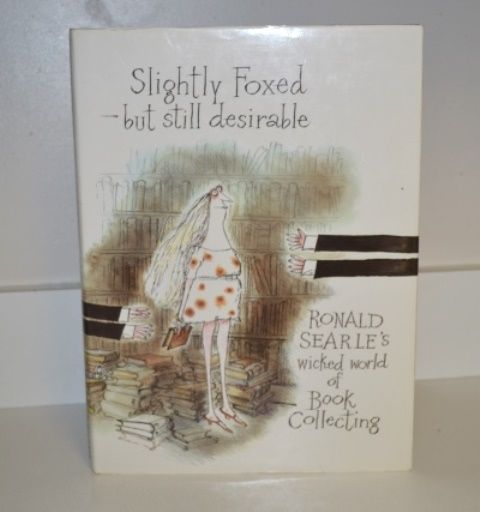 "Good Evening"
Limelite is a very difficult person to turn down; she seems quite reasonable until it comes to the point where you find she has skilfully backed you into a corner, and polished you off with her superior intellect. Then you come out of a daze to realize that you have been signed up to write a regular series for the 'R&BLers'. Simple as that!
What to call the series, eh? Susan from 29 had demanded a 'title' - 'Dastardly Deeds from Mr Darcy's Demesne' ? 'Sketches by Zob' ? (the sort of anti-Dickens)..I was struggling. Then I spied it; the dust cover poking out from a pile of books gave it away. One of my favorites, Ronald Searle's, 'Slightly Foxed - But Still Desirable'. It met all the basic criteria; a) Searle is a great cartoonist/author b) he belongs to that special clan, the war cartoonist/War Correspondent c) the title has a certain 'frisson' - just a hint of the risqué! After all, the words of Lady Caroline Lamb to the 6th Baron Byron could equally apply to me, sometimes (or I like to think they could, anyway).
There is something about conflict which brings out the most unlikely artistic contributions. Bruce Barnsfather sketching humorous scenes of trench life on the Western Front in WW1; Bill Mauldin poking fun at the whole Officer Corps of the US Army in Italy in WW2 (and more than a few of the enlisted men - although sadly, only one British 'Tommy'). A gunner of the Royal Artillery, huddled under a blanket in a French settler's roofless farmhouse in Algeria, scratching away at rough sketches with the stub of a pencil on any old scrap of paper he could find, which would later turn into illustrations in the second part of his autobiography, "Rommel?" "Gunner Who?": A Confrontation in the Desert'. The gunner? The incredible 'Spike' Milligan. Or the War Correspondent Cartoonist for the Daily Express, (already blind in one eye) crouched in a trench along with units of the British 2nd Army in 1945, wondering just HOW close the Germans were - Carl Giles.
The bravery exhibited by Ronald Searle was of an entirely different order altogether.
Born into a working class family in Cambridge, Ronald Searle was just 15 years old when he left school in 1935. Having begun drawing at a very early age, it was natural that he would attend what was then the Cambridge College of Arts & Technology to study art. Like many young British men he enlisted in the Armed Forces when it seemed that Adolf Hitler was intent on conquering Europe. He chose the Royal Engineers. As ill-luck would have it he was posted to the 'island fortress' of Singapore. There, he would have joined one of the R.E. Fortress Companies involved in maintaining coastal defences; they all came under the direction of the Commander Royal Engineers (C.R.E.) Fortress Troops, Lieutenant Colonel H.M. Taylor, R.E. When the Japanese forces invaded the peninsular of Malaya and advanced on Singapore, at its tip, there was very little that British forces could do to stop them. The surrender came on 15th February, 1942, and the Royal Engineers, along with Australian and Indian Army Engineer units were taken prisoner.
What then followed was horrific; a forced march of thousands of prisoners across the island to Changi Jail. 200 prisoners were crammed into rooms designed for 20! Soon, sickness and lack of food began to take their toll, but much worse was to come; Searle and thousands of others were transported to Thailand to build a railway from Ban Pong to Thanbyuzayat in Burma, a distance of 250 miles through jungle-covered mountains. This Thailand to Burma line, known as the 'Railway of Death' was later immortalized in the film 'Bridge on the River Kwai', which Searle condemned as being inaccurate; he came down with malaria and beri-beri, and his weight fell to less than 90lbs. The prisoners were subject to savage beatings and torture and were executed, quite casually, for the least offence. It is all the more remarkable then, that Ronald Searle would risk instant death to try to record what was happening in hundreds of drawings, using scraps of paper and whatever he could draw with. He actually concealed these drawings under the bodies of those of his comrades who were dying of cholera, knowing that the Japanese would not go near these unfortunates.
Amazingly, he was one of those PoWs who survived to be repatriated, when the Japanese surrendered (locally) in August, 1945. On his return to Britain, he received, along with his fellow ex-PoWs, the following message from King George VI.

The Queen and I bid you a very warm welcome home.
Through all the great trials and sufferings which you have undergone at the hands of the Japanese, you and your comrades have been constantly in our thoughts.

We know from the accounts we have already received how heavy those sufferings have been. We know also that these have been endured by you with the highest courage. We mourn with you the deaths of so many of your gallant comrades. With all our hearts, we hope that your return from captivity will bring you and your families a full measure of happiness, which you may long enjoy together.

George R.I.
Ronald Searle tried to put his life back together, and his first drawings were published in books by fellow PoWs about the war. However, by a twist of fate, he was to be a further witness to history, as he was appointed the official courtroom sketch artist to the infamous Nuremberg Trials in 1945, when the Nazi leaders were finally brought to justice. Searle was eventually to publish
'Ronald Searle: To The Kwai And Back, War Drawings 1939 - 1945'
in 1986.
He had already begun to write and draw about the 'inmates' of an anarchic girls school which he named 'St Trinians'; he claimed it was based, in part, on the school his sister attended near Cambridge. These illustrations and the books in which they featured (e.g. 'Hurrah For St. Trinian's', 1948) made his fortune, and the feature film which followed (with the delightful Scots actor, Alastair Sim - in drag - playing the devious Headmistress, Miss Millicent Fritton, as well as her brother Clarence), 'The Belles of St Trinian's', (1954) was a roaring success. Other films served to point up Searle's talent, and as well as his books, individual cartoons and other work, he began to design titles and artwork for films such as 'Those Magnificent Men In Their Flying Machines' (1965) and 'Monte Carlo Or Bust' (1969).
Searle had ALWAYS been an avid book collector. Cambridge, as you would expect, had many book shops in his youth, and the bug bit early. Every week he used to rummage through the remainders and second-hand books, looking to find those volumes which held illustrations which delighted him. By the time of his death in France, in 2011 at the age of 91, he had a collection running into the thousands.
In 1989 he published a unique set of drawings, which became the illustrated glossary of book collecting terms,'Slightly Foxed - But Still Desirable'. It reflects his own now slightly darker style, which he brought back with him from the war (a touch of Edward Gorey, perhaps), and the drawings are all delightful, if slightly disturbing at times. Each book collecting term, 'Outwardly cracking', 'Tail-edged shaved', etc. has its own, full-page illustration of these descriptors, which are commonly used by booksellers. The Glossary at the end of the volume contains Searle's translation of the terms, for example, 'Head, dented' - 'Volume that has been used to replace the leg of a sideboard', and 'Foxed, somewhat' - 'Simply smothered in in brown damp spots'.
Searle had his faults - which we will lay to one side, for the moment - but no-one could deny his genius, nor his all-consuming love of books.
Ronald William Fordham Searle, Commander of the Order of the British Empire, Chevalier de la Légion d'Honneur, German Order of Merit - a great artist, and a truly brave man.
http://shortfinals.wordpress.com
Readers & Book Lovers Series Schedule