I spend so much time and effort talking to people about climate change - I'm a science communicator by profession, and this is, at heart, a science literacy issue. And yet, writing this diary has me a bit flummoxed. I have, I guiltily admit, put it off almost until the last minute for mostly this reason. I've been asked -as all the blogathon participants have- to write about "climate impacts and/or solutions that are meaningful to or influence your life in some way." It's surprisingly difficult.
To the extent that I'm up to my eyeballs in climate news and science, and spend every second I can spare working to correct the misinformation and apathy that are ruining our chances of pulling this world out of the anthropogenic fire, every climate impact and solution influences my life in some way.
To the extent that I'm a stay-at-home parent, my days are full enough that it would, even now, be easy to ignore the worsening impacts of climate change and drown my concerns under the smaller, incessant, momentary dramas demanding my attention. Words like "meaning" and "influence" seem better suited to the husband whose hand I squeeze briefly and gratefully when a hug takes too much time, the simultaneous terror and impatience when I hear the ol' crash-and-cry from the other room while I'm making dinner, the contagious giggles of my kids, the back-of-the-mind pang of longing for the friends I think about way more than I actually call, or the beauty and complexity of the small ecosystem in the garden in my yard.
Which illustrates our chief problem in raising climate awareness on the homefront --- that the influence of climate change, for those of us in the States, is still coming mainly in the abstract. It's still possible to ignore, still easy to hide in the delusion that climate change is a political creation and not a robust scientific observation. Nevermind that we need to fix things now, before they're so broken that there isn't a habitable spot left in what we now think of as civilization. Humans are not terribly good at long-term thinking.
I've written before about the fact that my hometown, clocking in at just three feet above sea level, is almost certain to be underwater by 2100. I've also written about how I personally am motivated because for me, this is not so much as an environmental issue, but a justice issue, to the people who will inherit this Earth from us and wonder what the crap we were thinking. Who will suffer because of our inability to get it together in time to save for them something of what is good -and there is so much good, despite war and bad economic times- about the here and now.
On this site, there are election year battle cries to go all in, to "leave it all on the road." If ever there were a time or an issue for which to do that, this is it.
So how does that happen for climate change? Well... based on my experience, beating people over the head with the tragedy of it all really only motivates a small segment of the population. (Hint: if you've read this far, this might be you.) And pretty much nobody wants to hear "The world is not only doomed, but it's all your fault." I don't even want to hear that.
The approach I now take, and champion whenever someone gives me a soapbox to stand on (thanks, PDNC!), is to engage people the best, most positive way our species is capable of. With humor, inspiration, and empowerment. We've got a big problem, and anyone with half a brain is going to understand that and instinctively deny, deflect, or get depressed. If we don't offer a fourth path, the roll-up-your-sleeves-get-it-together-and-become-part-of-the-solution path (the RUYSGITABPOTSP? Yeah, somebody needs to go back to acronym school) that people actually want to take, then we really are doomed.
Hopefully, you've had a chance to read Wangari Maathai's hummingbird story, the inspiration for this series (it's below the fold if you haven't). What we need is an army, a whole world full of hummingbirds. But nobody wants to be a hummingbird if all the hummingbird club does is, while toiling with our few drops of water, talk about how the world is screwed and it's all for naught and why isn't anyone else even trying to be like a hummingbird; those other animals are the real problem. Nobody wants to be a hummingbird if being a hummingbird looks foolish and is miserable work.
Last year, I co-founded a video series, called Don't Just Sit There - Do Something!, on climate news, science, and action. Short and funny, the videos are infotainment that aims for a feel somewhere between The Daily Show and The Discovery Channel, and every video plugs viewers into a personal action and a larger advocacy effort. Gone is the guilt trip, and the hopelessness. I get that those are normal, rational responses, but really, we don't need them where we're going.
Where are we going? To a much cooler, much more popular, and, most important, an unfathomably more effective Hummingbird Club. A club with the power to support the policies we need to stop something as big as climate change, no matter what the moneyed fossil fuel interests want.
Of course we need to know the scope of the problem. We just can't lose what's joyful and good about humanity if we expect others to help. We can't lose what's joyful and good about humanity if we want to actually solve the problem. We aren't going to convince most people to act with only the same dire shock-and-awe that convinced many of us.
Don't Just Sit There - Do Something! could, I suppose, be viewed as recruitment videos. Here's our most recent offering, on Obama's climate plan, and the links between climate and conflict --- take a look:

SEND A MESSAGE OF SUPPORT TO OBAMA FOR HIS CLIMATE PLAN
Then, please subscribe and share - there will be new video this week (like today or tomorrow) that you don't want to miss! Thanks... for helping me do what I can, and also, for helping me give others both tools and some very good reasons to be a hummingbird.
(And a big thank you to Patriot Daily News Clearinghouse, boatsie, rb137, JekyllnHyde, citisven, peregrine kate, John Crapper, Aji, and Kitsap River for putting this together and inviting me to be a part of it!)
-Joylette
PS: I did a pretty neat interview published yesterday over at the National Center for Science Education's new Science League of America blog. Check it (and them) out if you have a minute. They highlight our 5th episode, debunking The Climate Skeptics' Top Five myths, which is a good intro to the series.
~Joylette is the Executive Director and star of the Don't Just Sit There - Do Something! video series. She holds a Ph.D. in Genetics from Stanford University and an undergraduate degree from MIT. She has done science and environmental outreach work at the local, regional, and national levels in the past, often with a specific focus on climate. She is also currently a concerned stay-at-home Mom of two young boys.~

"Hummingbirds" Blogathon: September 9-September 13, 2013
---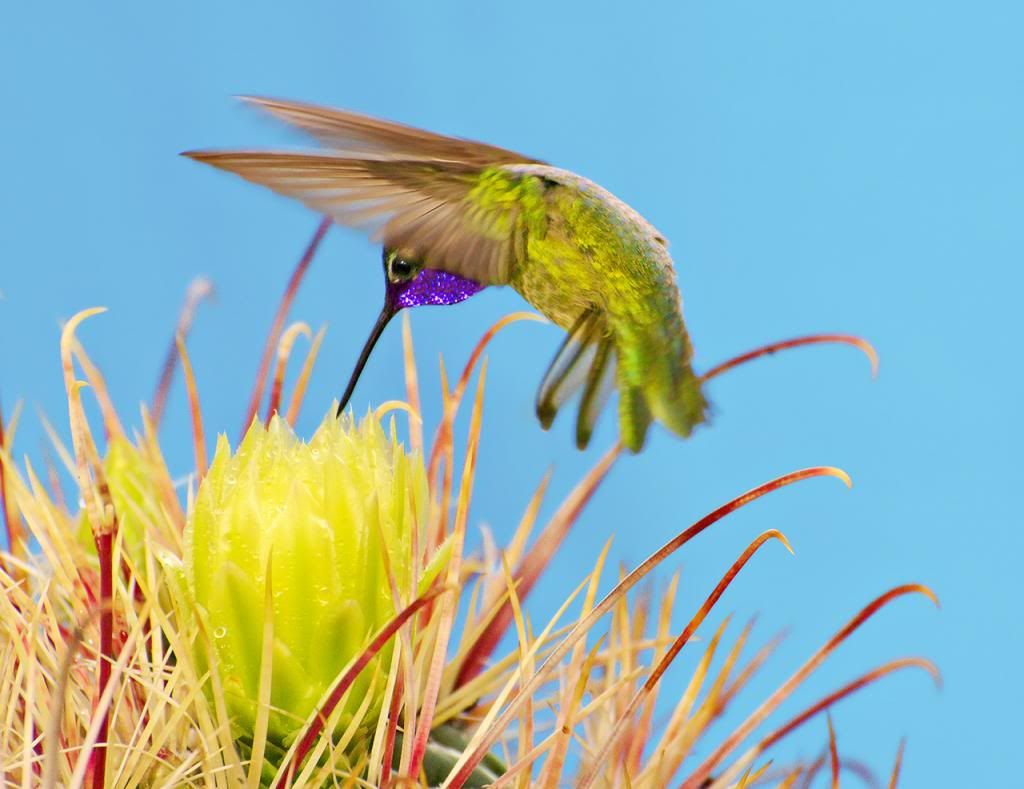 ---
In May 2006, the late environmental activist and Nobel Peace Prize winner Wangari Maathai addressed 7,000 international educators who had gathered in Montreal for the 58th annual conference of the National Association of Foreign Student Advisers (NAFSA). Here is the story she shared with them.

One day a terrible fire broke out in a forest - a huge woodlands was suddenly engulfed by a raging wild fire. Frightened, all the animals fled their homes and ran out of the forest. As they came to the edge of a stream they stopped to watch the fire and they were feeling very discouraged and powerless. They were all bemoaning the destruction of their homes. Every one of them thought there was nothing they could do about the fire, except for one little hummingbird.

This particular hummingbird decided it would do something. It swooped into the stream and picked up a few drops of water and went into the forest and put them on the fire. Then it went back to the stream and did it again, and it kept going back, again and again and again. All the other animals watched in disbelief; some tried to discourage the hummingbird with comments like, "Don't bother, it is too much, you are too little, your wings will burn, your beak is too tiny, it's only a drop, you can't put out this fire."

And as the animals stood around disparaging the little bird's efforts, the bird noticed how hopeless and forlorn they looked. Then one of the animals shouted out and challenged the hummingbird in a mocking voice, "What do you think you are doing?" And the hummingbird, without wasting time or losing a beat, looked back and said:

"I am doing what I can."
In this time of escalating climate change, this is our challenge.

To refuse to surrender to the apathy of denialism and fatalism.
To be fierce in our defense of the Earth.
To continue to fight in the face of overwhelming odds.
And always, always, to do what we can.

Because it is only by each of us doing what we can, every day, that we will save the Earth – for ourselves, and for the generations to come. Like the hummingbird.
---
Our Daily Kos community organizers are Patriot Daily News Clearinghouse, boatsie, rb137, JekyllnHyde, citisven, peregrine kate, John Crapper, Aji, and Kitsap River. Photo credit and copyright: Kossack desertguy and Luma Photography. All rights reserved. Used with permission.