If only these warnings were more prominent and to the point, during the great Advertizing Age, otherwise known as "Smoking is Cool."

File: Surgeon General's warning cigarettes.jpg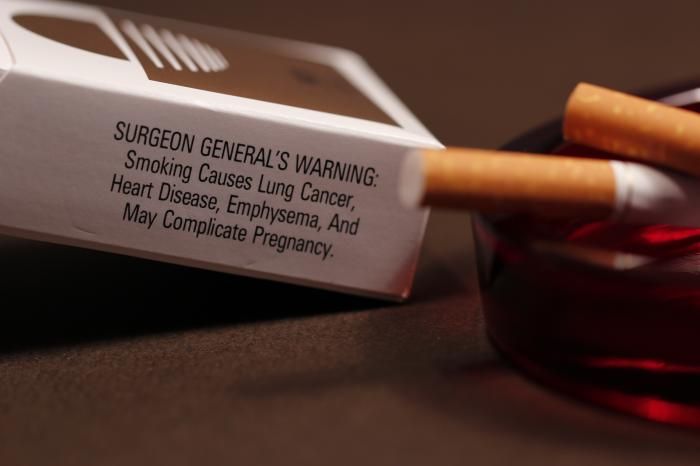 From Wikipedia, the free encyclopedia

Smoking causes death.

- The adverse health effects from cigarette smoking account for an estimated 443,000 deaths, or nearly one of every five deaths, each year in the United States.

- Smoking causes an estimated 90% of all lung cancer deaths in men and 80% of all lung cancer deaths in women.

- An estimated 90% of all deaths from chronic obstructive lung disease are caused by smoking.
If so, then many of us would not have to sit by and watch those we care about, slowly succumb to the ravages of this once socially-condoned, but secretly quite dangerous product --
NOW
.
If only ...




It just may be time for some new "product warning" labels.

Reducing Greenhouse Gas Emissions Could Prevent Premature Deaths
by Charles Choi, Contributing writer, LiveScience.com -- Sep 22, 2013

Reducing the flow of the greenhouse gases that spur global warming could prevent up to 3 million premature deaths annually by the year 2100, a new study suggests.
[...]

The researchers found that aggressively reducing greenhouse gas emissions could help , two-thirds of which would be in China. By 2050, such reductions would prevent 800,000 to 1.8 million premature deaths annually. By 2100, between 1.4 million and 3 million premature deaths annually could be averted.
[...]
Problem is --
Where do we place the CO2 Labels?

It appears the "CO2 fallout" will be comparable, if not much worse, than that due to Tobacco consumption.
Good thing "we believe CO2 to be non-additive," right?
We could quit anytime we want to -- it's just that we don't want to ...

If only ... we were a bit more proactive about our future well-being, eh?