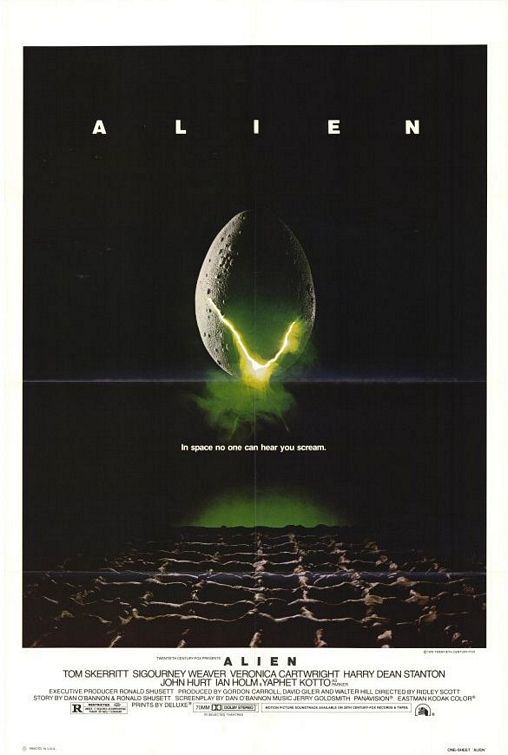 A monster stalks a group of people who are trapped in an enclosed area with limited places to hide and few options of escape. They are killed one by one until only the nubile young hottie remains. This hottie turns out to be the most resourceful and brave of them all and manages to survive. We're not talking about "Friday the 13th" here. We're talking about Ridley Scott's classic, ALIEN. The usual snort of derision will arise at the assertion that ALIEN is, in fact, a Horror movie. The normal protest is that it's Science Fiction, as if this disqualifies it as a Horror film. Even beyond the classic Horror premise outlined above, consider everything else this film has. Amazing 'boo' moments, an oppressive, claustrophobic atmosphere, horrifying monsters both big and small… Oh, and a baby alien bursting out of John Hurt's chest in a bloody mess. This is Horror at its best, my friends!
More below!
This is a film that really qualifies as a complete Horror experience. It's shocking, exciting, tense, creepy, and intelligent. It has a great cast, marvelous special effects, and top-notch production design. But most of all, ALIEN has one of the greatest creature designs ever committed to celluloid. To look at H.R. Giger's intricate and wholly original design is not just to be impressed, but also to wonder just how they could possibly make it come to life. Carlo Rambaldi and his crew did a heroic job not only making Giger's design filmable, but making the costume expressive and malleable enough for actor Bolaji Badejo to effectively portray the creature. Combine that with Ridley Scott's intelligent decision to limit the shots of the alien and let the audience's imagination fill in the blanks, and you've got a recipe for an iconic monster.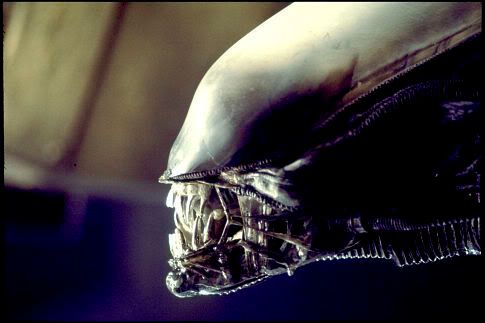 Although Tom Skerritt, Harry Dean Stanton, Ian Holm, and John Hurt were the established movie stars cast in the film, the movie really belongs to newcomer Sigourney Weaver. Up to this point Sigourney Weaver was only moderately known as a stage actress, but her final audition reciting the film's final speech bagged the part for her. Good thing too, since it's nearly impossible to image any other actress in the role. Also, since she was largely unknown at the time, it could not be clear until late in the film that her character (Ripley) was, in fact, the main protagonist. It was a great way to keep the audience guessing.
In all, ALIEN is a great Science Fiction movie, a great Monster movie, and yes, an unparalleled Horror classic.
ALIEN fun facts - The original design for the Alien had eyes. They were eventually eliminated to make the creature look more menacing.
The aliens' method of reproduction (eggs laid in a living host) was inspired by spider wasps.
The infamous "chest bursting' scene was filmed in one take using four cameras.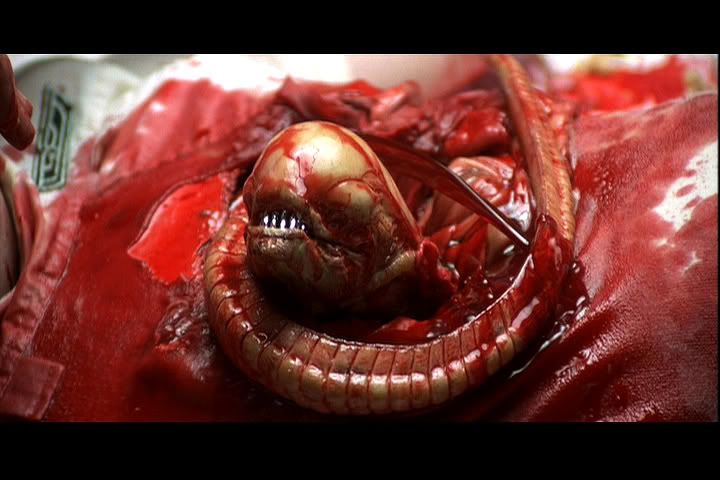 Ash - "Bring back life form. Priority One. All other priorities rescinded."

Dallas - "Alien life form… Looks like it's been dead a long time. Fossilized… Looks like it's growing out of the chair. Bones are bent outward, like he exploded from inside…"

Ripley - "Ash, that transmission... Mother's deciphered part of it. It doesn't look like an S.O.S."