Everyone who has pets, can testify to their quirky nature, and the odd things they do.
Here is our little group of food mooching, bed hogging critters...
Baxter
He is half Boxer and half Basset ( Boxit ). He has the head of a boxer, with the body of a Basset hound. He's so silly looking, that he is down right cool.
The vet thinks he is about 2 yrs old. We got him from an animal rescue organization, who rescued him from a kill shelter. I can't imagine how he wound up there, as he is the most gentle and lovable dog you could possibly imagine.
He is however, a master thief. It's always kind of fun, to see what he has stashed away in his latest hiding place… along with the usual dog toys, you can find a shoe, a couple socks, a football, bones and chewies, a stick, a rock, beer can and a paper plate or two. He's got a thing for paper plates.
His all-time favorite food is watermelon followed closely by apples and carrots.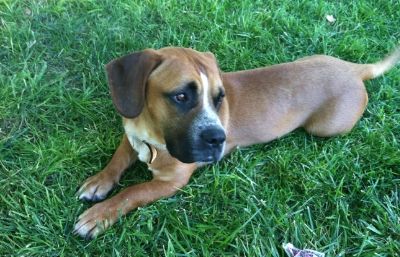 Lilly
Lilly is our neurotic, give her a bone, and she'll drive herself crazy trying to figure out where to hide it. Over here…no, over there…not good either, under this…won't work, behind that…nope. Sometimes we have to take it away from her, so she'll calm down.
Lilly is a Lab mix who was abandoned as a puppy, seems someone went around the neighborhood with a litter of puppies, throwing them into the back of fenced yards.
We've had her for a lot of years now, and she is old, getting stiff, and grey in the face, but she'll still chase anything that runs. Skateboarders especially drive her nuts.
Squid
My wife was working on her computer, and saw something out of the corner of her eye, went to investigate, and found a little black and white kitten, that had come in through the open door.
Somehow she got the name Squid, and moved in like she owned the place. After all these years, she still is queen of the castle, and you better not forget it. She sort of forgot to grow, she is quite a bit smaller than a regular cat. What she lacks in size, she makes up for with attitude, she is a real ass-kicker. Even though she is quite old and loosing some teeth, she is still the terror of the neighborhood. When she goes outside, the other cats scatter !
Mocha
Mocha Latte is a pretty cat, part Siamese, part whatever. He's new to the house, and I think his sole purpose in life is to be a punching bag for squid.
We start every morning with me drinking a cup of coffee, and Squid kicking Mocha's ass.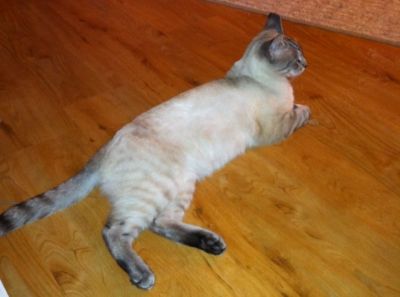 Cat Condo
My wife takes care of some of the feral cats in the neighborhood. She feeds them all year round, and in the winter, sets them up with a luxurious Kitty Condo. Multi-leveled, carpeted, insulated, with heated blankets, and remote controlled lighting. I think cats come from 3 states to winter at our house.