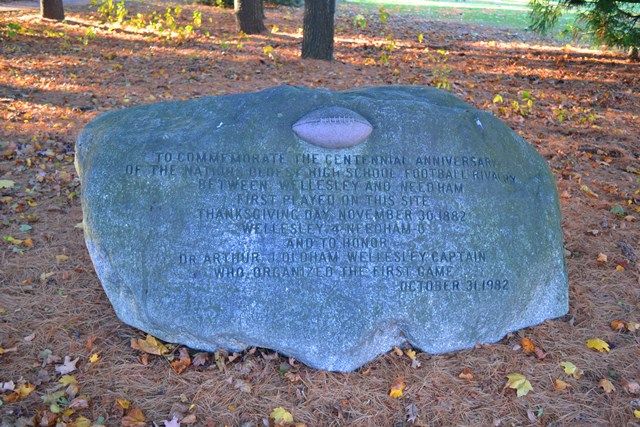 It's November. Know what that means? Thanksgiving Dinner (complete with Grandmother's own recipe Yorkshire Puddings, as an Old World twist), Macy's Thanksgiving Day Parade, and...football! For a transplanted Scot, this took a LOT of getting used to. After all, I played rugby (Union Rules) in High School, in College, and even a bit afterwards - "Remember! Be a Blood Donor - Play Rugby!" (car sticker on my old, battered VW).
The huge, armored denizens of any NFL field are barely recognizable to me as distant 'cousins' of the game that the Reverend William Webb Ellis founded in 1823, when he picked up a football (soccer in this country) at Rugby School, and ran with it. Although, I must admit that I could turn some of these 'wide receivers' into decent 'wing three-quarters' with a bit of coaching! The 'stop-start' nature of the American game reminds me more of Rugby League (the 'junior' code, with 13 players-a-side, which I never played) rather than the faster moving, fairly continuous Rugby Union code (15-a-side, and the game I bled for!)
Since I am surrounded at work by New England Patriots fans - of the most enthusiastic sort - I must admit to having picked up SOME of the rudiments of the game (although I cannot understand this obsession with beating New York). I have managed to avoid going down to Foxborough so far, as I don't feel much like freezing to death on the bleachers. Never the less, I SHALL watch some football on Thanksgiving, as I feel it is now part of the American way, so I should participate.
Now, to the real reason for the diary.....as I was driving along one day, I caught sight of what appeared to a mis-shapen boulder by the side of the road in the town of Wellesley. Stopping, and pulling out the trusty Nikon was the work of seconds. The inscription on this monument was a little faded in parts, and the 'half-football' had lost almost all of its color, but it was still intensely interesting.
"TO COMMEMORATE THE CENTENNIAL ANNIVERSARY OF THE NATION'S OLDEST HIGH SCHOOL FOOTBALL RIVALRY, BETWEEN WELLESLEY & NEEDHAM. FIRST PLAYED ON THIS SITE THANKSGIVING DAY, NOVEMBER 30TH, 1882. WELLESLEY 4, NEEDHAM 0
AND TO HONOR DR ARTHUR J OLDHAM, WELLESLEY CAPTAIN, WHO ORGANIZED THE FIRST GAME. OCTOBER 31, 1982"
So, it all started here, 'Friday Night Lights', huge High School stadia in the South, TV coverage, for goodness sake. There are many anecdotes in 'The History of Wellesley High School's Red Raiders 1882-1965', by Ed Powers, about that first game. However, the game nearly didn't happen as there were major problems; no budget for uniforms, or much more importantly, a game ball ! There was also more than a hint of rivalry, as on Oct 23, 1880, West Needham had voted to secede from Needham, and become the town later named as Wellesley. Swiftly, a subscription was taken up, (organized by the Principal of Wellesley's Gamaliel Bradford High School) and the sum of $3.50 raised. A ball was purchased and the game was on. I should like to point out that, at this time, the Wellesley and Needham teams were playing just as William Webb Ellis did - with a round ball! Standard dress for the teams was a thin shirt, bicycle 'knickers', and stockings. Wellesley's Captain, Arthur Oldham, was a wiry, slight player, but blessed with blazing speed, although even he was having second thoughts as many of the Needham seniors appeared to be grown men, when they rode up on their 'ordinary' cycles (the 'ordinary', sometimes known as the 'penny farthing', was rather like - in today's terms - someone arriving in a Porsche!)
Despite the Wellesley team being short two players - and Arthur Oldham's brother John being sent to scour the crowd for replacements - Wellesley held on to win by a 4 - 0 score; and so, a tradition was born, and spawned a host of imitators around the country. The memorial stone is, as you can see, partially hidden under a stand of mature trees, and the game is now played, in alternate years, at the 'Raiders' field in Wellesley, or the 'Rockets' field at Needham High School.
American Football - I may never understand the finer points, and I am very disturbed by the level of brain injuries which are now being revealed in players, but I understand that this game is truly a part of American culture.
Have a splendid Thanksgiving!
http://peoplesmosquito.org.uk
http://shortfinals.wordpress.com