Cross posted at Dirigo Blue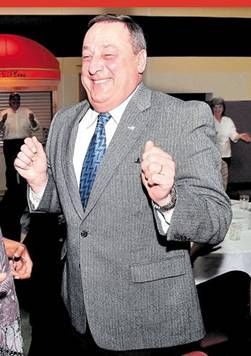 During the gubernatorial campaign of 2010, the lies and gaffes of candidate Paul LePage became so numerous that a was created. These lies and gaffes continued after Lepage became governor, so much so that the Bangor Daily News created this greatest hits, some of which Amy Fried and Jim Melcher included in their book Tea Party Talk.
And LePage is still at it.
On Monday of this week, Gov. Paul LePage, as a guest on the Laura Ingraham Show, had this corker about Colin Woodard, a reporter for the Portland Press Herald. Ingraham asked LePage about a piece by Woodard about Maine's governor that ran in Politico under the headline, How Did Mild-Mannered Maine Get America's Craziest Governor? (Woodard did not write the headline; someone at Politico did).
Listen here:
LAURA INGRAHAM: Did you get interviewed for this piece by this piece by Colin Woodard about how you're all crazy up there?

PAUL LePAGE: No, but he went to Canada to interview my ex-wife and children.

INGRAHAM: Oh, how did that go?

LePAGE: Not to good cuz she slammed the door in his face.
It was surprising to learn that the
Press Herald
would send someone to Canada for a simple interview, and so I contacted to Woodard and asked him about it. Woodard replied:
Nothing about the governor's two statements here is true. I never went to Canada to interview his ex wife. I never sought to interview his chiIdren. I never had a door slammed in my face.

I did have a short telephone interview -- from Maine [in 2011 while writing for the Portland Phoenix] -- with LePage's first wife, as she was the best and only source who could set the record straight regarding allegations on liberal blogs that the governor had walked out on his children, not paid child support, and such. I had a very pleasant conversation with her wherein she backed LePage up on these points, which are included in the "Making of Paul LePage" article. He should be happy I spoke to her.
Why would LePage make such a bald-faced lie, one easily disproved, which would not in any way work to his benefit?
And given that the Governor is so quick to lie about something so insignificant, what impact does it have on LePage's claim that fraud in EBT TANF cards is rampant, or that expanding Medicaid in Maine will cost over $800 million?
Paul LePage - his own worst enemy.