GUS (Gave Up Smoking) is a community support diary for Kossacks in the midst of quitting smoking. Any supportive comments, suggestions or positive distractions are appreciated. If you are quitting or even just thinking of quitting, please join us! We kindly ask that politics be left outside.

You can also click the GUS tag to view all diary posts, or access the GUS Library at dKosopedia for a great list of stop-smoking links. Check it out! Want to make sure you never miss us? Follow (♥) the GUS tag to keep GUS in your Stream and easily find the link to the latest one. It's just that easy!

A message to ALL quitters (and would-be quitters): You don't have to avoid GUS if you have a failed quit. We won't give you a bad time or nag you. We consider the failed quits as "practice" for the real quit.
I'm getting used to the new reality of my midwinter slog---one that now involves spending a bit more time trudging around outside in all kinds of harsh weather, tethered to a small dog who needs to be out there for at least an hour a day.
On the very coldest days, we break it up into little chunks: ten minutes here, ten minutes there, me shoveling and him baffled by the newfangled snowbanks that tower over him, shivering in the unaccustomed subzero wind chills.
On a "normal" Maine winter day, it's a brisk trot on cleared sidewalks, with the occasional detour through unplowed or unshoveled paths or fields, with lots of nose-blowing and windburn and huddling under blankets after. It's dark early, so after-work sojourns are limited. He doesn't love the coat I make him wear but he puts up with it anyway. I return the favor by not reminding him he's the reason why we're out there in the first place.
Now, during the fabled January Thaw, we have mud. Lots and lots and lots of mud. So very much mud. Giant snowbanks subjected to days of intermittent rain and above-freezing temperatures turn into slushy piles and soaked, swampy yards, and big patches of gravelly mud wherever sidewalk or driveway meets lawn. It's not Mud Season (yet), but it's sort of a sneak preview of what's to come.
I spend a lot of time trying to make sure the stuff doesn't end up tracked all over the place---no small feat, given the fact that my dog is bath-phobic, dislikes having his wet and muddy coat or sweater removed, isn't super fond of having his paws cleaned, and is wicked speedy when he wants to make a beeline for the couch to avoid any and all of the above. It's trial and error, but we've got a system now. Like many well-intentioned things, it works most of the time.

"We should learn from the past, but not be stuck in it. Sometimes life circumstances and personal setbacks can haunt and prevent us from seeing our true potential and recognizing new opportunities. What has already happened we cannot change, but what is yet to happen we can shape and influence.



At times the first step is simply to break from the past and declare that it is you, not your history, who's in charge. Ask empowering questions such as "What matters to me now?" "How can I make a difference in this situation?" and "What's the next step for my best interest and well-being?" ---Preston Ni, Psychology Today
Winter has
long been a tough time
for me.
S.A.D. coupled with a painful anniversary
usually tag-team me, leaving me feeling distracted, sad, overwhelmed, or otherwise off-kilter. The fact that I'm a little less so right now is probably due to me actively facing what's going on and trying to change how I react to it. Knowing how easy it is for me to get mired in the past, I'm deliberately looking ahead. Knowing how strong the urge to hibernate can get, I am consciously trying to make plans, keep moving, and do things instead of just thinking about doing them (or spending time figuring out ways to
get out of
doing them).
My decision to get a dog meant that I would have to go out and take care of his needs even when I didn't much feel like taking care of my own, and that extra time outside has made a difference in the amount of sunlight I experience (and consequently has improved my mood a lot). An unexpected but welcome side-effect. All the walking has also done good things for my tricky knee (which spent much of last winter in a brace); it's stronger and more stable, so that's a good thing.
I think of how I feel now---walking miles on the good days with my little dog trotting alongside, even though it's cold---and remember how I used to spend the depths of winter: hunched over a keyboard, staring at a screen, chain-smoking the long nights away, disconnected from the outside world, not even taking care of myself, never mind anyone else.
What I'm doing now is better in ways I can't even describe.
And it wasn't due to one choice, either. It's never that simple. It's a series of choices, made every day. Every day is a new chance to find a better path, even if you're ankle-deep in the mud right now.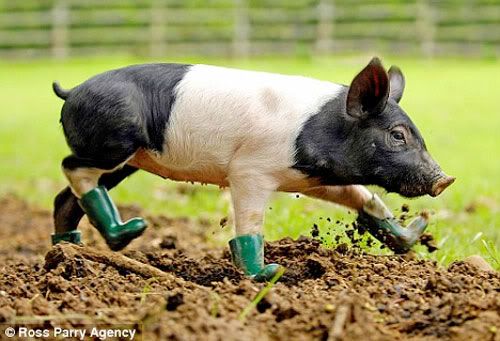 Every moment we're alive we can make new choices that help us move on and step toward a better future. If we pay attention to only mud on the ground after a storm, we won't notice that the sky above us has already cleared. Goethe reminds us: "Nothing is worth more than this day." Don't focus on the mud. Make better choices today and move on. ---Preston Ni, Psychology Today
Who's Your Little Buddy?
1BQ, 2thanks, 3rdGenFeminist, 417els, A Man Called Gloom, Abra Crabcakeya, Actbriniel, addisnana, AfroPonix, aishmael, Alise, Alpha99, also mom of 5, ambeeeant, American in Kathmandu, amk for obama, andsarahtoo, angry marmot, Anne933, anodnhajo, aoeu, AoT, aquarius2001, arcadesproject, Archie2227, arodb, Arthur Wolf (in memoriam), assyrian64, Aunt Acid, awkawk, b4uknowit, BadKitties, bamablue, BARAKABETH, barnowl, b barrie, bdizz, beatpanda, beefydaddy18, betterdemsonly, BFSkinner, bgblcklab1, BigAlinWashSt, Bike Crash, BirderWitch, BJKay, bleeding heart, blingbling65, blue husky, Blue Intrigue, bluedust, BluejayRN, BlueJessamine, BlueMississippi, Bluerall, bluestatedem84, BoiseBlue, boudi08, Brahman Colorado, breedlovinit, BrenP, BrianParker14, Bronxist, broths, BrowniesAreGood, bsmechanic, Buckeye Nut Schell, buddabelly, Bugsydarlin, bumbi, BusyinCA, cactusgal, cagernant, Carol in San Antonio, CathiefromCanada, CathodeRay, CDH in Brooklyn, Cedwyn, cee4, Cen Den, ChocolateChris, ChurchofBruce, ciganka, cinnamondog, citizenx, ClapClapSnap, claude, Cleante, Code Monkey, codobus, Coldblue Steele, Colorado is the Shiznit, coloradomomma, common green, commonmass, Common Sense Mainer, congenitalefty, coppercelt, CwV, dadanation, Damnit Janet, dangoch, DarienComp, dauber, Dauphin, Dave in AZ, Dave in Northridge, David54, deedogg, demkat620, Dexter, Diana in NoVa, Dickie, DiegoUK, Dingodude, dirtdude, distraught, djMikulec, docreed2003, dolfin66, donnamarie, Donna O, dotsright, Dr Teeth, Dreggas, DRo, droogie6655321, Dube, duckhunter, Eclectablog, Eddie C, EdgedInBlue, edr, effervescent, elbamash, El barragas, el vasco, electricgrendel, entrelac, ericlewis0, Everest42, Ex Con, exlrrp, ExpatGirl, ezdidit, fat old man, fauve, fhamme, Fineena, fiona2, fishhawk, Flea, flumptytail, Friend of the court, fritzi56, FrugalGranny, Garrett, Gator, gchaucer2, GDbot, Geiiga, GenXangster, glpaul, gooderservice, gooners, gravlax, GreenMountainBoy02 (in memoriam), greylox, grndrush (in memoriam), GrumpyWarriorPoet, GuerillaLiberal, GulfExpat, gzodik, Haole in Hawaii, HappyinNM, henlesloop, here4tehbeer, HeyMikey, hideinplainsight, High Tide, hiliner68, history first, hold tight, Hugh Jim Bissell, hulibow, I love OCD, I said GOOD DAY sir, Im a frayed knot, imisa, Indexer, indubitably, indyada, Interceptor7, Inventor, Isaacsdad, ItsaMathJoke, itsbenj, Jahiz, James Earl, JamesEB, janl1776, Janeo, jarbyus, JayinPortland, jayjaybear, jbalazs, JBL55, jbou, Jeffersonian Democrat, jillwklausen, jmadlc55, jmonch, Joes Steven (aka Steven), john keats, john07801, johngoes, johnny wurster, jsfox, just another vet, JVolvo's Mom (in memoriam), jwinIL14, Kai99, kailuacaton, Kamakhya, kat herder, katchen, Kelly of PA, khloemi, Khun David, Kitsap River, kittania, kos, KrazyKitten, Kristina40, Ksholl, labwitchy, ladypockt, Lahdee, langerdang, LarsThorwald, LA rupert, last starfighter, LaughingPlanet, Laurie Gator, Lava20, Leo in NJ, LiberalVol, Lipstick Liberal, litoralis, lmdonovan, lockewasright, Lonely Liberal in PA, Lonely Texan, longislandny, Lorinda Pike, LtdEdishn, lunacat, lunachickie, luvsathoroughbred, lying eyes, maggiemay, magicsister, mango, Marc in KS, MargaretPOA, Marjmar, Mark E Andersen (Kodiak54), marknspokane, marsanges, maryabein, Matf, Matt Esler, Maxiemax, maybeeso in michigan, MBNYC, mdemploi, Meteor Blades, Micburke, michael1104, MillieNeon, minerva1157, MinervainNH, Missys Brother, mjbleo, MnRaindog (in memoriam), mntleo2, mollyd, Morague, MotoGP, Mr Bojangles, mrsgoo, mskitty, msmacgyver, MsWings, Murphoney, nannyboyz, ncsuLAN, NearlyNormal, Nedsdag, Nespolo, Nick Zouroudis, nokkonwud, notgivingup, NY brit expat, oceanview, Ole Texan, OleHippieChick, Olkate, one pissed off democrat, One Pissed Off Liberal, Onomastic, operculum, OrangeMike, Ordvefa, Overseas, Over the Edge, Pager, paige, PaintyKat, palmer18, paradox, parryander, paulitics, peglyn, Pennsylvanian, peterfallow, phrogge prince, plok, Portia Elm, Positronicus, post rational, PowWowPollock, Proud Mom and Grandma, psycho liberal, ptolemynm, Purple Priestess, PvtJarHead, racheltracks, randallt, ray bob, real world chick, red mittens, Reepicheep, regis, relentless, revelwoodie, revsue, Rex Manning, rexymeteorite, RiaD (in memoriam), rickeagle, ridemybike, rightiswrong, Rileycat, rincewind, rkex, roadlion, RoCali, Roger Fox, Rosebuddear, roses, rscopes, Rudini, RumsfeldResign, Safina, SallyCat, Sanuk, Sark Svemes, sboucher, scooter in brooklyn, Scrapyard Ape, seenaymah, Senor Unoball, sewaneepat, sfbob, sgary, Shahryar, sheddhead, shesaid, Shifty18, shmuelman, shopkeeper, sidious666, sidnora, slksfca, slowbutsure, smartcookienyc, smeesq, Smoh, snoopydawg, snorwich, SnyperKitty, SoCalHobbit, SoCalSal, sofia, soonergrunt, sostos, sowsearsoup, SpecialKinFlag, spmozart, spotDawa, SpotTheCat, StateOfGrace, Statusquomustgo, stiffneck, stonekeeper, suesue, sunbro, Super Grover, susans, Syoho, tallmom, Tay, tdslf1, teknospaz, theatre goon, The Eyewitness Muse, TheGeneral, TheStoopingRabbit, TigerMom, Tim DeLaney, tiredofcrap, TomP, tonyahky, Toyotabob7, TracieLynn, TreeFrog, triciawyse, tripodisblack, trs, trueblueliberal, TrueBlueMajority, ttanner, Tulsonian, Turn VABlue, Turtle Bay, Tyto Alba, uc booker, UncleCharlie, Unduna, Unforgiven, ursoklevar, USArmyParatrooper, VA02 femocrat, Vacationland, valadon, Vayle, vc2, Vetwife, vgranucci, Via Chicago, Village expects idiot home soon, viral, vulcangrrl, waytac, webranding, weelzup, Wee Mama, Wes Opinion, Whimsical Rapscallion, willy be frantic, willy mugobeer, Wood Dragon, wolfie1818, Wordsinthewind, Wreck Smurfy, x, xopher, yet another liberal, Zotz
Have you had some experience with the effects of smoking, and want to write a GUS diary or host an open thread? Please sign up in the Butt Can (Tip Jar), and name the day and time that works for you (AM, PM, late-night, early-bird...). Weekly GUS Diary Schedule (regular diarists featured in bold) is below. And look at all those open slots just calling your name!


Wed PM: Vacationland
Thu AM: nokkonwud
Thu PM: Open (James Earl on hiatus)
Fri AM: flumptytail
Fri PM: Open
Sat AM: paulitics
Sat PM: Open
Sun AM: gchaucer2
Sun PM: Open
Mon AM: anodnhajo
Mon PM: Open
Tue AM: gchaucer2
Tue PM: Open
Wed AM: Open

If you can spare a few hours, please consider hosting GUS. It doesn't have to be a permanent slot; it can be a one-time deal or just an open thread! Not sure where to start? Just ask for help in the Butt Can (Tip Jar). Seriously, it doesn't have to include specific elements or require all sorts of fabulous diary formatting skills. The regulars will make sure stuff gets carried over from diary to diary, so if you want to just tell your story or provide an open thread and host for a few hours, that's cool too. You do not need to be perfect, you do not need to become a regular, and you would make some quitters very happy.