Greetings! and welcome to the Street Prophets Group Fuzzy Friday open thread. Like all good congregations in pleasant climates we leave the doors open to let in the breeze and any curious passersby.

I've been working on myself this week; working towards goals I know I'll never reach.
It's part of being an artist. An artist may set small goals for themselves that are reachable and I've been doing a lot of that lately, but, like any human endeavor, any hopes of attaining perfection are in vain.
There's always more of this creative path ahead.
Well, this week I took a couple of steps down the path. If you take a peek under the ginger hairball below I'll put up a few pictures in the gallery. Otherwise, like all of my gallery openings I'll feel no resentment if you decide to walk quickly past the pictures and go straight for the wine.
It has been awhile since I drew or painted much. The painting cluttering up my easel, just gathering dust, I decided to finally declare finished. It had a rough start and I can see perhaps trying to paint something better based on it. Sometimes you can just struggle with something for so long before you need to move on.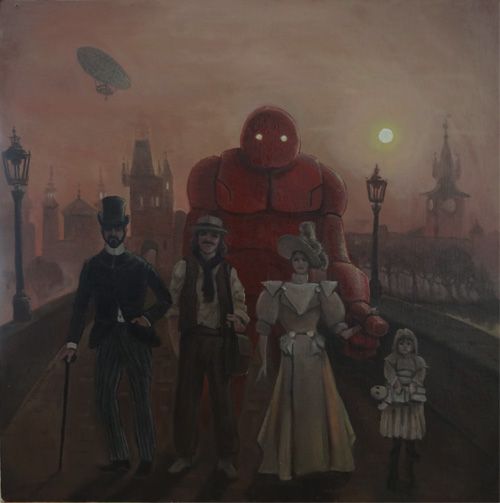 I've become frustrated lately with my attempts to gain visibility for my work on sites like deviantArt and Behance. The page views are a tiny trickle and then the number of people who are willing to actually recommend something or comment on it is dispiriting. Downright depressing is what it is.
So, the evil empire of Facebook has been flaunting its artist's groups at me for some time. I already belonged to a couple of advertising groups that are more or less classified ads for folks who work in the advertising industry. About once a year I pick up a job through them. But it's not enough. One of my artistic friends (yes, someone I've actually met) belongs to a specialized group that posts pictures of line art-- drawings without intermediary tones between black and white that is. It was a smallish open group of mostly professional illustrators and I thought, well... why not join. Post some of my own pictures and get some feedback, enjoy the other artist's work-- get inspired to improve.
And I did. I was about the 89th or 90th member. I noticed that the person who accepted me into the group was related somehow to a famous illustrator that someone in Cheers & Jeers had said my Tea Bird drawing reminded them of. And now I'm exchanging 'likes' and comments with them. I see so many things now that I want to work on, techniques to try.
Trying new things and practicing the old things are the only ways I really have of improving my skills.
I ran across an Apple logo that was rendered as if it was made of flames and thought about how you could use that technique to paint anything. For my first attempt at replicating the flame effect I tried the ol' stand-by of artists around the world-- the human skull: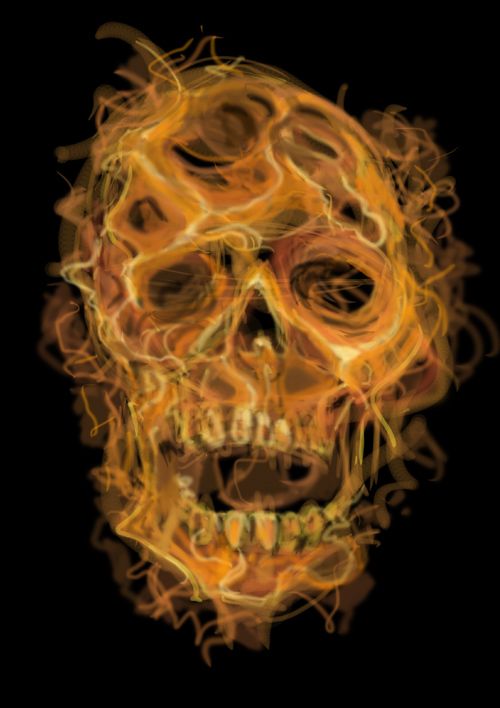 Some weeks earlier I had noticed a much larger open group that seemed like fun. They call the group Daily Spitpaint. I guess the idea came from a group of artists that would set daily challenges for themselves and their friends and then share the results on Instagram. So many people wanted to join that they started a Facebook group that now has over 33,000 members. Each day at around 10:30 GMT an anonymous founding member calling themselves "John Connor" will post three or four themes (I'll give examples) and anyone in the group can then create a drawing or painting (most works are created digitally but some folks will fill a page in a sketchbook) based on any, some or all of those themes. The interesting part is that you have only half an hour to complete your work. The time aspect is entirely on the honor system. Well. bolstered by the attention I was getting in the small group, I decided that I'd plunge into the Spitpaint group. Just for the challenge of it. I'm such a plodding painter; rarely do I allow myself to get loose and gestural. I don't sketch with color with anything resembling confidence anymore. There may have been a point when I was drawing color storyboards daily that I was better able to churn things out but even then-- a half an hour for a picture?
Among all the brilliant artists who grew up painting digitally and have libraries of specialized textures and brushes at their command I expect to be completely ignored. I'm doing this for the fun of it and in the hope that I will learn a lot about the art of digital painting. I post the pictures first to my own page and then share them to the group. My friends can keep an eye on me.
And here, in order, are the digital paintings I did this week using my tiny, old Wacom tablet with a stylus and Photoshop CS5.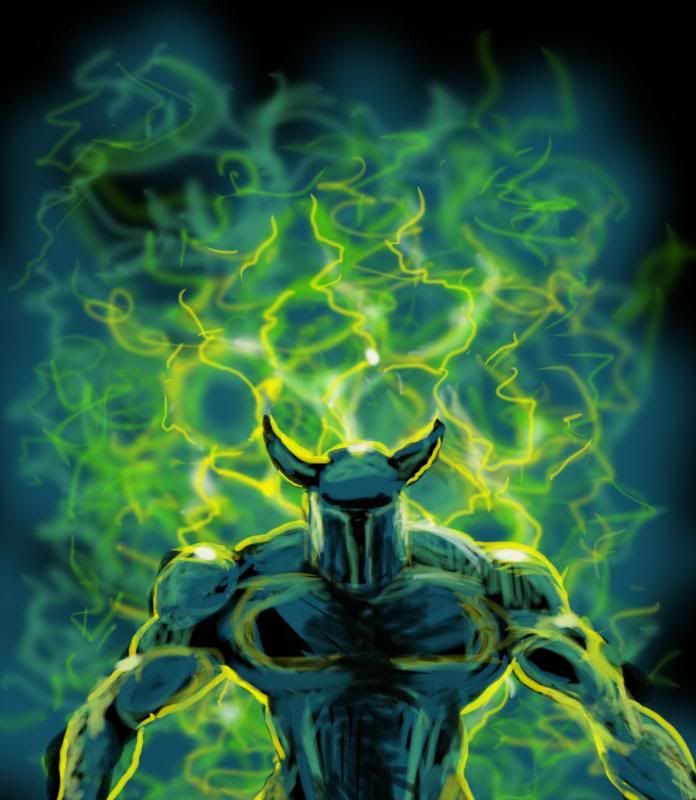 I thought it was a nice coincidence that the morning I'd drawn the flame skull and then logged in to Facebook and joined the Spitpaint group the themes for that day included "Green fire". The other theme I used in this piece was "Horned helm". By the time I'd created that picture though I noticed that the themes had been posted for 23 hours. It was nearly time for a new set of themes. I didn't even bother posting this one to the group's page.
The new themes for that day were "Demon dog, The Tudors, Dancing angels"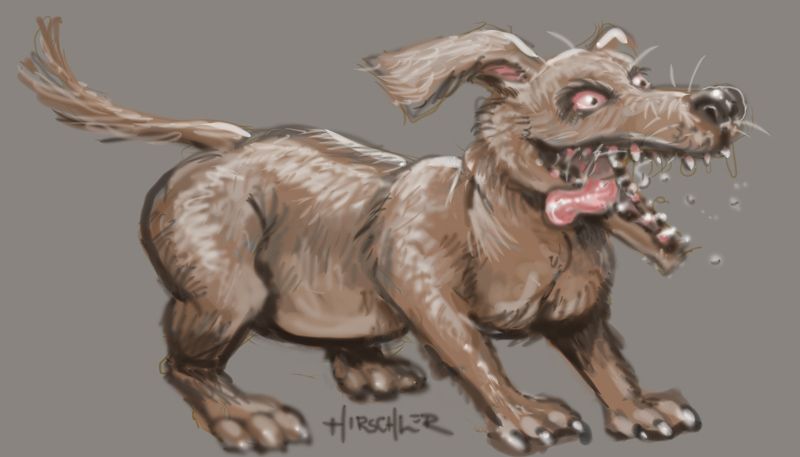 I didn't get too ambitious.
The next day I was looking forward to the new challenge. I promised myself that I'd try to combine at least two themes again. The themes given were "Desert trek", "Island castle" "Rainy city" and "Titanic" so I came up with this:

Today there were three themes: "Yellow pillars", "Wolf guard", and "Alien egg" and I had hoped to have time to get all three in one quick painting, but I ran out of time before I managed to put a wolf in somewhere.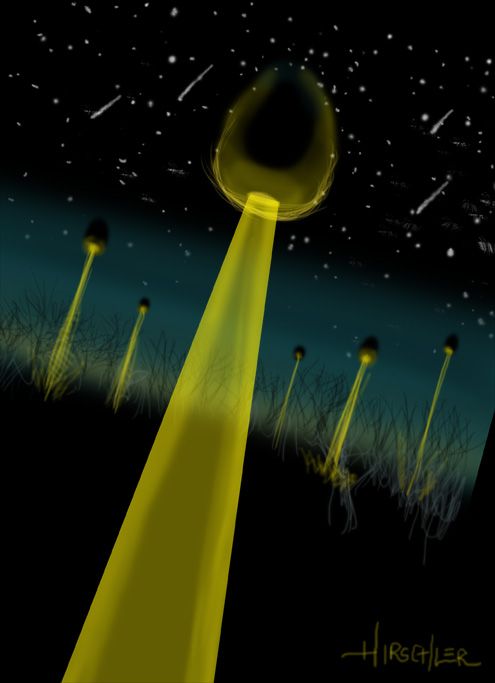 I still wanted to do something with that "Wolf guard" so thinking of all those 15mm Space Marine lead figurines that are tucked away in a box under the bed...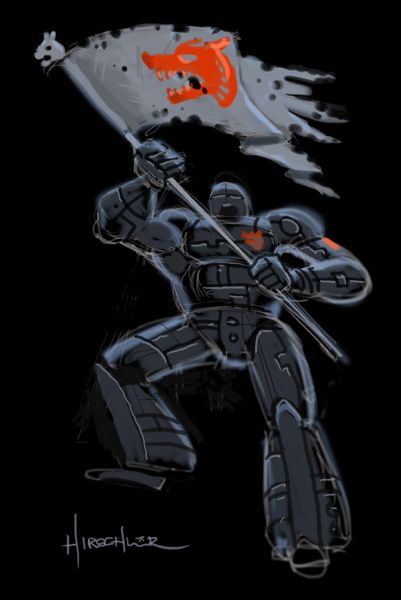 I'm finding this sort of speedpainting to be exhilarating. I'm trying out different tools in Photoshop and hopefully the weeks to come will find me making some improvement.
But again, there's no end in sight. If I die tomorrow or in another 50 years I'll not have been the artist I really wish I could be. In a sense that thought is daunting-- although, I'm well aware that all people involved in any creative endeavor face a similar infinite road to perfection. There's always more to learn, more to attempt, more to achieve in any art form. And I think, without getting maudlin, that this is part of what life should be for: to explore and grow.
Making progress towards a goal we never reach.
There's a school of thought that started among some artists in Japan that professes the idea that as mere humans we should leave perfection to divinity and that the flaws in our works are signs of our flawed nature. As humble artists who would not set themselves up to be gods they began to make flaws in their works on purpose. Potters would make a glaze drip or put a bump or pinch into the lip of a pot.
You may have seen the broken pot mended with gold so that the cracks will shine pictures wandering around the internet?
The flawless is uninteresting. Our eyes are drawn to the unusual. Who remembers the height of the medium man?
I suppose I'll spend some time tonight pondering how I can better embrace my own flaws and discover if they really are that interesting-- interesting enough to be beautiful.