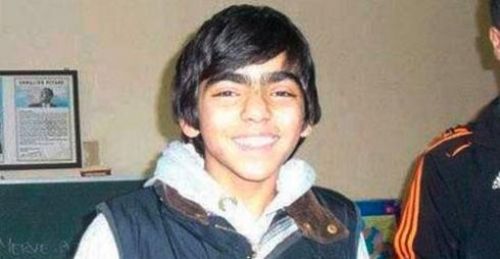 Berkin Elvan
The news that 14-year-old Berkin Elvan died this morning after being treated in the hospital for 269 days has caused great sadness and outrage in Turkey.
Note: In the Turkish media his age is given as 15 because in Turkey ages are given as the year someone is in, not how many years have been completed.
Berkin had been seriously injured when he was hit in the head by a police gas canister last June 16th when he went to buy bread at a local market near his home in Istanbul.
His home is not far from Taksim and Gezi Park and the Gezi Park protests and heavy police response to them were intense at the time and Berkin found himself in the middle of a protest and the police response to it, which is when he was hit in the head by the canister.
Initially there had been hope that he would recover but his condition had deteriorated recently and his weight had dropped to 16 kg (about 35 lb). He had weighed 45 kg (about 100 lb) last June.
Initial outrage about his injuries grew last year when some government officials tried to label the 14-year-old a terrorist and justify the police's actions.
According to news reports, at least one protester was injured this morning when hit in the head by police gas canisters during protests which broke out in front of the hospital where Berkin had been being treated.
There are also news reports that those who had gone to express their condolences to Berkin's mother and father this morning had been dispersed by the police with tear gas.
This afternoon as Berkin's body was transported from the hospital to the Cemevi (Alevi house of worship) near his home the streets along the way were lined with large numbers of people. There was no visible police presence and the crowd dispersed peacefully after a short period of peaceful protest.
This morning as news that Berkin had died spread a wave of peaceful protests began throughout Turkey; some markets are refusing to sell bread, students are boycotting their classes, and there are many solitary protesters, or small groups of protesters, who silently sit on sidewalks or in parks with a loaf of bread in front of them.
Photographs of some of these protests can be seen at these links:
http://www.hurriyetdailynews.com/...
http://www.hurriyetdailynews.com/...
http://fotogaleri.hurriyet.com.tr/...
http://galeri.sozcu.com.tr/...
Note: sozcu.com.tr was down earlier but seems to be up again now.
The President of Turkey has expressed his condolences to Berkin's family but there doesn't seem to have been any statements so far from the Turkish Government.
A BBC article in English about today's events is here.
The U.S. Consulate in Istanbul has issued a secrity alert for U.S. citizens.
Some media outlets in Turkey have reported that protests are planned in almost every city in Turkey this evening and have published their times and locations.
It is also being reported that many concerts and plays scheduled for tonight and tomorrow have been cancelled out of respect for Berkin.
Berkin's funeral is due to take place in Istanbul tomorrow beginning at noon.
Berkin's death is the eighth to result from the Gezi Park protests.